Ardent followers of the HBO family drama, Succession, will definitely know who Nicholas Braun is. In the show, which focuses on the wealthy and scheming Roy Family, Braun plays the role of the overlooked but cunning great-nephew, Greg. His excellent portrayal of the character has won him praise with many describing him as the show's secret weapon.
The talented actor commenced his career as a teenager, cutting his teeth in several Disney movies, before finally hitting it big. Nick has proved that he is equally talented in music, providing vocals for one of the songs for Phantoms' EP Broken Halo. This shows that there is more to Nicholas Braun than playing roles in front of the camera.
A Peek At Nicholas Braun's Background
Nicholas Joseph Braun is an American national and was born on the 1st of May 1988 in Long Island, New York. However, he has a mixed ancestry of English, German, Dutch, and Scottish. The budding actor received his formal education at St Mark's School, Southborough, Massachusetts, graduating in 2006.
At the tender age of five, Nicholas Braun developed an interest in the performing arts, thanks to his dad's influence. Though the latter was working in corporate America, he was equally a budding actor. The older Braun was known to share the content of his acting classes with his young son who will, in turn, assist him in rehearsing his lines. All these activities contributed to Nick's early interest in acting as he eventually fell in love with entertainment and decided to tow the career path.
While he was a student at St Mark's, the young Nick was a regular at auditions as he never failed to search out acting magazines for open calls. His efforts were finally rewarded in 2000 when the aspiring entertainer began getting cameo roles in television films as well as series. Some of the projects he appeared in while he was still a high school student include Walter and Henry – a television film that came to light in 2001 Braun showed up in Law & Order: SVU in 2002, and joined the cast of Carry Me Home -another TV film that was released in 2004.
His Journey to Fame Was Thanks To Sky High
Nicholas Braun rose to the spotlight in 2005. This was thanks to the superhero comedy film, Sky High where he essayed the character of Zach Braun (a.k.a. Zach Attack!). In it, Zach was portrayed as a teenager who has the ability to glow in the dark. From Sky High, Braun went on to appear in various Disney movies such as Minuteman released in 2008, Princess Protection Program that came to light the next year, and 2011 Prom bringing the character of Lloyd Taylor to life.
Nick also appeared in two ABC TV series, the first being 10 Things I Hate About You where he played the regular role of Cameron. Though the series was canceled before wrap-up, it was already airing its final episode on the 24th of May 2010. Nick's second ABC TV series was The Secret Life of an American Teenager. The young actor was also part of The LXD – the web series where he breathed life into the character Cole Waters.
Nicholas Braun Added Music To His Portfolio By 2015
As he was gaining more popularity in the movie world, Nicholas Braun showed up in Kevin Smith's Red State playing the role of Billy Ray. However, the famed actor has some diversions in music in 2015 as he was featured on a couple of songs on the debut EP for Phantoms titled Broken Halo. His performance with the group shows that his artistic talents are not limited to acting; Nick even provided vocals on one of their tracks Voyeur.
Having one finger in music does not mean that he has lost sight of his acting talents as the popular actor was featured in How to Be Single in 2016. Earlier in 2014, he shared the screen with the likes of Dakota Johnson in both Date and Switch. The HBO series Succession took him on as one of their ensemble cast member playing the role of Greg Hirsch.
The entertainer's other projects include Poltergeist, The Year of Spectacular Men, among many others. The succession star took advantage of this Coronavirus lockdown to write a song title Antibodies which has already hit the music stand. he also shared the track on Instagram.
Braun released a song called "Antibodies" earlier this week. Inspired to write the tune during the coronavirus lockdown, he crowd-sourced lyrics via Instagram, asking musicians to help with verses to the melodies he had stuck in his head.
He Comes From A Small Family
As earlier hinted, Nicholas Braun came from an artistic family, even though his father Craig Braun never made it to the big roles in Hollywood; it is captured on the records that he was an upcoming actor. The entertainer's mother has been identified as Elizabeth Lyle, though the details of her profession have never been made public.
Braun is not the only child of his parents as he grew up alongside a direct brother Christopher Deyo Braun who is also part of the entertainment world in his capacity as a musician. The actor was just five years old when his parent's marriage hit the rocks and following their subsequent remarriages, he gained two half-brothers; Guillaume Rumiel and Timothy Braun. Both are equally involved in the movie industry.
The Identity Of The Actor's Girlfriend Remains A Mystery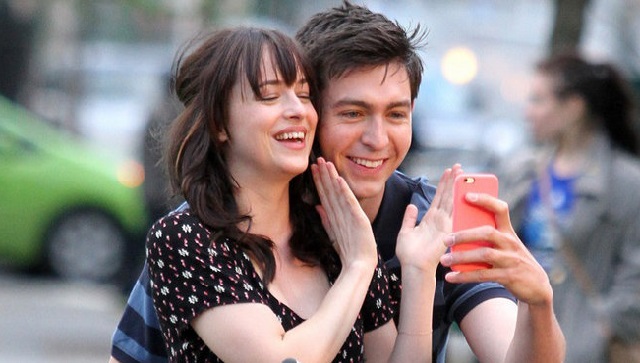 Nicholas Braun has been romantically linked with some of his colleagues in the entertainment industry. He was rumored to have dated former video-vixen/model turned actress, Cody Kennedy who is popular for movies such as Memoria, Casual, and Fog City. Braun and Kennedy reportedly dated in 2007 but this was never officially confirmed.
He was also rumored to have dated 50 Shades of Grey Star, Dakota Johnson, in 2015. However, it is quite easy to conclude that this relationship was conjured up by the media just because they have played love interests in some movies. Even though Braun and Johnson have natural onscreen chemistry, there is nothing between the two but mutual respect and friendship. Braun revealed as much in a 2016 interview when he stated that he loves her as a person and loves working with her.
How True Are The Gay Rumors Making The Rounds About Him?
There is nothing to suggest that the Succession star Nicholas Braun is gay. There is also nothing to suggest that he is not gay. It is all up in the air at the moment. However, one thing that is for sure is that Nicholas Braun is a big supporter of LGBT rights.
A while ago, a picture of Nick kissing his good friend, Christopher Mintz-Plasse who is also a fellow actor surfaced which sparked gay rumors about him. However, a look at the background of the picture would reveal that they were at a public rally featuring a group with homophobic signs. Knowing all that, one is likely to wonder if the duo exchanged that kiss to undermine the absurd protest going on behind them or to support it.
Nicholas Braun Is Endowed And Has A Good Height
One of Nicholas Braun's most standout features is his height. The celeb actor is clearly endowed in the height department as he stands at 6 feet 6 inches which is the same as 1.98 m. With such gigantic height, he could have easily made it into the National Basketball Association if he had enough athletic genes, but obviously, that was not the case.
Apart from the towering height that sets him apart from the crowd, he has other physical features such as blue eyes and light brown hair that he prefers to dye black. His weight is further given as 194 lbs or 88 kg which when compared with his great height, gives him a slim body build.