Nick Jonas is an actor and singer that is best known for being a part of the pop rock band Jonas Brothers which featured heavily on Disney Channel productions such as 'Camp Rock' (2008), 'Camp Rock 2: The Final Jam' (2010), and 'Jonas' (2009–2010).
Jonas, who is also a songwriter and record producer, started his career in show business at the young age of 7 after he was discovered by chance in a local barber shop by a show business manager. Read on as we unravel all you need to know about him.
Biography (Age)
Nick Jonas was born Nicholas Jerry Jonas on September 16, 1992, in Dallas, Texas and he is the third of four sons parented by Denise Miller and Paul Kevin Jonas. His father, Paul is a former ordained Assemblies of God church minister while his mother was a sign language teacher, however, both parents were also musicians.
Jonas, along with his siblings; Joe, Kevin, and Frankie Jonas were raised by their parents in Wyckoff, New Jersey, where they were homeschooled by their mother. Following a chance meeting with a show business manager, Nick Jonas, at the young age of 7, began performing on Broadway. By the age of 11, with the help of his father, he released his first song titled "Joy to the World (A Christmas Prayer)" which featured on the compilation album Broadway's Greatest Gifts: Carols for a Cure, Vol. 4 (2003).
Following the release of that song, Columbia records signed him on as an artist. With the help of his older brothers and parents, Jonas released his self-titled debut album in 2004. The album was however limitedly released before ultimately getting scrapped after the hierarchy at the record company changed. The record company then decided to sign the brothers as a group instead of just Nick Jonas and that move gave birth to the Jonas Brothers.
Nick Jonas' Net Worth
Nick Jonas is said to have an estimated net worth of $25 million which he has amassed all through his almost two-decade-long show business career. From records and concert ticket sales to the salary he receives from his various movie roles, the former Nickelodeon star is surely one to continue to look out for as he looks to continue to be a mainstay on our television sets.
Is He Gay?
Nick Jonas is not gay. He has in the past been speculated by the media to be gay, most especially because of the exceptional way he has interpreted gay character roles in shows like 'Scream Queens' (2015) and specifically 'Kingdom' (2014-17) where he was involved in a sex scene with another man. He has further been pictured in a number of gay clubs and has done a good number of advocacy work for the gay/LGBT community which put more fuel to the flames.
Jonas has time and time again told interviewers when asked what his sexual preference is, that he is a comfortable heterosexual man who loves everybody regardless of their sexual orientation. If you need more evidence, Nick Jonas has been in relationships with some of the hottest women in Hollywood.
He Married His Girlfriend – Priyanka Chopra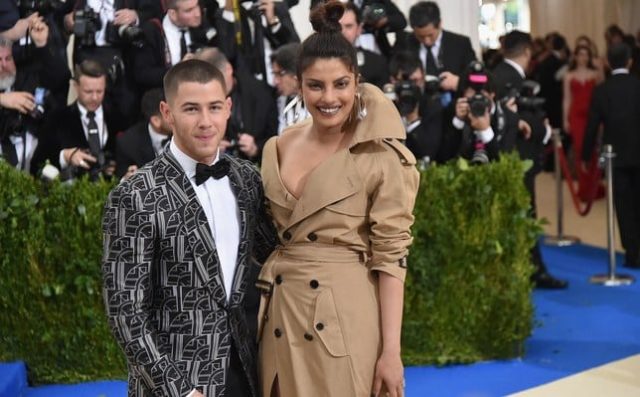 Having previously dated high profile women such as Selena Gomez, Miley Cyrus, and former Miss Universe, Olivia Culpo, Nick Jonas is now in a relationship with Indian actress Priyanka Chopra who is also a beauty pageant winner.
The pair, who both represent Ralph Lauren, met each other for the first time at the 2007 Met Gala. It is not exactly clear when they became an item, however, rumors of them dating began to circulate after they were spotted side by side at a yacht party. They were subsequently pictured together on several occasions and have each met each others family members. The Quantico actress has attended a Jonas family event, one of his cousin's wedding while Jonas himself has been to India and gone on vacation with his girlfriend's mother, brother, and cousin. The got married in 2018.
Read Also: Elizabeth Olsen Bio, Husband, Height, Net Worth, Sisters and Other Facts
Height
Unfortunately, Nick Jonas has not been blessed with height as he measures just 5 feet 7 inches (1.7 m) which is 3 inches less than the average height for a white male. This has made him the butt of a few jokes by fans, with one posting a picture of him and the Jonas brother with the caption; "U need a few more inches bruh" to which the Golden Globe-nominated actor took time to reply the fan, calling him very rude.