With many complications over what to take up professionally at a younger age, Nick Lachey the American Singer, songwriter, actor and television personality eventually achieved fame basically because of his personal life rather than his professional ventures. As music sensation that began from way back in his early years, Nick understood the food of the soul and served it better for all to relish. Although through the years, he has been on screen featuring in shows, his voice has brought the pureness the world deserves from the soul barn. Read on to know how this hunk came to be a fan favorite.
Nick Lachey's Biography, Age
Nicholas Scott Lachey's arrival into the home of German-American parents, Cate Fopma-Leimbach and John Lachey in Harlan, Kentucky would be said to be a blessing to his family and to the world. Born on the 9th of November,1973, Nick Lachey grew through an ideal home with his brother Drew Lachey, a singer who Nick has often worked with.
Before heading out into the music industry, he was an astute student, studying at Clovernock Elementary School in Ohio. To further his education, his sense of creativity made him attend the School for Creative and Performing Arts in Cincinnati. His education voyage also took him to Miami University in Ohio and the University of Southern California in 1992.
His musical career could be said to had gone through an incredible process. He stepped into a professional music career in the mid-90s with his two friends and brother; Justin Jeffre, Jeff Timmins and Drew Lachey respectively. The quartet eventually grew beyond the parks where they often performed and formed a boy band called 98 Degrees. The band made its first break in popularity with their hit album, '98 Degrees and Rising'.
Breaking off the pack, Nick Lachey dropped four solo albums to his name with the first, 'SoulO' in 2003. One could tell that the first album was not a success but Nick kept pushing and finally landed an amazing second album; 'What's Left of Me', which recorded an immeasurable amount of success by being certified gold by the RIAA after it sold a whooping 500,000 copies and more. He went ahead to release two other albums; A Father's Lullaby in 2013 and Soundtrack of My Life in 2014.
His rise on television came from his personal life after he wedded popular artist Jessica Simpson and their daily lives was made into a reality TV show titled 'Newlyweds: Nick and Jessica'. The show ran from 2003-2005 and won a People's choice award. He has since featured on different television shows like; One Tree Hill and lots more. Nich has achieved much in the last two decades both as a singer and as a television personality.
Wife and Kids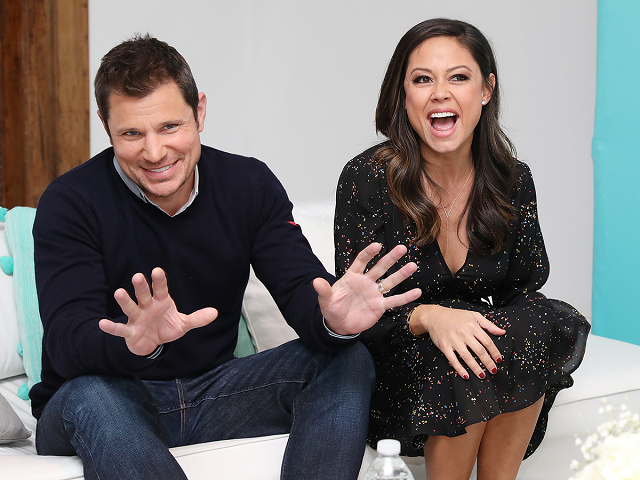 Meeting from an introduction by their shared manager in 1998, both singers; Nick Lachey and Jessica Simpson began dating in 1999 but broke up for 5months until they found their ways back to each other again. They became engaged in February 2002 and married on October 26, 2002, in Austin, Texas. After just three years of marriage, Lachey and Simpson announced they were separating. Simpson had filed for divorce and on June 30, 2006, they were separated.
In the same year, Lachey began dating Vanessa Minnillo who he had featured in his music video. They briefly broke up in June 2009 but by October 2009, they were back. They got engaged in November 2010 and married on July 15, 2011 in the British Virgin Island, the union is blessed with three children.
Nick Lachey's Brother
Nick Lachey has one biological brother and two foster brothers, but the most popularly known among the three is his biological brother who goes by the name Drew Lachey. It's amazing to note that the same musical gift found in Nick was also prevalent in his younger brother who gained a sustained amount of success in pop music. Born in Ohio in 1976, Drew was drawn to the arts at a young age. He sustained home tradition by going to the school for Creative and Performing Arts in Cincinnati. The 19-year-old was working as an ambulance driver before joining his brother's band; 98 Degree and that turned out to be a life changer for the young Drew.
With a remarkable musical career with the band, Drew Lachey took a leap forward and began to feature on many television programs such as his brother's Newlyweds reality show and have in recent years done more theatrical works. He is happily married to his grade school lover, Lea.
See Also: Brian Geraghty – Biography and Celebrity Facts, Movies and TV Shows

Net Worth
Being part of a group that sold 10million records with some success of his own as a solo artist and a Television personality, Nick Lachey has been able to record a net worth of $20 million. He has graciously given back to the society by being a member of the Entertainment Council of Feeding America, a  hunger relief organisation.
Height and Weight
The sensational singer and Television personality is physically blessed in many ways. His athletic body stands at 5 feet 9 inches tall with a body weight of 76kg. With these stats, Lachey has always been a ladies favorite.