Nick Vujicic, though born disabled, has proven to the world that there is ability in every disability. Little wonder the Australian-born bestseller author has a thought-provoking statement that in his disability he is enabled and has found unique ways of dealing with his rare condition. Nick will go down in history as one of those who changed the course of the handicapped and disabled.
From Australia to America and other countries of the world, Nick Vujicic, a Christian evangelist and motivational speaker, has been delivering thought-provoking lectures that have charged people to concentrate on the things their disabilities do not prevent them from doing well rather than regretting the things it interferes with.
Nick Vujicic Was Born With A Rare Condition
Nick Vujicic was born on December 4, 1982, at Melbourne, Victoria, in Australia. He was born with a rare disorder characterized by the absence of arms and legs, medically known as phocomelia. His full birth name at birth is Nicholas James Vujicic but he is called Nick for short. The author's frame with the tetra-Amelia syndrome (without fully formed limbs) shocked his biological parents that even his mother, at first sight, refused to hold him after birth. However, his parents later came to terms with reality and accepted him as a manifestation of God's plan.
In an attempt to separate the toes of his foot that were fused together to enable him to make use of them as fingers for turning a page, grabbing something, or do other things he would have ordinarily done with his hands, Nick underwent surgeries which made his childhood a hard one. Currently, he can even fish with his toes.
His Parents Were Very Supportive After Coming To Terms With Their Son's Condition
Nick Vujicic is the son of Serbian immigrants of Yugoslavia – Borislav Vujičić and Dušanka Vujicic. Although they were shocked at the condition of their son Nick, they poured much love on him and did their best to give him the very best in life. He has a brother Aaron and a sister called Michelle.
His mother, in a bid to encourage him, gave Nick a newspaper that featured a man with several disabilities who was still living well despite his physical challenges. That moment marked the turning point for Nick Vujicic's life as he sought ways to make life worthwhile.
He Eventually Rose Above His Challenges, Though He Attempted Suicide Once
At one point in his life, Nick attempted suicide, but for what the future had in stock for him, he could not go through with the odious act. Although he was severally bullied whilst growing up, at 17, Nick Vujicic took it upon himself to rise above the average teen and change his situation for good.
He began to comfortably use his toes to answer phone calls, type on a computer, comb his hair, shave, play the drums, brush his teeth, and even get a glass of water. Nick would give talks on social groups starting from his prayer group. He finished high school and enrolled in Griffith University where he graduated from at the age of 21 with a degree in Commerce and a double major in Accountancy and Financial Planning.
His Organization And Motivational-speaking Company Brought Him To The Limelight
Armed with a university degree in 2005, Nick Vujicic went ahead to found an international non-profit organization and ministry known as Life Without Limbs which has given hope to the downtrodden all over the world. Twelve years later, in 2017, the motivational speaker cum Christian evangelist founded a secular motivational-speaking company known as Attitude is Altitude which tutors and grooms motivational speakers. What he lacks in body, Vujicic makes up for in heart, courage, and strength. The Australian native leverages his experience to inspire millions by speaking in church groups, as well as non-profit organizations.
Nick has been relentless since he attained fame and has had the singular honor of travelling to several countries of the world like Switzerland, standing on podium/platforms such as TED, and the World Economic Forum to deliver lectures and speeches.
Nick Vujicic Earned Global Fame From Acting, Singing, And Writing
Besides the aforementioned, he has whetted his skills as an actor in a short film titled The Butterfly Circus where his role as Will earned him the award for Best Actor in a Short Film at the 2010 Method Fest Independent Film Festival. Moreso, in August of 2011, his company – Attitude is Altitude released a musical single and video titled Something More.
Aside from being a motivational speaker, Nick Vujicic is also a best-selling author with quite a number of books to his credit which includes Life Without Limits; Inspiration For a Ridiculously Good Life (2007) Life Without Limits; How To Live a Ridiculously Good Life (2010), and Unstoppable: The Incredible Power of Faith in Action (2012). He equally penned Love Without Limits: A Remarkable Story of True Love Conquering All (2014), Stand Strong (2014), Be the Hands and Feet: Living Out God's Love for All His Children (2018).
Nick Vujicic Met His Wife While Delivering A Motivational Talk In Dallas
Growing up without limbs, Nick Vujicic had little hope of finding love in his life, however, the story changed for the author when Kanae Miyahara came into his life. It was when Nick moved to America to launch his career as a motivational speaker and preacher that he met Kanae.
Nick's spouse is a Mexican-born model who was a nursing student when their paths crossed in Dallas where the bestselling author went to deliver a motivational speech in 2008. It was certainly love at first sight for Kanae who did not pay much attention to the author's physical disability but was rather attracted to his personality.
The Couple Tied The Nuptials Six Months Into Their Engagement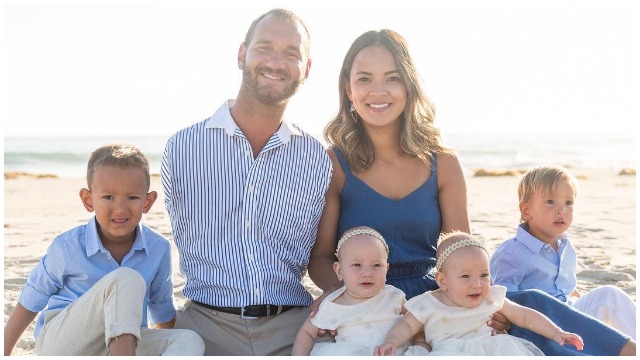 From then onward, the two became an item and were inseparable. Their engagement was a memorable one as it happened on a yacht in August 2011. After popping the big question and getting an answer in the affirmative, Nick Vujicic leveraged his mouth to slide the engagement ring on Kanae's finger.
The couple didn't let the grass grow under their feet before exchanging the forever commitment vows on the 12th of February 2012 which marked the beginning of their life together as husband and wife. They soon settled down and began building a family in Southern California.
They Are Now Parents To Four Kids
In 2013, they welcomed their first son, Kiyoshi who soon became a brother to Dejan, their second son who announced his entrance in 2015. Their family became complete when twin daughters Olivia Lei and Ellie Laurel joined them a couple of years later. Nick is amazed by Kanae's love and the bestselling author says she is simply a dream come true.