The importance of family in one's life can never be overemphasized. They give support and love necessary for us to go into the world and conquer. They also hold our hands and encourage us when we fail. However, on the flip side, the family can also be an inescapable source of pain and embarrassment, and one person that can attest to this is rapper Nicki Minaj.
Hailed as the most influential rapper of all time, Minaj rose from very humble and difficult beginnings, including having a drug-addict of a father, to break into the music industry. Since then, she has released several hit singles and albums. She has also nabbed numerous awards and is now the richest female rap act of all time. Minaj has worked quite hard to get to where she is today and as such, avoids needless controversies. Howbeit, she has found herself being drawn into them thanks to her loved ones.
Her Father Struggled With Substance Abuse and Once Burned Down Their House
Nicki Minaj's father is Robert Maraj. Robert has Trinidadian and Indian ancestry and initially grew up in Trinidad and Tobago before moving to the states in search of a better life. He worked as a finance executive and also did some gospel singing. He later got involved in drugs and alcohol, so much that he became an addict. Nicki's father would disappear from home for days on end and only return in order to hit up her mother for money with which to buy more drugs. When he didn't get his wish, he would turn physically abusive and threaten to kill the lady.
This pattern persisted for several years and Nicki began to fear for her mother's safety. Her fears nearly became reality when she was in her teens. On one particular day, her dad set their house on fire with their mom inside. Luckily for them, she was able to escape before the fire razed the house. All these memories stay with Nicki to date and she has even rapped about it in one of her tracks titled Autobiography. Her father is not too happy with her airing his dirty linens in public but he has made his peace with it. He has also gotten help for his problems and his daughter has stated that she has forgiven him. He himself has also stated that he loves her very much.
Mom, Carol, Runs a Non-profit Outfit To Assist Victims Of Domestic Violence and is Also a Singer
Happy Mother's Day, Carol Maraj! 🌹 pic.twitter.com/Q3CL8lkESp

— Stats Minaj (@statsofminaj) May 10, 2020
The person who bore the brunt of Robert's abuses is Nicki's mother, Carol Maraj. Carol is originally from Trinidad and Tobago and spent the first 24 years of her life in that country. During this period, she completed her education and found work as an accounting clerk and later, as a teller. She also met and married Robert and they had their first two kids before migrating to America. In America, the abusive tendencies that Carol had sensed in her husband started manifesting more. Things got especially difficult when he began abusing drugs but she hung in there and drew her hope and strength from her kids.
A turning point in Carol's life came when she attended a church revival service at the invitation of a neighbor. She responded to the altar call, later got baptized, and became a youth leader in the church. Carol continued to experience abuse at home but trusted the Lord to heal her husband. Heal him the Lord eventually did but Carol is no longer with Robert. She still loves him but just as a Christian brother.
Meanwhile, the lady has established the Carol Maraj Foundation which helps victims of domestic abuse. It provides them with encouragement, emotional support, a mobile beauty spa, and financial empowerment programs. The foundation eventually hopes to have its own facility that will accommodate victims of domestic violence in emergency situations; organize rehabilitation training; and job-readiness programs. Carol has also dabbled into music and released her first song, God's Been Good, in 2014. She and her daughter are yet to collaborate but they are quite close. Minaj remembers all the sacrifices that her mom made for her and is glad that she can give her a good life with her fortune.
Meet the Rapper's Only Sister – Ming
#littlesistersRock #ming pic.twitter.com/75lBXQdtOw

— Mrs. Petty (@NICKIMINAJ) June 16, 2013
Nicki Minaj has four siblings, one of whom is her younger half-sister named Ming. Ming is still quite young and as such, her famous, older, half-sister jealously protects her from the spotlight. The rapper has succumbed on a few occasions though and has shared lovely posts about her on social media in the past. For instance, in 2013, Nicki posted two pictures of Ming on Twitter and captioned it #littlesistersrock, #ming, and #sister love u.
Fast-forward to 2020, Minaj is still very close to her little sister and shared a video of them with their father. The video led to a lot of reactions as many fans concluded that they look so much alike and that gorgeousness must run in their family.
Youngest Brother, Micaiah, is Most Likely in College
Happy 22nd birthday, Micaiah Maraj! 🎉❤️ pic.twitter.com/YPsm6T9I7B

— Stats Minaj (@statsofminaj) March 29, 2020
Minaj's youngest brother is Micaiah. Micaiah was born in March 1998 which makes him about 16 years younger than his elder sister. Much like Ming, Nicki really loves her little brother. She has sent him shoutouts in several of her songs such as All Things Go (2015) and Top of the World (2011). She also posted some lovely pictures of them both while wishing him a happy 22nd birthday on the 29th of March 2020.
There is no word on what Micaiah is actually up to but it is safe to presume that he must be in college or done with that stage already, given that he is at the appropriate age. His big sister also expressed her wishes for him to attend college in her 2014 song, All Things Go. Seeing as she has the wealth to make that wish a reality, it is likely that this is where the young man is at.
Brother, Brandon Lamar, Has Also Tried His Hands at the Rap Game But With Less Success
Nicki Minaj and her mom are not the only singers in the family. Another person who has tried the music industry is her younger half-brother named Brandon Lamar. Lamar is also a rapper and released his first music videos in 2007. Since then, he has dropped several tracks and remixes, including 4 My Town, Dismissed, and Bottoms Up. He has also received acclaim from major hip-hop blog sites such as ALLHIPHOP.COM and COMPLEX.COM (which praised his remix of Lloyd Banks' track Beamer Benz or Bentley).
All these, however, pale in comparison to his superstar sister who has dropped monster hit singles, such as Super Bass, Starships, Chun-Li, and Anaconda, and has sold about 100 million records, making her one of the bestselling music acts in the world. Nicki and Lamar don't seem to be quite close but there is no doubt that they must be on good terms.
Her Elder Brother, Jelani Maraj, Was Convicted of Rape in 2017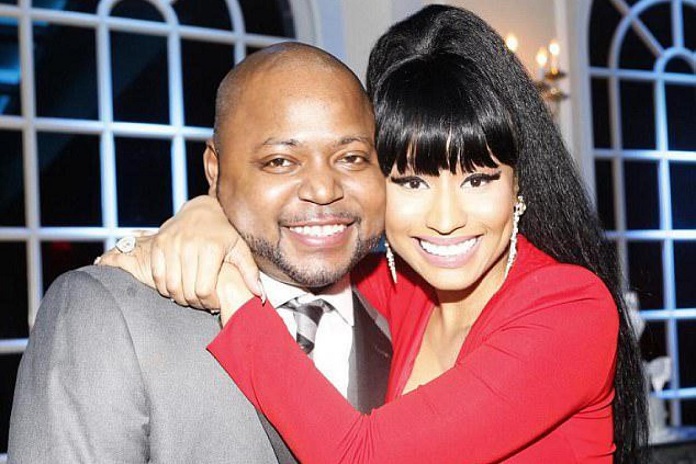 The person whose actions have most threatened to drag Nicki Minaj through the mud is her beloved elder brother, Jelani Maraj. Jelani was convicted in 2017 of raping his then 11-year-old stepdaughter repeatedly. According to the victim, the incidents took place while her mom was out at work and spanned between April and November 2015. It happened about four times each week and sometimes twice in one day.
Jelani reportedly threatened the girl that he would send her away or hit her in order to keep her docile. It was her brother who eventually noticed what was going on and told a child protection worker. He was then arrested in December 2015 and charged with sexual assault and endangering a minor. The trial lasted up until 2017 and Nicki supported her brother. She visited him in jail and even alleged that the girl's mother wanted to extort about $25 million from her in order to drop the charge. This was not enough to save her brother and in 2018, he was sentenced to 25 years to life. He remains incarcerated to date.
Nicki Minaj Has Dated Rappers Such as Safaree Samuels, Meek Mill, and Nas
Safaree Samuels (2004-2014)
Back in 2004, Nicki Minaj commenced a relationship with Jamaican-American rapper, Safaree Samuels. Samuels was her groupmate in the first rap quartet that she initially belonged to, Hoodstars, and they became good friends in no time. Things subsequently turned romantic and they remained together even after the group split in 2005. The couple would go on to date for a decade during which they kept their relationship under the wraps. This was done at the behest of Nicki's management who told her that being in a relationship would make her unappealing and stall her career.
The couple stuck to this advice and kept their relationship on a low-key. This perhaps contributed to their longevity and they celebrated their 10 years anniversary in March 2014. Sadly, it was that same year that things went sour. The first sign of trouble came in October 2014 when Safaree covered up the Nicki tattoos on his body. She herself then responded with a track, titled Bed Of Lies, in November 2014.
Safaree has claimed that he was the one that helped Nicki establish her career as he penned some of her rap lyrics. She has however denied this and he backtracked from his comments for a while before going on to sue her in 2016, claiming a portion of the money from her first three albums as he helped write it. Safaree also released two tracks between June and July 2015, The Response Part I and II, in which he told his ex that no one can love her like he did and accused Meek Mill of coming between them. The Jamaican-born rapper would later withdraw his lawsuit but it is not yet Uhuru between the exes. As of 2018, Nicki accused him of hiring prostitutes and stealing her credit cards while he accused her of cutting him with a knife.
Meek Mill (2015 – 2017)
Another sensational relationship that Nicki Minaj has been in is with rapper, Meek Mill. Mill has never hidden his love for the lady and as far back as 2009, tweeted that he would love to be with her and knock her up. His dreams, at least the first one, eventually came true in 2015. Rumors started swirling around about the two in late 2014 when they were spotted together in outings and the studio. They also performed publicly together but refused to confirm that they were dating.
The confirmation would later come in April 2015 when Mill posted their picture on Instagram and advised fans to find a woman who is strong enough to help them take over the world. The couple officially dated for two years and broke up on the 5th day of January 2017. Since then, it has also been a series of back-and-forths and heated Twitter feuds. Mill dropped a track, Wins and Losses in July 2017 in which he talked about Minaj being dead to him and how that fact was killing her.
She responded with her own song, Barbie Dreams, in August 2018, in which she stated that Mill was all up in her DMs and she had to dodge him. The exes and Nicki's husband, Petty, got into a shouting match in a retail store in West Hollywood in January 2020. By February, they exchanged a series of tweets in which Nicki accused Meek of being physically abusive while he called her out for defending her rapist brother.
Nas (May 2017 – January 2018)
.@Nas wishes @NickiMinaj, his "Queen of New York/Hip-Hop," a happy birthday https://t.co/jKg50sHbQh pic.twitter.com/nur3tGIt2Q

— Vibe Magazine (@VibeMagazine) December 9, 2017
Nicki Minaj briefly dated acclaimed rapper, Nas. The pair's story goes back to 2012 where the rapper portrayed Minaj's boyfriend in the video for her single, Right by My Side. They were all chummy with each other in front of the cameras but it went no further than that. Five years down the line, Minaj was single after breaking up with Meek Mill and she started getting close to Nas.
They were spotted together at a restaurant in May 2017 and both posted pictures of the get-together on their Instagram page. Nicki later attended Nas' birthday party in September, where he reportedly treated her face like she was a glazed donut. He then declared her the queen of New York in a birthday shout out in December 2017. The couple would later end things in 2018.
Her Rumoured Relationships With the Likes of Drake and Eminem
Drake
Nicki Minaj has been consistently linked to Canadian superstar rapper and good pal, Drake. These rumors go as far back as 2009 and the duo has not helped matters with their close interaction over the years. Drake rapped in his 2010 debut album, Thank Me Later, that he hoped he and Nicki get married someday. By August 2010, he asked people to refer to her as Mrs. Drake Graham and urged them not to stare at her for too long.
The two collaborated in a wedding-themed video for Nicki's 2010 song, Moments for Life, and by 2011, Drake stated that he would totally marry Nicki if given the opportunity. The pair have also given a couple of raunchy public performances, including the infamous lap dance that Nicki gave Drake in the video for her Anaconda song. Despite all the above, the two made it clear in the 2014 track, Only, that they have never been intimate with each other.
Eminem
Much like her thing with Drake, another romance that Minaj has been touting for years, and fans have been wishing for, is with award-winning rapper, Eminem. The stuff between the two started in October 2010 when they teamed up on the hit track, Roman Reigns. Eminem then expressed his x-rated desires toward Nicki in his 2011 EP, The Sequel, and she responded in Ciara's 2013 track, I'm Out.
This back and forth would continue for several years during which Nicki acknowledged Eminem as one of her rap influences. She also alluded to having "bagged Em" in May 2018. However, that same month, it became obvious that nothing had happened between them as Eminem asked a Boston crowd if they thought he should date Minaj.
Husband, Kenneth Petty, Was Previously Convicted Of Rape and Manslaughter
Nicki Minaj is now married to her childhood sweetheart, Kenneth Zoo Petty. As the story goes, the couple first met and dated each other while they were both teenagers growing up in Queens. They later broke up and went their different paths in life. The pair reconnected several years later and started dating each other in late 2018. They eventually tied the knot on the 22nd of October 2019. The ceremony was pretty low-key and Minaj later revealed that even though she had dreamt of a big wedding as a child, her priorities had changed.
The couple is working on building their infant union but one thing that has haunted them is Petty's past. He was convicted of rape at the age of 16 in 1995; he allegedly used a knife to coerce a 15-year-old into sex and was sentenced to 18-54 months in jail. Fast-forward to 2006, Petty was convicted of manslaughter for the death of a young man in a gunfight in 2002. He was sentenced to prison and served seven years in jail. He was then released under supervision in 2013.
Many people have dissed Minaj for her husband's criminal past but she has defended him, maintaining that he has changed from the wild days of his youth.
The Rapper Became a First-time Mom in September 2020
Nicki Minaj and her husband are now first-time parents, having welcomed their first child on the 30th of September 2020. The development made Nicki happy as she has been quite frank about her desire to have a child. The rapper previously revealed in a 2015 interview with Rolling Stone that she made the heartbreaking decision to abort a child at the age of 16 because she didn't have anything to offer the child. She stated that the incident haunts her but maintains that she is in favor of abortion rights.
Back in 2014, Nicki also told Vogue Italia that she doesn't want to be all about work without experiencing the joys of family. Happily, that dream came true and the rapper gave the first indication of her pregnancy in May 2020 when she alluded to nonstop peeing, nausea, and cravings in a post. Later in July 2020, she shared a series of pre-pregnancy pictures which showed her cradling her belly in some daring outfits.
Her bundle of joy finally arrived in September. Details are still scarce about the child, including sex and name, but one thing that is for sure is that the child won't lack love from the parents.