Nicole Alexander, popularly known as Hoopz or Nikki, is an American reality television star, actress, and model whose emergence as the winner of the first seasons of the VH1 reality television shows, Flavor of Love and I Love Money, brought to the limelight. She never had any intentions of getting involved in reality shows while growing up but somehow, she found herself competing in the first and second shows, winning both.
Nicole Alexander Biography
Born on July 12, 1983, in Detroit, Michigan, as Nicole Deannae Alexander, the reality TV star while describing herself, said she believes deep down within her, that she is a tomboy. Nicole had her high school education at Woodhaven High School in Brownstone and while there, she played basketball for the school's team. Since her graduation, she has not furthered her education.
In 2006, she participated in the season one of the reality television show, Flavor of Love, and finished as the winner of the $250,000 grand price. In this season of the show which aired on VH1 from January 1, 2006, to March 12, 2006, twenty female contestants were brought to live together in the mansion of Flavor Flav located in Encino, California, to compete for his love.
Because Flav says he finds it easier to remember nicknames than real names, he gave each of the contestants a nickname by which they were referred to throughout the period of their stay in the house and that was how Nicole got the nickname "Hoopz".
After succeeding at winning the heart of Flavor Flav in the ten-episode show, Nicole broke up with him as soon as the show came to a close. She subsequently began acting and modeling, landing her first acting role in the 2010 movie, Ghetto Stories. In 2015, she appeared in It Takes a Sister. She is also signed to 3 different modeling agencies, including Eye Candy Modeling.
In 2008, Nicole Alexander contested again in another of VHI's reality show, I Love Money. Drawn from the first two seasons of the reality shows, Flavor of Love, I Love New York, and Rock of Love, I Love Money had the contestants competing both physically and mentally for the ultimate price of $250,000.
Nicole, again, became the winner and while responding to the question of how she used her prize money, she said she invested a lot of it, helped her family out, and traveled to a few places where she enjoyed herself.
Apart from reality shows, Nicole Alexander has also featured in two music videos – Will Smith's "Party Starter" and Lil Keke's "Chunk Up the Deuce". According to some media reports, the beautiful lady worked as a TSA agent with the Detroit Metropolitan Wayne County Airport before her stint on reality TV.
Family Facts
Nicole Alexander is the daughter of an Africa-America man and an Italian-American woman. She grew up in a big family with nine people, including her younger sisters – Kortnee Alexander, Erika Alexander, Jenni Alexander, and Meagan Alexander, who is described as the black sheep of the family. Although the reality TV star is very secretive about the identity of her parents, she usually flaunts her family's pictures on social media.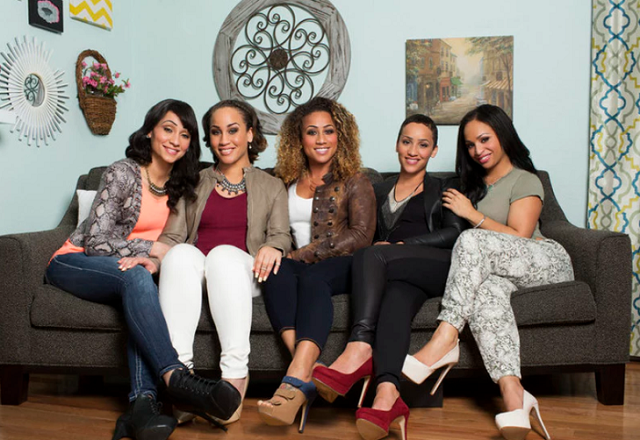 In 2015, Hoopz started a reality TV show titled "It Takes A Sister" on Oxygen. The show follows Nikki who lives in the same house in Knoxville, Tennessee, with her 4 younger sisters, 8 children (nieces and nephews), 3 dogs, and Nikki's assistant who fathered one of the children while he dated one of Nicole's sisters.
Things You Need To Know About The Reality Star
Net Worth
Nicole's net worth is estimated to be $3 million. Apart from her involvement in reality TV shows, she has also been involved in other business ventures. She has a boutique and has been featured in a number of magazines and publications, including the Boston Magazine and STUFF Magazine which named her among the "Sexiest Bostonians" in 2011.
Relationship
After Nicole Alexander parted ways with rapper Flavor Fav in 2006, she started dating another rapper named Clifford Joseph Harris Jr. (known professionally as T.I) the same year. However, after four years of being together, they broke up.
The beautiful lady then moved over to the sports industry and began dating NBA star, Shaquille O'Neal in 2010. Their relationship went on smoothly with the couple getting engaged. Sadly, while people were waiting to receive the news of their wedding date, Nicole and O'Neal parted ways in August 2012.
The young lady explained the reason behind their separation years later on the show, It Takes A Sister, saying that Shaquille O'Neal cheated on her many times. As of October 2016, she revealed that she was in a relationship with Ovince St. Preaux, a UFC fighter.
See Also: Laura Dern Age, Height, Children, Husband, Mother, Boyfriend, Net Worth
Body Statistics
Beautiful Nicole Alexander measures 5 feet 2 inches (157 cm) in height. Her body measurement is as follows:
Bust – 34 inches (86 cm)
Waist – 24 inches (61 cm)
Hips – 36 inches (91 cm).