Nicole Boyd is a photographer, graphic designer, and actress. While these are professions that have brought many to the limelight, none of them is responsible for the fame and attention that Nicole gets. She did not know real fame until she became the girlfriend and subsequently, the second wife of Jackass star Bam Margera. Theirs' was a dramatic wedding ceremony that took place in Reykjavik, Iceland in October 2013. Nicole tied the knot with her husband before his music crew and their fans before the band proceeded to perform live at the Random Hero Festival held to raise funds for a new skate park in Iceland.
The couple has been building a family together since then and people keep up with their life together as much as they follow the career of Nicole's husband. What has been unaccounted for is who Nicole was before meeting Bam and what she does for a living. This has left many wondering if she has settled for being a housewife, this is not so as you would soon learn.
Nicole Has Revealed Some Details On Her Background Via Social Media
There are many things that are yet to be known about Nicole Boyd. For instance, it is not even known where she was born; we can only tell that she marks her birthday on the 24 of January yearly.
She has kept information about her family and early years under a tight lid and no verifiable facts about that exists as of now. She may, however, be a native of La Mirada, California according to her social media pages.
Nicole lost her father when she was only 17; as such, her family life revolved around her mother and a brother named Warren D Michael until Bam became a part of her life. According to his Instagram page, Nicole's brother claims to be the creator of History Channel's Toymakerz. If we are to go with that, he's also a writer, director, traditional cinematographer, and photographer.
She Works at Pennhurst Asylum and The Prana House
While it is easy to find that Nicole Boyd is an actress who doubles as a photographer and graphic designer, it has been difficult to associate her with any body of work. As an actress, it has only been documented that she is known for Togetherness (2015), a comedy-drama TV series that ran from 2015 to 2016 wherein she appeared as a puppeteer. But then, we have been able to uncover that most of her works are with The Prana House and Pennhurst Asylum.
The Prana House as an establishment is out to provide healthy knowledge in herbal remedies and holistic wellness. They offer products that range from organic body care to tinctures, elixirs, oils, and other apothecary items. It remains to be unveiled in what capacity she works for the company.
Most of her acting gigs are with Pennhurst Haunted Asylum regarded in some quarters as the No.1 haunted attraction in the United States. The former asylum is now an entertainment center.
Nicole Boyd and Bam Margera Started Dating In 2012
Details of how the couple met are hard to come by but it is said that they started dating after meeting through a mutual friend; at the Phoenix Theatre in California during a concert. Nicole Boyd and Margera exchanged marital vows before a thronging audience before Margera pulled off a breathtaking performance with his music band; this happened on the 5th of October 2013.
Their wedding took place barely a year after Bam Margera legally divorced his first wife and college sweetheart Mellissa Rothstein whom he married in 2007 and broke up with years later in 2012. Interestingly, the professional skateboarder had a similar wedding arrangement with his estranged former wife.
The Challenges Their Union Has Faced
Margera has been struggling with alcohol abuse that has landed him in several troubles. He told an interviewer from the Philadelphian Inquirer that his alcoholism contributed to his divorce. The stunt performer also lost his friend Ryan Dunn in a fatal accident caused by DUI.
His wife Nicole Boyd had her own brush with the law in May 2016 while driving under influence. The West Chester patrol team took her in after she crashed into a Hyundai car landing the occupant of the car in a hospital for a minor checkup. Reports have it that she earlier crashed the same Porsche Panamera sometime in 2011.
Bam went into rehab in 2015 and has been mostly sober until he was arrested in 2018 for driving under the influence of alcohol which sent him back to the rehab program after posting a huge bail.
The Birth of Their Child Has Had a Positive Effect on The Couple
Nicole Boyd announced her pregnancy on June 22, 2017, with a video post which showed off her baby bump. And on December 22nd, 2017, a baby boy they named Phoenix Wolfe arrived.
She told a reporter that they chose to name their child Phoenix because the name seemed to follow them around. Besides, she and Margera met at the Phoenix Theatre in California during a concert.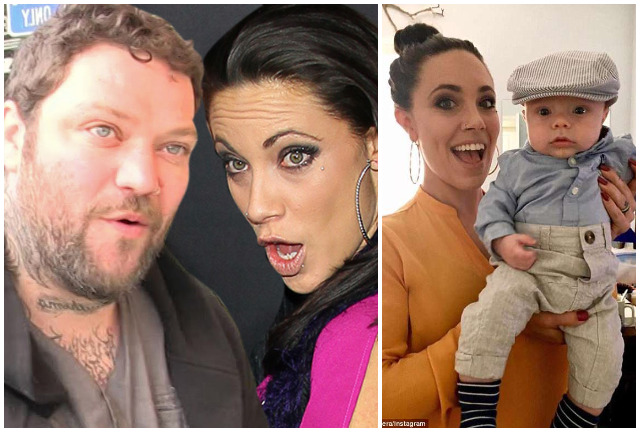 In 2017, the couple moved to Barcelona, Spain after the birth of their baby. Margera stated that he needs a place to stay away from the public eye and focus on building his new family.
Nicole disclosed that Bam hopes to teach Phoenix Wolfe skating as he grows older. Bam is taking a new approach to life and hopes to be a loyal husband and exemplary father to his wife and son.
What You Should Know About Nicole Boyd's Husband
Brandon Col Margera is an American Pro Skateboarder, rock musician, stunt performer, and filmmaker. He is also a TV personality best known as part of the main cast of MTV's reality comedy series Jackass.
He was born in West Chester, Pennsylvania on September 28, 1979, to Phil and April Margera. Bam has a younger brother named Jess. He got his nickname Bam from his granddad who called him Bam Bam. A name which was later shortened to Bam by his high school friends and stuck to him ever since.
He first became popular when he joined the CKY Crew which released a series of popular skateboarding, stunt, and prank videos between 1999 and 2002. Along the way, Bam became friends with Jeff Tremaine, a former editor of Big Brother magazine who included him and his friends to his fast-evolving team of stunt performers for a new product that would go on to be called Jackass. Jackass lasted 3 seasons and has various sequels after it.