There are a few reasons to be familiar with Nicole Johnson. She was Miss California USA in 2010. She also competed in the Miss USA pageant, where she finished in the top ten, but perhaps, more notably, is her marriage to Michael Phelps, arguably the greatest Olympian in history.
Like most public personalities, Nicole's fame is tied primarily to her achievements than her collective personal history. There is no doubt that her victories are worthy of admiration. but the American model and beauty queen has a life story that is worthy of similar emotion, such as the fact she might be of Persian heritage.
Born in Colorado, Raised in California
Nicole Johnson was born in Colorado Springs on July 12, 1985. She started her early life in Pennsylvania, but would later grow up in Westlake Village in California.
Nicole's ethnicity is a matter of debate among fans of her All-American story. In the absence of conclusive proof, some outlets say she is Persian, while others report she is Hispanic and African American. However, one thing is for sure, from a cursory look at the former beauty queen, she has a diverse ethnic heritage.
The model attended Westlake High School and graduated in 2003. She attended the University of Southern California and graduated with a degree in Bachelor of Arts in Communication. In college, she majored in sports and entertainment. Before joining USC, Nicole attended Moorpark college.
She Was Raised By Middle-Class Parents
Nicole Johnson's parents are Richard and Annette Johnson. Media interest in them began after their baby girl brought them to fame with her stint as a beauty queen. Nevertheless, records about her parents remain publicly unknown although there are controversies about Richard being a Persian while others say he is black. There are also records of her mom Annette being a Mexican. Richard worked as a pharmaceutical sales manager while his wife was a teacher.
From Beauty Queen to Marketing Manager
A desire to attend the University of Southern California sent Nicole Johnson on the beauty pageantry train. At the age of 17, she read an advertisement in the Thousand Oaks Acorn, calling for participants for Miss Calfornia Teenager. Prizes for finishing well included a scholarship that would help pay for the transfer.
In her first attempt, Nicole finished runner-up and secured her place at USC. Three years after in 2007, after completing her college education, she competed in the Miss California USA 2010 title. This time, the model went all the way, claiming the title as Miss California USA. Her victory meant representing California at Miss USA in 2010. This time, however, she only managed a ninth-place finish, bringing her beauty pageant career to a close.
Since kissing her catwalk days goodbye, Nicole has tried her hands at a few professional roles. She worked as a marketing manager for INTA Gems & Diamonds. She also has a brief career as the director of communications for YP.
Becoming a mother has caused Nicole to cut back on her professional endeavours. She does, however, still hold a volunteer marketing manager position at her husband's foundation, Michael Phelps Foundation.
See Also: Top 10 Sexiest Ethiopian Models
Nicole Johnson's Relationship With Michael Phelps
Compared to a lot of celebrity couples, Nicole Johnson and Michael Phelps have a unique love story. It began in 2007 at the ESPY awards. They remained friends for two years until 2009 when their romantic relationship began.
For the first four years of their relationship, things were great, until the fourth year. For reasons yet to be shared with the media, the couple broke up in 2011 and went their separate ways. Observers have speculated that the break up was a result of Phelps' emotional and mental state at the time. The Olympic swimmer was battling some personal issues, notably alcoholism.
However, sometimes, a break up is not the end of a love story. Despite his status as one of the most eligible bachelors in the country, Michael Phelps, according to an interview with USA Today, wanted to be with Nicole. After a drunken driving arrest and a stint in rehab, Phelps returned to Nicole with a renewed drive to make their relationship work.
Married Since 2016. Parents to Three Children
Although it took some time, Michael Phelps and Nicole Johnson found their way back to each other. They reunited in 2014 and got engaged on February 21, 2015. On June 13, 2016, in a private ceremony with a handful of friends and family, the beauty queen and the Olympic legend got married.
Since they became a family, they have grown, not just in their love for each other, but also in the number of people in it. Nicole and Phelps share three children, all of whom are boys. Their first, Boomer Robert Phelps, was born on May 5, 2016. He was born before the couple officially became husband and wife.
Their second child, Beckett Richard Phelps, was born on February 12, 2018. Their third child, Maverick, was born on September 9, 2019. Aside from their children, they also have two dogs, a pair of French bulldogs named Juno and Legend.
They are Big Supporters of Each Other
In an ideal world, it should go without saying that couples are supporters of each other's professional endeavours, but we do not live in a perfect world. However, Nicole Johnson and Michael Phelps have created a world of their own, where they are major supporters of their respective pursuits.
During Michael Phelps' active days as an athlete, Nicole was often in the stands, cheering and egging her husband to victory. Nowhere was this more evident than in Phelps' record-breaking 2016 Olympics, where she and their first son, Boomer became the Olympics cutest cheering section.
Off the pool, she has equally been supportive. Phelps has spoken about how she has been there through his battle with depression and helped him on his journey to overcome it.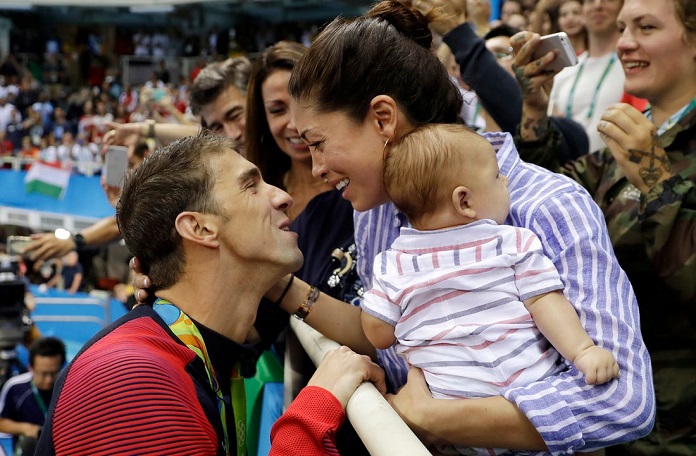 For Nicole, although they weren't married during her beauty queen days, Phelps remained a vocal supporter. Not only did he support Nicole while competing for the crown, but he was also there at the end of her reign. During the hand-off ceremony to the next Miss California, Phelps was famously present in the cheering section. In an interview with Harper's Bazaar, he acknowledged he was only there for one person – Nicole.
As a family, they are raising three beautiful boys and run a foundation together. Talk about a successful couple, indeed.