Nkosazana Dlamini Zuma (born January 27, 1949) is the ex-wife of Jacob Zuma, former South African president. She was married to Jacob Zuma between 1982 and 1998. Nkosazana Dlamini Zuma was appointed the Minister in the Presidency for Women, Youth and People with Disabilities of South Africa on 6 March 2023.
Her name is widely known across the country, as Nkosazana represents the highest pinnacle of female participation in the South African political sphere and her impressive achievements speak for her.
Nkosazana Dlamini Zuma's Biography Summary
Full Name: Nkosazana Clarice Dlamini-Zuma
Gender: Female
Date of Birth: 27th January 1949
Nkosazana Dlamini Zuma's Age: 74 years old
Nationality: South African
Zodiac Sign: Aquarius
Sexual Orientation: Straight
Marital Status: Divorced
Nkosazana Dlamini Zuma's Ex-Husband: Jacob Zuma
Nkosazana Dlamini Zuma's Children: Msholozi Zuma, Gugulethu Zuma-Ncube, Nokuthula Nomaqhawe, and Thuthukile
Nkosazana Dlamini Zuma's Net Worth: R1.6 million estimated
Famous for: Being a South African Politician and Jacob Zuma's ex-wife
Facebook: Nkosazana Dlamini Zuma
Twitter: @DlaminiZuma
What is Nkosazana Dlamini Zuma's Age Now?
Nkosazana Dlamini Zuma is 74 years old as she was born on 27th January 1949, in Hlanganani, the KwaZulu-Natal province of South Africa. She is the eldest child of 8 siblings and her parents were middle-class South Africans.
Nkosazana's parents were well-respected members of the community. Her mother's name was Rose Dlamini and her father was, Willibrod Gweva Dlamini who happens to be a teacher during his days. Nkosazana lost her mother seventeen years ago on May 13, 2005, at the age of 75. The late Mrs. Rose is survived by Nkosazana Dlamini and four other siblings; Mondli, Nomusa, Sibusiso, and Hlobisile Dlamini.
More so, the Dlamini family boasted great political influence in the KwaZulu-Natal region of South Africa. Nkosazana's uncle, Stephen Dlamini was a well-renowned trade union member, as well as a member of the ANC political party.
Nkosazana Dlamini Zuma's Education
Upon the completion of her basic education, Nkosazana Dlamini had her high school education at the Amanzimtoti Training College in 1967. The ambitious young lady decided not to stop there as she went on to enroll at the University of Zululand now called the University of Natal, in 1971, where she obtained her first BSc in Zoology and Botany.
She then proceeded to study Medicine in the same institution but was exiled in 1976 and had to seek asylum in the UK. Nkosazana completed medical school at the University of Bristol in 1978. After this, she went to the School of Tropical Medicine of Liverpool University, where she studied to obtain a diploma in Tropical Child Health.
After obtaining her diploma, Nkosazana worked as one of the medical staff at the General Hospital in Swaziland for a couple of years, before she finally decided to veer into politics.
Nkosazana Dlamini Zuma's Municipality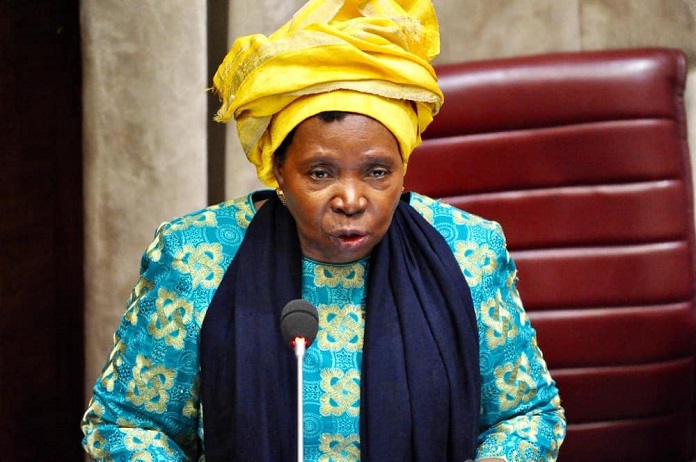 In 2016, while she was still the chairperson of the African Union Commission, Nkosazana Zulu created a new municipality in KwaZulu-Natal. The new municipality was a merger of the Kwa Sani and Ingwe local municipalities. The merger occurred after the conclusion of the August 2016 local elections.
The political rules state that the municipal council should ideally consist of twenty-nine members elected by proportional representation. Amid the loud celebratory chants of her supporters, the new municipality was named the Dr. Nkosazana Dlamini-Zuma Local Municipality.
Nkosazana Zuma's Previous Positions Held 
In service to her country, Nkosazana Zuma has worked in various positions in the government and currently holds the position of the Minister of Cooperative Governance and Traditional Affairs in South Africa. However, the highlight of Nkosazana's political career has been her presidential campaign in 2017. She ran against Cyril Ramaphosa but was eventually voted out after her campaign at the African National Congress's 54th National Conference in December 2017.
Before she decided to run for president, Nkosazana was elected as the first female Chairperson of the National Executive Committee of the ANC. More so, the political veteran has served under multiple presidents, including ex-husband Jacob Zuma, and Cyril Ramaphosa. Under Cyril, she served as the Minister in the Presidency for the National Planning Commission for Policy and Evaluation from February 2018 to May 2019.
Nkosazana has also held the position as the 3rd Chairperson of the African Union Commission from October 2012 to January 2017 and prior to that, she was the Minister of Home Affairs from May 2009 to 0ctober 2012.
In the latter part of the 1990s, the former Mrs. Jacob Zuma was the Minister of Foreign Affairs between June 1999 and May 2009. Before this appointment, Nkosazana served as the Minister of Health from May 1994 to June 1999. There is hereby no question about the trailblazer that is Nkosazana when it comes to women in politics. Generally, her contribution aimed at shattering the glass ceilings that prevent women from achieving greatness in South African politics
More Positions Nkosazana Dlamini Zuma Held in the Past
Although her political career becomes more inspiring because she was divorced from Zuma before he even became president, Dr. Nkosazana Zuma became interested in politics while she was still a student at the university.
In 1976, she was elected as the deputy president of the SASO and this was one of the primary reasons that led her into exile as she dared challenge the reigning apartheid regime at the time. She was very vocal in her condemnation of the government and used her position as an underground member of the South African Students Organization to campaign against them which would later earn her the position of Deputy President of the SASO.
A few years later, she was appointed as the director of a British NGO called the Health and Refugee Trust. In 1994, Nkosazana held a trusted position as a member of Nelson Mandela's presidential cabinet. Before this appointment, she was part of the Gender Advisory Committee at the Convention for a Democratic South Africa (CODESA) that took place in 1992.
In 1999, Nkosazana spearheaded the introduction of the Tobacco Products Amendment which rendered smoking in public places illegal. This was during her tenure as Minister of Health which lasted from 1994 to 1999. In 1999, Nkosazana became the Minister of Foreign Affairs under former president Thabo Mbeki Kgalema Motlanthe and held that position from June 1999 till May 2009.
Nkosazana was Married to Jacob Zuma For Almost Two Decades
Nkosazana's marriage to Jacob Zuma has been kept below the radar but it lasted for a good 16 years. They allegedly met in the early eighties in Bristol, United Kingdom while both of them were in exile from South Africa. They soon got married in 1982 and the marriage was blessed with four daughters: Gugulethu Zuma-Ncube, Msholozi, Nokuthula Nomaqhawe, and Thuthukile Zuma.
Sadly, the marriage ended in June 1998 after Nkosazana filed for a divorce. The reason for the divorce was never revealed, and nor was it discussed by either party. 11 years later, Jacob Zuma went on to become the president of South Africa under the ANC party.
Meet Nkosazana Dlamini-Zulu's Daughters
Nkosazana's marriage to Jacob Zuma was blessed with 4 daughters and they are Gugulethu Zuma-Ncube, Msholozi Zuma, Nokuthula Nomaqhawe, and Thuthukile. Msholozi was born in 1982 and is the former couple's first child. Unfortunately, not very much is known about her except her age and the fact that she was born during her father's time in exile. She is currently 40 years old.
Gugulethu Zuma-Ncube who is the second daughter of the couple was born on October 10, 1985. She is a 37-year-old actress and is currently married to Wesley Ncube, the son of a prominent Zimbabwean politician.
Nokuthula Nomaqhawe was born in 1987 and is presently a media personality. The youngest daughter is Thuthukile Zuma who is currently 34-years-old Thuthukile was the Chief of Staff at the Department of Telecommunications and Postal Services from May 2014 till December 2015, making history as the youngest person ever to hold that position.
Nkosazana Dlamini Zuma's Net Worth
The former wife of Jacob Zuma is believed to have her net worth pegged at a whopping  R1.6 billion which is more than 96 million dollars. Apart from politics and activism, she has also invested in agriculture and mining.