There are various places the world over where women are banned from entering, including places of worship (Hindu temples), a mountain in Greece (Mount Athos) and Japan (Mount Omine), a water park in Germany (but we garner that the reason is the danger it poses to women due to their anatomy) and well Saudi Arabia.
See Also: The Gorgeous Kente Cloth Of Ghana
It will take a longer search however to find a place that you can call 'No mans land', but it is not impossible, for in Africa nonetheless; there does exist a Kenyan village where no men are allowed.
This no mans land is Umoja which means unity in Swahili. It was founded as far back as 1990 and is an all-female matriarch village located near the town of Archers Post in Samburu County, 380 km (240 mi) from the capital, Nairobi.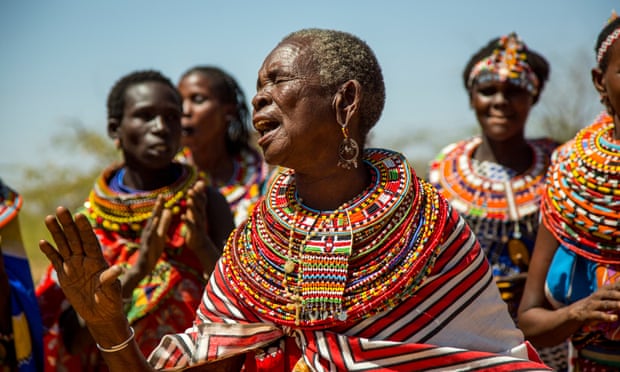 Founded by Rebecca Lolosoli, a Samburu woman as a sanctuary for victims and survivors of violence against women and young girls fleeing forced marriages, the women of Umoja neither accept violence nor the traditional subordinate position of women.
Rebecca Lolosoli was married prior to Umoja, she had an outspoken attitude that was not favored in Samburu where the traditional practices were inherently abusive towards women.
She consistently spoke out against such practices like female genital mutilation and forced marriage and spoke in favor of widows, orphans, and victims of rape.
See Also: Interesting Facts About Ghana's Ashanti Tribe
Things came to a head when she spoke out after women were raped by British soldiers training nearby. The men in her village were angered and beat her up.
Her husband put up no protest, to the end that she led a female exodus and started no mans land. She spoke to Satya Magazine about the lead up to her decision to leave her husband and create this sanctuary;
"For more than 50 years, British soldiers trained in our area, wearing green uniforms they blended with the trees and when women collected firewood, the soldiers would jump out and rape them, laughing like it was a game.

The men made their wives leave, taking the children with them. Then they had nothing and many would resort to brewing changaa (an alcoholic drink) to earn money, but it is illegal to sell this, and the women were jailed, leaving their children without caregivers and some were eaten by hyenas."

"My own husband was not bad, we married when I was 18, and he paid a dowry of 17 cows. But four men in the village didn't like me because I started selling goods, and they beat me up and took my money. Then I started talking about helping the rape victims and the next time my husband left on business, the men beat me severely. I left the hospital and my parents said I should rejoin my husband. He said nothing about what the men had done, and so I realized I could be killed, so I left."
The women run a primary school, cultural center and camping site for tourists visiting the adjacent Samburu National Reserve. They create and sell jewelry to benefit the village and it has evolved into a thriving, self-sustaining village.
That in no way means that it was an easy ride, the women had to face further persecution from jealous men even after finding innovative ways to sustain the village.
No mans land though it may be, Umoja allows men to visit the village as long as they behave and abide by them women's rules but men can never take up residence within the village. Rebecca has repeatedly been elected the chairperson since Umoja was set up and this thriving no mans land is an inspiration to other oppressed women on all that women banded together can achieve.