Norma Strait (born 1954; Age: 69 years old) is an American philanthropist and former homemaker who is popular as the wife of the country music legend.
Norma and George began dating as teens and got married after high school. They remain together to date and have achieved impressive longevity. Norma has supported her husband to reach great heights. George Strait is one of the bestselling artists of all time, with many multiple-platinum albums and numerous awards, but he initially found it so hard to get a breakthrough that he thought of walking away altogether. It was no other than his wife, Norma Strait, who convinced him to hang on, and the rest, as they say, is history. Want to know more about this incredible lady? Then, read on!
How Old Is George Strait's Wife, Norma Strait?
Norma Strait nee Voss was born in the year 1954 in Pearsall, Frio County, San Antonio, Texas. This makes her 69 years old. Her late mother is named Nan Voss, while her equally deceased dad is named Lenier Voss. She has an elder sister named Barbara Rendon nee Voss. Norma grew up in Pearsall and obtained her high school diploma from the local high school.
Beyond schooling, her parents provided her with an idyllic and enviable childhood. She and her sister were taken on multiple adventures, such as hunting and fishing. They also got to visit the zoo, art shows, and the like. Norma's parents also allowed her and her sister to bring their friends over and equally visit others as well. During such visits, they would indulge in fun games, dominoes, cards, etc.
Norma Strait Has Been George Strait's Wife Since 1971
Norma Strait first met her future husband while they were both students at Pearsall High School. They knew each other, having grown up in the same small town, but they were not friends. All these changed one day when the singer asked her out on a date. After that one date, the couple did not see each other for quite some time. George later realized that he was missing out on something special and asked Strait out again. They recommenced their relationship and eloped to Mexico, where they married on the 4th of December 1971.
The couple subsequently returned to their hometown and had a church wedding. After the nuptials, Strait's husband joined the army, and the couple moved from one army base to the other. While they were stationed in Hawaii, George Strait joined an Army-sponsored country group known as Rambling Country. He performed at various venues with them and gained a measure of recognition.
She Supported her Husband in achieving Success in his Career
Strait's husband left the army after five years and soon formed another country band known as Ace in the Hole. While playing and touring with them, he was busy looking for a recording deal. However, he found it hard to make a breakthrough as all the record labels in Nashville turned him down. The despondent George decided to quit music altogether, but his wife advised him to give it one more year. He heeded her words, and not long after, he landed a recording deal with MCA in February 1981.
George dropped his debut album, Strait Country, in 1981. The album was both a critical and commercial success and spurned several charting singles. Since then, George Strait has gone on to establish an accomplished music career. He has released over 30 albums, of which 13 have been certified multiple-platinum. He has also received numerous awards, including artist of the decade (the 2000s) from the Academy of Country Music.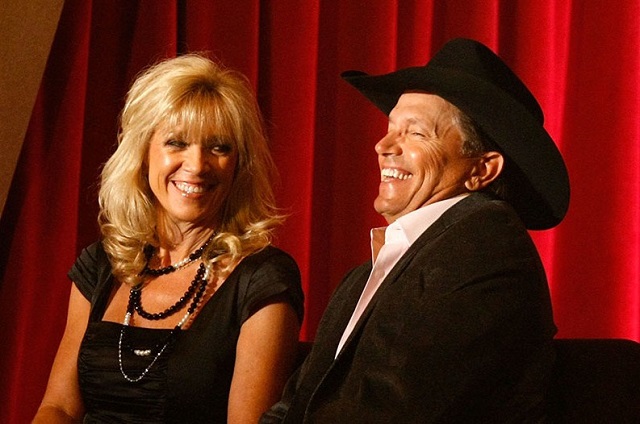 Meet Norma Strait's Children
Norma Strait and her husband have two children, out of which one is now deceased. The couple's first child is a daughter named Jenifer, born in October 1972. Jenifer sadly passed away on the 25th of June 1986 after being involved in an automobile accident. Her death predictably devastated her parents, and her dad dedicated his 2005 single, You'll Be There, to her.
Strait and her husband also have a son named George Strait Jr (known as Bubba), born in 1981. Bubba is an alum of Texas A&M University and is a professional roper for the Professional Rodeo Cowboys Association. He is also a talented songwriter and has contributed songs to his father's album. Bubba is married to a realtor named Tamara, and they have two children together.
Norma Strait and George Strait's Relationship in a Summary
George Strait and Norma met in high school in Pearsall, Texas.
George asked Norma out on a date, and they went their separate ways after their initial date.
Years later, George sought her out again, asked her out the second time, and when she agreed, they eloped to Mexico, where they married on December 4, 1971.
They also had a church ceremony back home before George enlisted in the US Army.
In October 1972, the couple welcomed their first child Jenifer Lynn, followed by their son George Harvey Jr., born on May 14, 1981 (nicknamed 'Bubba').
Tragedy struck the family when their daughter, Jenifer, died in a car accident on June 25th, 1986, at just 13 years old.
The couple founded The Jenifer Strait Memorial Foundation to annually distribute donations to child-related charities in the San Antonio area.
In 2014 the couple completed George's farewell tour, finishing with 700 shows over three decades.
Nowadays, the couple enjoys spending time with their two grandkids – George Strait III (born February 2nd, 2012) and Jillian Louise (born September 10th, 2016).
Where Does George and Norma Strait Live Now?
George Strait, otherwise known as the "King of Country," is a Texas native who has multiple properties in his home state. He was raised on a family ranch in Pearsall, Texas, that has been owned by the Strait family for more than a century. The singer is also often seen at a ranch near Cotulla.
Other Facts about George Strait's Wife
Norma Strait has two grandchildren courtesy of her son. They are Jillian Louise and George Harvey Strait.
Her husband holds the record for the most number-one singles on the Billboard Hot Country Singles Chart – 44.
She and her family set up the Jenifer Strait Foundation to honor their late daughter. The foundation assists children-related charities in Texas.
Norma appeared in the music video for her husband's 2018 single, Codigo.
She and her husband own a ranch in Cotulla, Texas. They also own a custom-built mansion in The Dominion, San Antonio.
Norma Strait's husband was elected into the Country Music Hall of Fame in 2006.