Understanding how to go about getting the NSS Ghana PIN code is one thing that is very important to all Ghanaian students of higher learning and fresh graduates. This is because, without getting this PIN code, it will be impossible for them to serve their country after completing their studies. For the record, the NSS simply means 'National Service Scheme' which refers to a national program by the Ghanaian government to ensure that all graduates serve their fatherland after graduating from an institution of higher learning.
It is compulsory for all Ghanaian graduates to take part in the National Service Scheme and this means that understanding the procedures for qualifying for the scheme is of utmost importance for all Ghanaian students and graduates. Since getting the NSS Ghana PIN code is central to taking part in the service scheme, understanding how to get it is a very important knowledge to have.
How To Apply For NSS Ghana PIN Code
Every year, thousands of Ghanaians who have just graduated from institutions of higher learning prepare to take part in their National Service Scheme. There are procedures for registering for the NSS but getting the PIN code is the very beginning of the entire process. Without the PIN code, the registering cannot be kickstarted.
It is with the PIN code that the enrollment process can be activated. But how does one get the PIN code? Let's check out the process;
1. Write An Application Letter
All graduates trying to take part in the National Service scheme can get their NSS Ghana PIN code by writing an application letter first. As a prospective NSS personnel, you must write an official application and then send it to the Executive Director of the NSS through the address given below:
Ghana National Service Scheme, 46 Patrice Lumumba Road, Airport Residential Area, Box 46, State House, Accra, Ghana.
When writing your application letter, be sure to include some important details including the following:
Your full name as it appears in your certificates
The name of the higher institution of learning that you attended
The program that you pursued (the course you read)
Your School's Index number
The year that you completed your education
2. Attach Your Certificates
It is very important that after writing your application letter, you must remember to attach a copy of your certificates or your transcripts. This will go to prove that you, indeed, did attend and finish from the acclaimed institution of higher learning.
You will also need to get an introductory letter from the school that you finished from and attach it to the letter. This also provides proof that you really did finish from where you claim you schooled. After this, you can forward the application letter to the address mentioned above.
After sending your application letter, just wait for the notification that your PIN code is ready. The notification will come to your phone via SMS. Once you get the notification, you can go online to check the PIN code and confirm it.
How To Check Your NSS Ghana PIN Code
Checking your PIN code online is very easy to do. All you have to do is;
Pay a visit to the official website of the National Service Scheme by clicking here.
When the page opens up, you will see the option "CHECK & PAY FOR PINCODE" displayed on the left-hand side of your computer.
Click on the "CHECK & PAY FOR PINCODE" option and you will be required to insert your Index Number or School ID Number.
Once you insert your Index Number or School ID Number, you can go ahead and click on the 'search' button.
After you have clicked on the search button, your pin code and personal information would later be displayed on the screen for your confirmation.
How To Activate Your NSS Ghana PIN Code
Getting your PIN code is not the end of the process. After getting the code, you will need to activate it by paying a fee and kickstart the enrolment process. Every prospective NSS personnel is expected to pay the sum of GH¢40.00 to activate the enrolment process.
There are two ways you can make this payment to activate your PIN code:
Go to any branch of Agricultural Development Bank Ltd (ADB) throughout Ghana and pay GH¢40.00 indicating it is for the NSS PIN code activation. Your PIN code will be activated and you can start the NSS registration properly online.
You can also use the MTN Mobile Money Payment option. To do this, follow these steps:
a. Dial the code *170# from an MTN line
b. Select option 2 for "Pay Bill"
c. Select Option 6 for "General Payments"
d. Insert your payment code as – NSS PINCODE (type NSS, put a space, then type your PINCODE).
e. After inserting your payment code, the menu will return your name for confirmation.
f. After the confirmation, enter the deposit amount which is GH¢40.00.
g. Insert your NSS reference
h. Insert your PIN to confirm payment
i. After this, you will receive a message to confirm the transaction.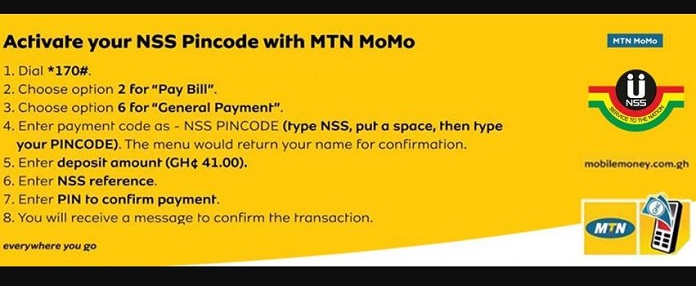 How To Re-Activate An Old PIN Code
If you have an old PIN code that you want to re-activate, you can also do it without stress. Sometimes, some people get issued NSS PIN codes but they don't use them at the required time because of some reasons beyond their control. For these people, they can reactivate the PIN codes again.
To re-activate an old PIN code that was once issued to you, you have to:
To get an old PIN code working again, you have to write a letter just like you did when getting it in the first place. The letter should be about requesting the re-activation of your old PIN code and it must be addressed to the Executive Director of NSS.
When writing your letter, there are a number of things you need to include or attach to it. These details include:
a. Your Old PIN code which you are trying to reactivate
b. Your full name as appears in your certificates
c. The name of the institution of higher learning that you attended
d. The program that you pursued in school (the course you studied)
e. Your school's index number
f. The year of completion.
g. Also, make sure you attach a copy of your certificates to your letter.