An award-winning songstress, Ntokozo Mbambo has made quite a name for herself in the South African gospel music industry. Having attained a decent career level with numerous accolades, the gospel star has carefully chosen to strike a balance between her career and family life. According to the singer, marrying her long-time lover and fellow gospel artist, Nqubeko Mbatha, is a big blessing.
Despite the couple's success in their endeavors as gospel musicians, they intentionally work hard to remain together by putting in a lot of time for their family. They have also worked together on several projects and their team spirit has earned them great admiration from many people. While celebrating her husband's 40th birthday, Ntokozo revealed on her social media page how amazing the man she has been married to is and stated 40 astounding reasons she married him.
Ntokozo Mbambo And Nqubeto Mbatha Have Been Together As Husband And Wife Since 2008
Despite the fact that Ntokozo and Nqubeko keep major details about their marriage out of the spotlight, we know that the lovebirds got married in April 2008 and have expanded their circle.
Their love story began back in the days when they met in their church worship team. Ntokozo started her singing career at the age of 15, courtesy of her parents who gave her the platform to sing in the church worship team, Joyous Celebration. Hence, considering the fact that the SA singer is 37 years old, it simply means that the couple has known each other for 22 years.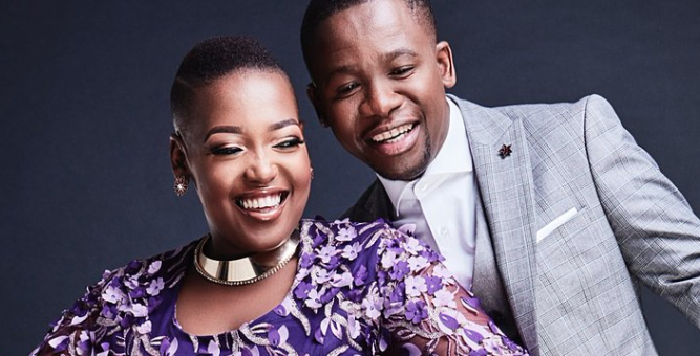 Nqubeko Mbatham was also in the worship team and both were among the first people to join Joyous Celebration. Ntokozo was a choir member before she became a lead singer, while the man that would become her husband was a keyboard player before he rose to become a producer for the team. They were oblivious of the fact that they would eventually become husband and wife because they never had the thought until after the team produced a song that led Nqubeko to admire Ntokozo in some extra ways.
The Couple Tied The Knot in A Lavish Ceremony
In no time, the two progressed from colleagues to friends, and then lovers. Ntokozo divulged in an interview that what attracted her to him was the way he treats her with love and respect while on his part, his attraction was her poise and the energy she puts in the things of God. The two couldn't wait any longer to tie the knot when Ntokozo went on his knees to pop the question with a ring, necklace, and earrings.
It will suffice to say that Ntokozo Mbambo and Nqubeko Mbatha had a lavish wedding on the 26th day of April 2008. While some brides feel privileged to ride on expensive cars on their wedding day, the queen bride, Ntokozo was conveyed to her wedding venue on a chopper. In addition to making her day more luxurious and elaborate, her wedding gown was imported from France. The wedding had in attendance many celebrities, friends, and family.
What Being Married to Nqubeko Mbatha Has Been Like For Ntokozo
The gospel star has never been shy to express how fulfilling it is to be married to her husband. To celebrate her his 40th birthday, she made an Instagram post alongside his photo, listing 40 things she loves about him. Among other things, she revealed that she loves her husband because of his love for God, kindness, and generosity. Ntokozo would seize any available opportunity to celebrate her husband and every height they attain in their marriage, as well as career. She has made it a habit to celebrate their birthdays and wedding anniversaries on social media where she would write many fascinating things about the man she married.
On the flip side, the couple had their awkward moments when they first moved in together just like any other marriage. In an interview with Drum, Ntokozo said she went through a mental shift before she could settle as a married woman in her husband's house. Again, the gospel music star was raised as a Zulu girl in a conservative Christian family and was not allowed to get close to men.
So, this somehow posed a problem in her marriage as she was not familiar with how to expose herself to a man. But with time, she has become comfortable expressing herself and undressing before her husband. Her husband, on the other hand, adjusted to the married life faster. Nevertheless, the couple has managed to have a happy marriage despite some hurdles along the way, and against the seeming truth that most celebrity couples do not stick together for long.
Ntokozo Mbambo And Her Husband Are Blessed With Two Lovely Daughters
Despite their public display of affection, the two keep their family off the media space, especially details about their children. However, it is apparent that the couple waited for three years before they had their kids. Their first daughter, Fanelesibonge Ayanga joined the family on 14th May 2011 and the second followed on 12th June 2013.
The couple cherishes their children a lot and loves to spend time with them. It won't be any surprise if the gospel singers wish for their children to follow the same career path, considering the milestones they have attained therein. However, the kids are still very young to know or decide which career path they will choose.
Ntokozo Mbambo's Career Success and Milestones Over The Years
Ntokozo professionally began her music career in 2001 when she released her debut album, Bambelela. With encouragements from her parents and the Joyous Celebration crew, she continued to soar higher in the music sphere, and in 2017, she recorded a live CD/DVD called Keep on Believing. The first album which was produced by her husband earned a Metro FM nomination under the category Best Gospel album in 2007 and got three different nominations at the 2008 Crown Gospel Music Awards.
Ntokozo has gone on to perform her music in other countries like UK, US, Kenya, Ghana, Swaziland, Botswana, etc, and has opened for many highly-acclaimed gospel artists in the likes of Cece Winans, Donnie McClurkin, Yolanda Adam, and others. Another one of her hit albums titled Filled, has as well won several awards and passed the double platinum in CD sales. She has a music style that invokes both praise and worship and her voice is second to none. Ntokozo who finds pleasure in training other singers and upcoming artists has indeed become a huge success in the music entertainment industry as she continues to release numerous hit songs.