Ntsiki Mazwai (born 3rd September 1980) is a 42-year-old South African songwriter, poet, producer, beadwork artist, and author who is widely known as a controversial poet.
Ntsiki Mazwai does not mince words when she's in the mood to share her outlook about an individual or life in general. If she is not criticizing some South African celebrities for one reason or another, she might be tackling some societal vice without fear of who is involved. This is why her Twitter account is constantly churning out controversial comments, and no amount of backlash makes her regret her opinion. The 42 year-old entertainer is proud to offer her voice to the voiceless with no fear of taking on high-profile personalities in the country.
Summary of Ntsiki Mazwai's Biography
Full name: Nontsikelelo Mazwai
Nickname: MaMiya, Street-Queen
Gender: Female
Date of birth: 3rd September 1980
Birthplace: Pimville, Soweto, South Africa
Ntsiki Mazwai's Age: 42 years old
Ethnicity: African
Nationality: South African
Zodiac Sign: Virgo
Ntsiki Mazwai's Parents: Dr Thami Mazwai (father-magazine editor) and Belede Mazwai (mother- militant journalist)
Siblings: Thandiswa and Nomsa (sisters- musicians)
Education: IMM Graduate School (Qualification- Diploma in Marketing Management, 2008),  Wits Business School (Qualification Entrepreneurship and New Venture Creation, 2014),  Rhodes University (Qualification MA, cum laude creative writing, 2016)
Occupations: Songwriter, Poet, Producer, Beadwork, and Author
Musical Genre: Traditional, Hip Hop, Reggae, House, and Afro-Soul
Years Active: 2002 to present
Famous for: Her controversial poems
Ntsiki Mazwai's Instagram: miss_ntsiki_mazwai
Twitter: @ntsikimazwai
Soundcloud: Ntsiki Mazwai
Spotify: Ntsiki Mazwai
Apple Music: Ntsiki Mazwai
Deezer: Ntsiki Mazwai
YouTube: @NtsikiMazwai
Website: www.ntsikimazwai.com 
TikTok: @ntsikimazwai 
Who Is Ntsiki Mazwai?
The South African Street Queen, as she is fondly called by fans, was born on the 3rd of September, 1980. Her place of birth is given as Pimvillel Soweto, Gauteng, South Africa. Ntsiki grew up with talented people around her. Her parents were writers identified as Belede Mazwai and Dr. Thami Mazwai. At some point in their careers, they led the Pan African Congress. Apart from journalism, they were also politicians. Sadly, Ntsiki lost her mother when she was just an 11-year-old.
The involvement of her parents in political affairs ensured that black consciousness was instilled in their children. This was the environment Ntsiki and her siblings grew up in and it rubbed off on them. The poet has two sisters, a younger one named Nomsa who was born in 1996, and an older sister named Thandiswa Mazwai who is a renowned musician.
Ntsiki Mazwai's Education
Ntsiki Mazwai attended an unspecified high school in Soweto alongside her younger sister. She would go on to bag a Diploma in Marketing Management from the Institute of Marketing Management after which she proceeded to get her business degree from Wits Business School where she studied Entrepreneurship and New Creation. One of her latest intellectual accomplishments is a Master of Arts in Creative Writing which she got from Rhodes University following her graduation in 2016.
Ntsiki is no doubt well schooled and has attained the highest levels in education. It doesn't seem like she wants to stop bagging degrees anytime soon since her parents encouraged her and her siblings to always read from a young age. The Mazwai kids were also made to know and be conscious of social conditions that are inherent in their society.
Ntsiki Mazwai's Career Shows She is Multi-Talented
While Ntsiki Mazwai is widely known as a poet, she has several other talents up her sleeve. Notably, she credits her mother as one of the greatest influencers in her artistic endeavors.
Creative Poetry
In her capacity as a poet, Ntsiki leverages her works to tackle social issues, especially the ones that directly or indirectly affect women, like women empowerment, rape, and abuse. She has delivered her poetry at different spoken-word festivals around the world, including in Belgium, Jamaica, and the United States. Her poetry is performed with a DJ or a band, fusing her inspirational poems with music beats.
The poet teamed up with Lebo Mashile, Myesha Jenkins, and Napo Masheane, to create the Feelah Sista poetry collective, a platform that has helped women in many ways. In addition to the foregoing, Ntsiki has served as a host for poetry and music sessions, including Streetpop, Monday Blues, and Sheila's Day. She also has a poetry anthology (Wena) to her credit.
Music Career
For almost two decades, Ntsiki Mazwai has been active in the entertainment industry, particularly as a musician. Her music career started with her role as an underground singer in 2002. Her debut song titled "Light Up My Life" was later released in 2004 to rave reviews. Ntsiki's debut song made it to the second volume of DJ Fresh's album, Sgubhu Sa Mampela. The following year, she hit it big with another single, "Uwrongo". The song made it to the top songs in the country at the time.
Her debut musical album titled Ma Miya was subsequently released in 2007 and four other albums have followed since then. Ma Miya received a SAMA nomination for Best Urban Pop Album in 2008. Ntsiki combines her expertise in creative poetry and the strong vocals she possesses to make her music unique. This uniqueness is what attracts thousands of fans her way.
Ntsiki Mazwai's Songs
Ma Miya (2007)
Ndingubani (2013)
Wena (2015)
Believe (2017)
The Masterpiece (2018)
Activism
Over time, Ntsiki Mazwai has gained fame for taking part in national debates that pop up on social media. She is particularly passionate and very outspoken in tackling societal ills that affect South African women and youth. Ntsiki raises a lot of dust on the streets of Twitter and doesn't hold back in empowering young girls as much as possible. She is involved in a project to build libraries and schools in her place of birth (Soweto).
Yes….. I do look down on boozing culture. It's taking us backwards… And it's deliberate.

Wake up

— NtsikiMazwaiMedia (@ntsikimazwai) May 29, 2021
Bead Business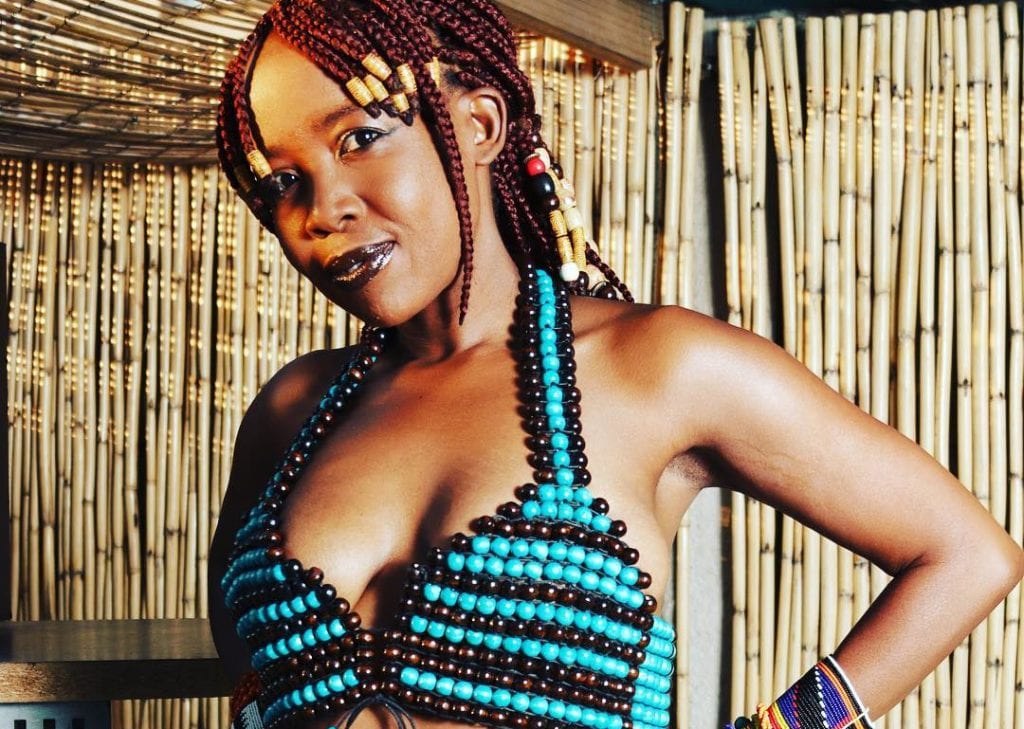 There is no limit to what Ntsiki Mazwai can do. The multitalented South African poet does wonders with beads and even has her own brand known as The House of Mobu. The beadwork range was launched in 2002 at the Hala Cafe. Her items have been worn by popular celebrities like Unathi, India Arie, and more.
Why Ntsiki Mazwai Is Called Street Queen
When she is not busy writing, singing, or making amazing beadwork, Ntsiki would be on the streets of Twitter and Instagram, looking for who to tackle. Her Twitter handle -@ntsikimazwai and Instagram handle – @miss_ntsiki_mazwai are always abuzz with one controversial comment or the other. Her controversial side earned her a lot of fans and enemies alike but above all, it earned her several names.
No my love… All races booze but only blacks make it a status symbol. Wake up https://t.co/mKqaBwCOhP

— NtsikiMazwaiMedia (@ntsikimazwai) May 30, 2021
While Street Queen may refer to the fact that she is always available to take on anyone she feels the need to confront, the nickname might mean something else. When asked in an interview about the origin of the nickname, Ntsiki revealed that it actually came from her days as a host of Streetpop. It was there that they started calling her the Queen of Streetpop and the name metamorphosed into Street Queen.