In Ghana, nurses' salaries are determined by several factors like whether they are registered or not; what degree or certification certificates they possess, and much more. Irrespective of the yardstick used to determine what each nurse takes home at the end of the month, the question remains: are nurses in Ghana well paid? Are what they are paid commensurate to the services they render or the hours they put in each day rendering these services? Can their pay compete favorably with international standards of health workers' remuneration?
How Lucrative Is Nursing Profession In Ghana?
The nursing profession has always been one of the most lucrative across the globe, in fact, the demand for health professionals, especially nurses has increased in the last few years, no thanks to the novel Covid-19.
The increase in demand for these health workers has inevitably caused an increase in their salaries across the globe but can this be said of nurses in Ghana? There is no gainsaying to the fact that the nursing profession in Ghana has evolved over the years; in fact, there have been a lot of changes in the way things are done now than it was about a decade or two ago.
Although these changes may not be as good and as rapid as many would have loved them to be, it can't be denied that there haven't been any at all. All that can be said is that it can be better, especially when it comes to what these health professionals take home at the end of the month.
The last couple of years has seen nurses embark on strike upon strike actions seeking improvement in their remuneration. In 2015, the Ghanian government had to take very strict measures to stop nurses from seeking greener pastures abroad when the health sector in the country was in need of nurses. But no one would blame the nurses for choosing to work abroad where the pay is more attractive than what was obtainable at home.
Aside from placing a ban on nurses traveling outside of Ghana as a measure to keep them back at home, the government established an institution dedicated to training nurses and made them sign an agreement to work in Ghana for a minimum of 5 years after graduation before moving anywhere else in search of greener pasture.
However, anyone who decides to breach the agreement and travel before the 5 years stipulated in the agreement is to pay a fine of 422 Cedis ($650) for each uncompleted year.
This worked so well as the government was able to retain a large number of nurses at home and eventually had to lift the ban when the number was getting too much for them to handle but did this improve the welfare of the nurses?
Well, we will leave you to answer that question after going through this article.
Average Salary Of Nurses In Ghana
Nursing professionals in Ghana earn an average of GH₵886 and GH₵23,400 monthly depending on several factors. As pointed out above, the salaries of nurses in Ghana are based and can be affected by several factors.
One of such factors is the qualification an individual possesses (diploma, degree, master's, etc) and whether they are registered or non-registered.
A registered nurse (RN) is one who has completed all educational and examination requirements and has been licensed by the Nursing and Midwifery Council to practice. Being a registered nurse affects the nurses' employability and of course their salaries, no one wants to employ a nurse that they are unsure of their qualification.
Nurses' salaries are also determined based on their area of specialization, for instance, general nurses wouldn't be earning the same amount as mental health/psychiatric nurses.
Every nurse in Ghana falls into Certificate, Diploma and Degree nurses and below are their monthly salary range:
Certificate Nurses
In Ghana, those who take short courses in nursing are referred to as certificate nurses. These short courses are offered in renowned nursing schools across the country and usually last between six months to 24 months maximum.
After taking the courses in a particular field, they are presented with certificates and can apply for jobs, their pay is just GHS 750. They can decide to upgrade this certification either by taking further courses or growing through the ranks.
Diploma Nurses
You can already guess where the nurses in this category fall into; they take on a diploma course in nursing or midwifery for 3 years. Afterward, they get to be employed as nursing assistants, emergency nurses, and many more.
They earn a little higher than certificate nurses. Their monthly salary ranges from GHS 900 and above.
Degree Nurses
Nurses in this category took a full-fledged degree course in nursing and have put in 4 years or more studying nursing at the university or college as the case may be.
Their monthly pay ranges between GHS 2000 – GHS 3000
Different Categories Of Nurses In Ghana And Their Salaries
Lower-grades nurses currently earn between GHC2,000 – GHC3,000 monthly while senior nurses earn between GHC3,000 – GHC5,000 monthly.
Currently certified registered nurse anesthetist ranks among the highest-paid nurses in Ghana, as well as Deputy Director of Nursing Services (DNS) and District Director of Nursing Service (DDNS). Professors of nursing are also among the highest-paid in the country, as they earn as much as GHC 96,000 per annum.
Salary Of District Director of Nursing Services (DDNS)
In Ghana, the DDNS' responsibility includes making regular rounds over the wards to ensure the nurses discharge their daily duties, she supervises care situations and gets an overview of the patient population and their health conditions.
The DDNS is usually assisted by one or two nurses and is the highest-paid nursing professional in Ghana taking home GHC 3,500.00 monthly which is about $530.30.
Deputy Director of Nursing Services (DNS) Salary In Ghana
Just like the DDNS, the Deputy Director of Nursing Services (DNS) also provide leadership and direction to all the nurses and midwives in a facility to ensure they meet all the standard of services endorsed by the Ghana Health Service and Ministry of Health.
To qualify to serve as a DNS in Ghana, you must have a least a Master's degree in nursing, a certificate in Midwifery, and Public Health. They are the second-highest paid nurses in Ghana, taking home GHC 3,200 ($ 475.63) monthly.
Monthly Salary Of Degree Nurses In Ghana
Salary: GHS 2000 – GHS 3000
As mentioned above, in Ghana, a degree nurse(s) is a term used to refer to nurses who took a full-fledged degree curse in nursing and have put in 4 years or more studying nursing at the university or college as the case may be.
Their monthly take-home salary ranges from GHS 2000 to GHS 3000; this is only an average, it can be higher than this, depending on where they work; some private establishments pay more.
Military Nurse Salary In Ghana
Military nurses are no different from the regular nurses you see in regular hospitals, the only difference here is that they serve in military hospitals, providing direct patient care to servicemembers and their families. They also perform medical duties to wounded soldiers.
In Ghana, military nurses operate under the auspices of the ministry of health and the ministry of defense. To serve as a military nurse in Ghana, you must have undergone training both as a nurse and military personnel.
The salary of a military nurse in Ghana is a minimum of GHC 2,600, and this may be more or less, depending on the qualification (degree or diploma) the individual possesses.
Salary Of Nurse Practitioners In Ghana
A nurse practitioner (NP) is an advanced practice registered nurse. They are trained to assess patient needs, diagnose disease, order and interpret medical and laboratory tests, prescribe treatment plans, etc.
The difference between a regular nurse and an NP is that they are allowed to diagnose patients, order tests, and prescribe treatments just the way doctors do. To qualify as an NP, you should have at least a degree in nursing, plus national certification and license.
NP takes home a minimum of GHC 2,200 as salary every month.
Salary Of Community Health Nurses In Ghana
Community health nurses are trained to help fill the health gaps in underserved populations. Part of their duties includes visiting schools, organizations, and businesses to offer health education, medical services, as well as rehabilitation.
Community health nurses are quite different from public health nurses; while the former seeks to provide advocacy and policy development to eliminate healthcare disparities, the latter provides healthcare to people and communities who are unable to get it
In Ghana, CHNs are professionally trained in nursing training colleges and then deployed to serve in mostly rural parts of Ghana to provide healthcare services and advocacy. Their monthly take-home salary is GHC 720.00.
Salary Of Mental Health Nurses in Ghana
Mental health nurses, also known as psychiatric nurses are trained to attend to and care for patients with mental health issues. They can be assigned to work in hospitals, institutions, or mental health facilities.
To work as a mental health nurse in Ghana, you must possess a certificate or a diploma from a recognized Nursing Training College and be a Registered Mental Health Nurse (RMN). Mental health nurses in Ghana earn between GHS 1,810 and GHS 5,480 per month, depending on where they are assigned to work.
Diploma in Nursing Salary
Salary: GHS 900 and above
Diploma nurses are nurses who have just diploma certificates in nursing or midwifery which they studied for at last 3 years. Afterward, after graduation, they can be employed as nursing assistants, emergency nurses, and many more.
They earn a little higher than certificate nurses. Their monthly take-home salary ranges from GHS 900 and above.
Senior Nursing Officers Salary
Salary: GHC 3,000 -GHC 5,000
A senior nursing officer is one that is saddled with the responsibility of providing and managing nursing care to patients, as well as guiding and supervising nursing students and junior nurses to ensure that optimal care is provided.
SNO earns between GHC 3,000 – GHC 5,000 per month.
Nurse Anesthetist Salary In Ghana
Salary: GHS 8,150 – GHS 23,400 ,
Nurse anesthetists are advanced and highly skilled registered nurses who work closely with medical staff during medical procedures that require anesthesia. They are among the highest-paid nurses in the world.
Earning a minimum of GHS 8,150 GHS and a maximum of GHS 23,400, they are the highest-paid nurses at the moment.
Salary Of Theatre/Scrub Nurses In Ghana
Theatre/Scrub nurses are nursing professionals who work with surgeons and other surgical staff. They are also called perioperative, operating room (OR), or clinical nurses.
Scrub nurses earn an average of GHS 26,171 annually. This is about GHS 2,177 monthly. This of course is dependent on the academic qualification of the nurses. someone with a degree, a master's degree, or some high certification may earn higher than this.
Nurse Assistant Salary In Ghana
Nurse Assistants or Certified Nursing Assistants (CNAs) as they are popularly called provide direct care to patients in hospitals, nursing homes and also offer home care.
Nurse Assistants help patients with a variety of other basic needs, including feeding, grooming, mobility, bathing, and more. In Ghana, CNAs have to undergo two-year training in Health Assistant Clinical or Community Health Nursing programs and get certified.
A registered/certified nurse assistant in Ghana earns an average of GHS 1,472.00 monthly; that is about GHC 16,649 annually.
General Nursing Salary In Ghana
Salary: GHS 1,900 -GHS 2,400
General nurses are the ones who provide direct care to patients like bathing and dressing patients, consistently monitoring and evaluating patients, collecting fluid samples, administering doctor-prescribed medications, and lots more.
General nurses in Ghana earn as much as GHS 2,400 or less, this, of course, is dependent on their level of education and qualification.
Monthly Salary Of Midwives In Ghana
Salary: GHS 2,330 – GHS 6,680
Midwives are trained health professional who helps healthy women during labor, delivery, and after the birth of their babies. They may help with the deliveries either at home or at the hospital.
To be qualified to work as a midwife in Ghana, you need to have a BSc/BA degree in nursing or midwifery also be registered with the Midwifery Council of Ghana (NMCG).
Their salaries range from a minimum of GHS 2,330 GHS 6,680. The range of course is a result of the fact that there are degree and diploma midwives. We all understand by now that degree nurses earn more than diploma nurses.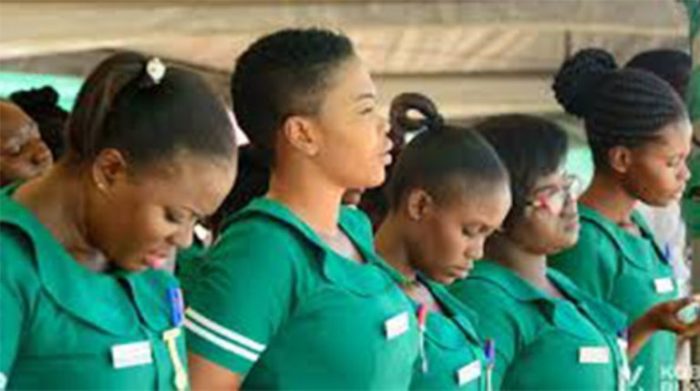 Rank Of Nurses In Ghana and Their Uniforms
The nursing profession is a very organized and structured one. Different countries have structured theirs in different ways to depict what they stand for and so has the Ghanaian health sector. The way the Ghanaian health sector has chosen to structure theirs is quite interesting.
In Ghana, nurses are structured into ranks and they wear different uniforms and colored belts to show their ranks; asides from their qualifications and certifications which set them apart in rankings, uniforms are another thing that separates one from another.
Here is a list of the ranks, the uniform, and belt colors that identify and differentiate one nurse from the other in Ghana.
| | |
| --- | --- |
| Rank Of Nurses | Uniform Colour |
| District Director of Nursing Services (DDNS) | White uniform with a waist belt |
| Diploma midwives | Green |
| Senior Nursing Officers | Blue |
| Degree nurses (Nursing Officers) | White |
| Principal Nursing Officers | Green |
| Deputy Director of Nursing Services | Mauve/red |
| Midwives (degree) | White |
| Diploma nurses | Green uniform with a white-collar |
| Certificate Nurses | Green uniform with a green collar |
| Community health nurses (certificate) | Brown |
| | |
| --- | --- |
| Nurse practitioners | Multicolored attire of their choice |
| Theatre/Scrub nurses | Scrubs |
| Mental Health nurses | Green or white uniform depending on their qualification |
In case you run into any Ghanaian nurse wearing any of these colors, you sure can guess their ranks and positions.