Just like her significant other, Nydia Stone is no stranger to politics and controversies. Though she has an impressive résumé and is quite successful in her own right, Nydia is best recognized as the wife of GOP political consultant, strategist and author, Roger Stone. More recently, the former model and photographer who has been married for nearly three decades has proven she is her husband's number one supporter after aggressively championing defences in his favour. Here are detailed facts about Roger Stone's wife.
Nydia Stone – Bio And Profile
Originally from Cuba, Nydia Stone (nee Bertran) was born on May 8, 1946. She had a comfortable upbringing as her father was an influential political figure before the Fidel Castro regime. However, things changed after her family relocated to the US because of the communist rule in her hometown.
Stone ditched school for work after her family relocated to the US. She first worked as a model appearing on ads and local campaigns. But a few years later, Nydia discovered she loved working behind the camera more than in front of it. Thankfully, she had saved up enough money from her modelling career which helped get a quality camera for her newfound love.
The switch from modelling to photography was quite an easy one. Nydia initially kicked off with small jobs and regular photoshoots for private clients before progressing to more professional assignments. She later became a news photographer covering a vast array of issues including politics. One of her notable photography credit is her coverage of President Ronald Reagan's campaign during the 1980 election.
Facts About Roger Stone's Wife
It was while working as a photographer that Nydia met her future husband, Roger Stone, who was a political consultant at the time. The pair first crossed paths during the 1980 election while working on one of President Ronald Reagan's campaigns. They quickly established a romantic bond and made their relationship official in 1992, after exchanging marital vows in Las Vegas. Though they are quite discrete with their personal details, Nydia and Roger have shared an inseparable bond for nearly three decades and continue to wax strong in their union.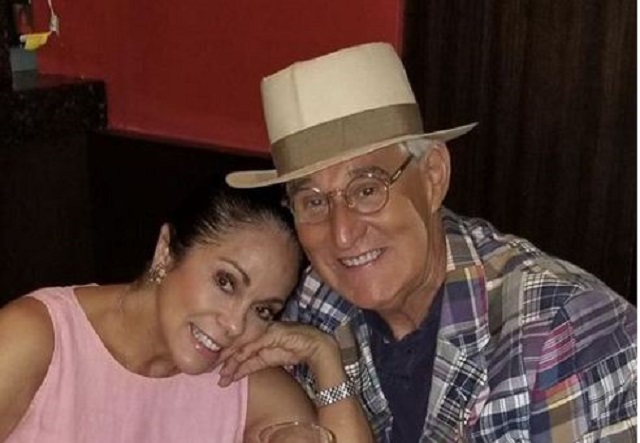 Interestingly, their marriage is the second for both Nydia and Roger. Bertran was previously married to a man whose identity has not been disclosed to the public. The union was shortlived and produced no children. Moreover, details regarding their separation are also unknown. On the other hand, Roger was previously married to Ann Stone for sixteen years (1974 – 1990). Together, Roger and Ann had a son Scott Stone.
Nydia and Roger Stone have at various times made headlines as a couple. Worthy of note is the 1996 scandal which led to Roger's resignation from his political position as a consultant on Senator Bob Dole's presidential campaign. The scandal emanated from a report published by a major tabloid alleging that the couple had placed raunchy ads and photos seeking sexual partners on the internet and in an edition of the Local Swing Fever magazine. Though Nydia and Roger purportedly disguised their identities in the ad, the tabloid maintained their claims with the evidence that Nydia paid for the ad with her credit card. However, the couple vehemently refuted the speculations insisting that the racy photos in the advertisement were from Nydia's professional photo shoot as a model while that of Roger's was from a 1993 bodybuilding competition.
More so, in a later report, Roger accused one of his former domestic staff of masterminding the scandalous photos. But in a different turn of events, about ten years later, news emerged from a popular tabloid that Roger had admitted and authenticated the advertisement reports. According to the former political consultant, he had earlier denied the allegations because his grandparents who were still alive at the time.
In late 2017, Nydia's husband was again embroiled in another controversy where he targeted and attacked some CNN reporters on the Robert Mueller's Special Counsel Investigation. Roger's actions even led Twitter to suspend his account. Later in early 2019, in line with Robert Mueller's Russian investigation, Roger Stone was arrested and charged with witness tampering, five counts of false statements and obstruction of official proceedings. However, he was later released on a bond.
See Also: Kayla Moore – Bio, Age, Family, Facts About Roy Moore's Wife
Nydia Stone and her husband have always made headlines both on mainstream and social media. Having been exposed to politics right from childhood, Nydia is her husband's number one defender and supporter in the public eye. She is very active on popular platforms including Twitter and Instagram where she is unapologetically vocal with her political and social views/perspectives. She is also known for vehemently defending her husband at various times via her social media accounts.