Octopizzo's net worth is $600,000. The award-winning Kenya musician, entrepreneur, and humanitarian whose real name is Henry Ohanga, made his money from his successful music career.
For someone who grew up in Kibera – the biggest slum in Africa – Octopizzo never thought he would have all he has today. Fortune, however, smiled at him and he grabbed the opportunity with both hands. While he indulges in the finer things of life, he has used his wealth to help his people.
Sources of Octopizzo's Net Worth
While some quarters state that he is worth over $600 thousand, some believe he is worth much more. From the slum to the red carpet, Octopizzo has changed his story and though his actual net worth is still under debate, he has made quite a fortune from his craft. Octopizzo was once asked in an interview how much he was worth to put an end to the speculation about his wealth. In response, he revealed that he was priceless and also expensive and it will be wrong to put a price tag on him. Moreover, he emphasized that compared to where he is coming from, he is enjoying a much better life.
Moreover, Octopizzo has shown over the years that he has his mind in the right place when it comes to money. Even though he has been seen flaunting his wealth, cars, accessories, and clothing on social media, in the same breath, he speaks about investing in the right things like real estate. However, he has never come out outrightly to state how much he is really worth, especially with the speculation in the media.
Music Chiefly Made Him Who He Is Today
Octopizzo is a multi-talented artist who has been fortunate enough to earn big from one of the things that give him absolute joy. He has also grown into a smart businessman with interest and investment in an array of businesses which has yielded a lot of monetary gains for him along the line.
Let's explore further some of the sources of his wealth:
Musical Exploits
After slumming it out in Kibera for most of his childhood, Octopizzo started rapping in 2009, but his big break came in 2012 after his song Ivo Ivo became a rap anthem in Nairobi.
Years after, with several trend-setting songs and albums, Octopizzo has been fortunate to perform at several shows all around the world. Some of them include; Shambala festival in the UK, Safaricom Live, Coca Cola World Cup Tour, Kenyan Night in Dubai, Spoken World Festival in Berlin, Reepabhan festival Hamburg and Sauit Za Busara Festival in Zanzibar, just to mention a few. All of his songs are available on iTunes, Spotify, Amazon, Deezer, and Google Play.
He once revealed in an interview that he doesn't charge upcoming artists for collaborations but can charge as much as $2000 for collaboration. The bulk of his wealth is from his musical career, especially song sales, shows, performances, and tours.
Touring Company (Chocolate City)
Asides from music, Octopizzo is very passionate about Kibera and has stood out as a voice for this place for a long time. In 2009, he founded his own slum tour. His aim with starting the tour company was to give people who have never visited a slum the opportunity to meet up with people in Kibera, see how hardworking they are, and show support by patronizing them.
Since he left the Kibera slum, Octopizzo has really dedicated a lot to give a new outlook to the place he grew up.
Acting Venture
Even though he hasn't had much of an acting career, he has been on some remarkable programs like MTV's SHUGA season 2. Considering his popularity in the entertainment industry, more acting opportunities are expected to come his way.
Merchandise Sales
Since he became a star, Octopizzo has learned to monetize every aspect of his career. He began the sales of his own clothing line, wrist watches, wrist bands, hand-made bling, and even his own personal condom brand called 'Let's do it'. The condom has a special edition that glows in the dark to ensure safe sex for houses/bedrooms without electricity. Can you beat that?
Ambassadorship and Endorsements
Octopizzo has served as a youth ambassador for several non-profit organizations and has been well compensated for his efforts. He is an avid supporter and partner of UNHCR Kenya, especially through the "Refugeenius" and "Artists for Refugees" projects.
How Octopizzo Spends The Bulk of His Money
This talented artist has said in a series of interviews that he tries to learn from his predecessors. He has revealed that one of the artists that he looks up to and copies his moves is Drake. Even though he knows how to enjoy the celebrity life, he has revealed that he works hard for his money and spends it wisely. He shared in 2018, that even though he was driving a van, he was building a house in Siaya that will be self-sufficient with its own water and electricity. Here are some other things he spends on.
Family
Octopizzo is a family man to the core and is very protective of his young family. He has been married to white ladies twice and has two daughters from these marriages. He provides a very comfortable abode for his family and sees all their needs as a family. They are everything to him as he lost his parents at a very young age.
Cars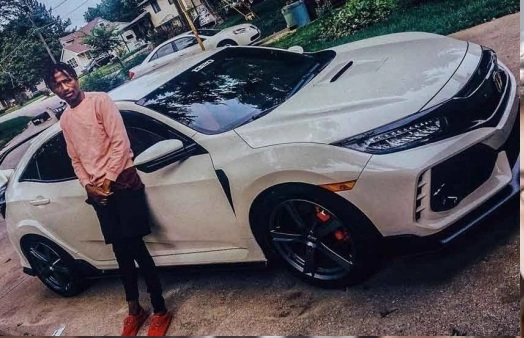 The rapper is not really one for the lavish lifestyle but every once in a while, he blesses himself with some fat gift. He gave himself an early Christmas gift in 2017, a Honda Civic Type R. His other car collections are not much of public knowledge.
Charity Organization (Octopizzo Foundation)
This foundation was founded in 2015, aiming to unshackle young people from desperation by uniting the ingredients of Art, Music, Sports, and Creativity. The foundation strives to give wings to people who exist on the margins of society, supporting them to discover and harness the potentials within and then nurturing their transformation towards actualizing their goals. He is a core philanthropist who understands that giving back to society is important.