Olivia Macklin is a young American actress who has proven that one does not need to stay so long in the entertainment industry or appear in dozens of films and television series to be famous; with few years in the industry and few remarkable roles in a television series, she is already in the list of America's finest actresses. Olivia is well known for her role in the American sitcom titled LA to Vegas, before the 2018 sitcom, however, she had earlier featured in other series which in one way or the other contributed in distinguishing her as an actress with class. Here is everything you need to know about her including her age, biography, family, boyfriend among other information.
Olivia Macklin Biography and Age
The 16th day of March 1994 saw the birth of Olivia Leigh Macklin in the United States of America. Growing up, she studied at the New Trier High School in Winnetka before enrolling at the Fordham University in northern suburbs where she bagged a B.A in theatre performance in 2016.
Her first screen presence was in the year 2014 following her debut series titled Nothundoras: Springbreak, where she starred alongside Joe Flynn, and Taylor A. Purde. The following year, 2015, she stared in an American Comedy series titled Sex & Drugs & Roch & Roll where she played the character of Emma. The year 2016 saw her star in the English-language Italian drama television series titled Young Pope where she acted alongside Jude Law, Silvio Orlando, and many others. In another American television sitcom Modern Family, Olivia starred as Nichole alongside other notable acts like Sofia Vergara, Sarah Hyland, and Ariel Winter.
She was exceptional in all the roles she played, though none was able to give her the needed stardom until 2018 when she landed a role in LA to Vegas, where she played the character of a stripper that often boards the Jackpot Airlines for her work.  The series would become a hit that gave Macklin the fame that she prides in. Her other 2018 film is Radium Girls. Certainly, Olivia Macklin is a force to be reckoned with in the years to come.
What to know about her parents and family 
Olivia has been quite open when it comes to issues that involve her, but the details of her family are what she carefully keeps out of the media. Their names, profession or the place of their residence are unknown. However, Steve Levitan, the producer of the sitcom Modern Family, went to High school with Olivia's mother.
In her Instagram post on June 4, 2016, Olivia shared the picture of her Dad and wished him a Happy Birthday whereas, on May 13, 2018, she also shared the picture of her mum and wished her a Happy Mother's Day on the same platform. It could be that her father was born on June 4. She has good looking parents that anyone could wish for.
Not just the parents, the names of her sibling/s if she has any is/are not known, it has also not been ascertained if she was born an only child.
Olivia Macklin's Boyfriend
Olivia Macklin's talent has besotted her to so many fans across the globe with a good number of male admirers who invest interest to be her man. Among the few, she has considered include the famous handsome man that his pictures are not found wanting on her Instagram page – Christian Elbe. Many sources point to the fact that they have been together since 2017.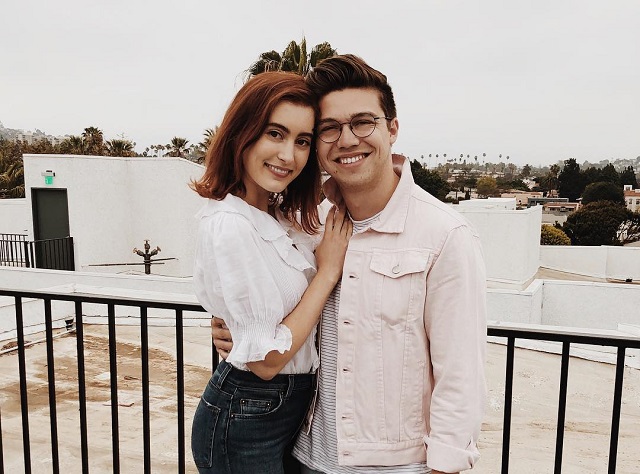 Another man that was linked to Olivia is Izzy Comet, a name that the Instagram community is familiar with. Sometime in February of 2017, she uploaded a very romantic picture with Izzy and captioned it "Love You, Valentine". However, being that the picture has been taken down from her Instagram page, it would be assumed that she has maintained only her relationship with Christian Elbe.
Her Height and Weight
The New York City-based actress has a nice physique that stands her out. She has a nice curve that could be described as an hourglass shape. Having proven her talent with just a few years in the industry, she can be seen as an embodiment of talent and beauty. Olivia Macklin has a moderate height of 5 ft 7 inches (1.70 m) and weight of 57 kg (126 lbs) to balance it up.