Olu Jacobs (born 11 July 1942) is a 80 years old veteran Nigerian actor regarded as one of the greatest of all time. He is best known for his roles in flms like Baby: Secret of the Lost Legend, Pirates, Potomanto, Oloibiri, and The Royal Hibiscus Hotel among many others. His net worth is estimated at $2 million.
Blessed with a deep, smooth, and soothing baritone voice that has become one of his trademarks, the actor has thrilled millions of movie lovers around Nigeria, Africa, and the rest of the world over many years. He has starred in more than 200 movies since his debut and is now widely regarded to be one of the most influential African actors of all time. He is revered as a national treasure and a cultural icon.
Profile Summary of Olu Jacobs
Full Name: Oludotun Baiyewu Jacobs
Date of Birth: 11 July 1942
Olu Jacobs' Age: 80 years old
Place of Birth: Kano State, Nigeria
Ethnicity: Yoruba
Nationality: Nigerian
Religion: Christianity
Sexual Orientation: Straight
Marital Status: Married
Olu Jacobs Wife: Joke Silva
Children: Olusoji Jacobs, Dayo Jacobs, Olugbenga Jacobs
Olu Jacobs Net Worth: $2 million
Instagram: _olujacobs
Olu Jacobs Grew Up in Kano
Olu Jacobs, whose full name is actually Oludotun Baiyewu Jacobs, was born on the 11th day of July in the year 1942. The movie star was born in the city of Kano and it was here that he grew up with his family. However, it is noteworthy that both his parents were from Ega Alake, a town in Ogun State.
Growing up, Olu Jacobs was a very active child who was a member of different groups in the church and in school. For instance, while he was attending the Holy Trinity School in Kano, he became a member of the debating and drama societies. He was also close to the church and was a member of the church dancing group and the choir. Every year, the church would have festivals and this was what Jacobs loved more than anything. At such festivals, he would dance with the dancing group and, even though he was the only male in the group, he didn't mind. He also danced in a dancing group in school and his parents came to watch him dance often and act in dramas.
He also took part in dramas in church and enjoyed it very much. However, at the time, acting in church or school dramas was just something he enjoyed and not something he wanted to as an adult.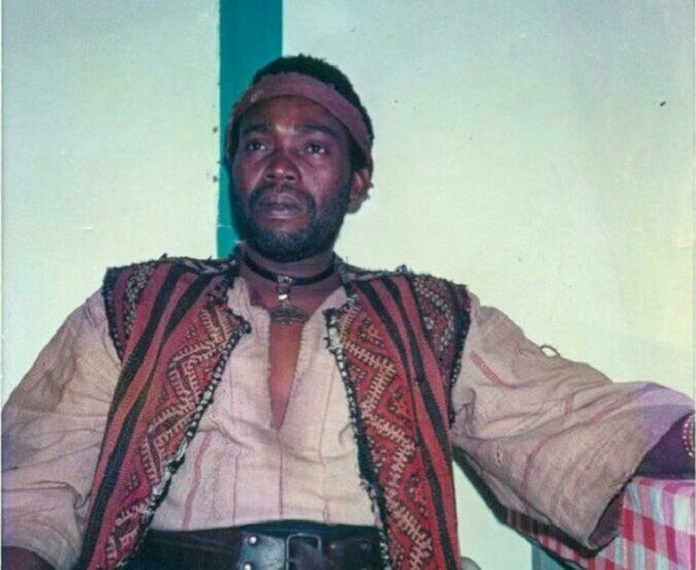 How He Was Inspired By The Legendary Filmmaker Hubert Ogunde
Olu Jacobs has said he was inspired to go into acting professionally by the legendary Nigerian actor, theatre manager, and playwright, Chief Hubert Ogunde, who founded the first contemporary professional theatrical company in Nigeria and was also a musician. It all happened while he was still a little boy.
According to Jacobs, one day he was sent on an errand, and on the way, he saw people sharing leaflets and playing loud music. He picked one of the leaflets but could not read what was on it so he took it home and showed it to his mother who explained to him that it was a public invitation to Hubert Ogunde's Concert Party which was to be played at the Colonial Hotel.
Jacobs convinced his parents to take him to the show with a lot of nagging. When they eventually got to the show, he was too thrilled by what he saw. He got so captivated by the scenes especially when the lights in the audience went off and the stage lights came up and the actors did what Ogunde called the opening glee (beginning of the show). Jacobs was rooted to the spot when he saw full-grown men and women act on stage with so much believability. At that moment, he decided that he was going to become an actor when he grew up. It was what he wanted more than anything else at the time.
His Father Didn't Want Him To Be An Actor
Despite Olu Jacobs' conviction that he wanted to become an actor, when he eventually told his father of his desire to act, the older man refused to hear of it. His father believed that acting was not supposed to be a full-time job but a side hustle that one should have apart from one's real work. His father was vehement about not letting Jacobs take acting as a full-time job, but Jacobs was not deterred by his father's refusal.
As he grew older, Olu Jacobs, who was still determined to act professionally, began to look for where he could study acting in Nigeria. However, according to him, he didn't see where he could do this properly, so he decided to travel to England to study acting. But, when he told his father of his decision to study acting England, the man would have none of it. His father was so against the move that he tore Jacobs' application form.
Fortunately for Olu Jacobs, his brothers were processing their own passports at the time, so they secretly decided to help him secure his visa. The entire arrangement was so secretive that he had to smuggle his suitcase out of the house on the night before he was to travel. He finally made it to England and worked hard to make his dreams come true.
He Never Saw His Father Again
Sadly, after Jacobs ran away from home, he never saw his father. When he first got to England, he rushed off letters home to his father whenever he saw somebody going back to Nigeria. He even sent tobacco and three pipes along with the letter.
Unfortunately, his father passed away when he was still in England, studying acting and perfecting his chosen trade. To this day, this is one of Olu Jacob's regrets.
Olu Jacobs Began Acting Professionally In England
When Olu Jacobs relocated to England, he proceeded to enroll at The Royal Academy of Dramatic Arts in London where he trained as an actor. After completing his training, Jacobs then went on to feature in many British television shows and series in the 1970s.
Some of these shows included The Goodies, a television comedy series, Till Death Us Do Part, a television sitcom that aired on BBC1, Barlow at Large, a British police procedural television program, The Venturers, a television series produced by the BBC in 1975, Angels, a British television seasonal drama series, 1990, a futuristic political drama television series, The Tomorrow People, a British children's science fiction television series, The Professionals, crime-action television drama series and others.
Also, at this time, Olu Jacobs was not just starring in films and series, he was also a theatre actor who appeared in different stage plays. In fact, in 1978, Jacobs was cast to play the role of President Mageeba in Michael Codron's presentation of Sir Tom Stoppard's play called Night and Day. Before then, he appeared in Murderous Angels: A Political Tragedy and Comedy in Black and White, a play written by Conor Cruise O'Brien and performed at the Dublin Theatre Festival in 1971.
In 1982, Olu appeared in the play, Richard's Cork Leg which was staged in Royal Court Theatre, London. In 1977, he appeared as one of the augers in the presentation of the play Julius Caesar at the Royal National Theater in London. He has also played in other plays including A Kind of Marriage in 1976 and Old Movies in 1977 among others.
He Went International In The 1980s
After playing the role of Commissioner Batak in the 1979 action-adventure film, Ashanti, Olu Jacobs began to land roles in some internationally acclaimed movies and this helped to boost his career immensely. In 1980, he played the role of an immigration officer in The Dogs of War, an American war film based upon the 1974 novel of the same name. He played the role alongside the legendary American actor and comedian, Christopher Walken. The movie gained some success internationally, giving Jacobs some more visibility as an actor.
In 1985, he scored the role of Col. Nsogbu in Baby: Secret of the Lost Legend, an American adventure fantasy film. The next year, in 1986, he was cast to play the role of Boomako in Pirates, a Franco-Tunisian adventure comedy film that was nominated for an Academy Award.
It is noteworthy that, within this period, Olu Jacobs was also making appearances in different TV series. In 1983, he played President Gadin in Squadron, a British television series. In 1983, he appeared in several episodes of The Witches and the Grinnygog, a British television serial playing the role of Mr. Alabaster. The same year, he played David Mazenze in Rumpole of the Bailey, a British television series. He also starred in Play for Today, a television anthology drama series.
His Return To Nigeria
Even though he was doing quite well in England where he was appearing in several TV series and even though he had appeared in some international movies, Olu Jacobs got to a stage when he felt he was not getting the kind of satisfaction he wanted. He wanted to grow a lot more than he already was and he felt the way things were set up in England did not allow him to grow to his full potential. So, he decided to return home to Nigeria.
According to him, he realized it was better for him to return home and help in the development of the movie industry. In this way, he would find some more fulfillment and also pave the way for the generations coming behind him so that they would not suffer what he has had to suffer. He made up his mind that he was going to go back home and help set up a solid foundation in the movie industry.
Eventually, from 1980, he began to visit Nigeria frequently to see how things were doing in the film arena in the country. In 1984, he was invited by the government to help start a TV program called Second Chance. He accepted the opportunity and rushed back home to start the production. Olu Jacobs worked on the production from April to November before he left the show and returned to England to complete a project with the famous Polish-French film director, Roman Polanski.
He Has Starred In Over 200 Nollywood Movies
Eventually, Olu Jacobs returned fully to Nigeria in the 1990s and began to make Nollywood movies. Over the years, the legendary actor has starred in over 200 Nollywood movies and has grown to become one of the most beloved faces on TV in the country.
Some of the Nollywood movies he has starred in include Iva in 1992 alongside Omotola Jalade Ekeinde and Francis Duru. In 1996, he appeared in the drama movie, Onome and two years later in 1998, he starred in Rapture and Obstacles. In 1999, he starred in Twins of the Rain Forest. The same year, he appeared in Oganigwe, Endtime, and Aba Riot.
Some of his other roles include The Last Vote in 2001, Keeping Faith: Is That Love? in 2002, Unconditional Love and Mission to Africa in 2003, Turn Table and Eye of the gods in 2004, Women in Power and Soul on Fire in 2005, Royal Doom and End of Battle in 2006, The Cabals and Show Me Heaven in 2007, Throne of Tears and The Return of Ogidi in 2008, Sound of Pain and Forest of Tears in 2009, Bent Arrows and Palace Slave in 2010. In 2011, he starred in The Seekers, and in 2012, he played Chief Ikudabo in Heroes & Zeroes. He starred in Oloibiri in 2015 and The Royal Hibiscus Hotel in 2017 among dozens of others.
Olu Jacobs Has Received Awards For His Work
As expected, Olu Jacobs is the recipient of several honors and recognition for his legendary work onscreen. Below are some of the awards and honors he has received.
In 2007, he emerged the winner of the Africa Movie Academy Award for Best Actor in a Leading Role for his work in the movie, Dancing Heart.
At the 2013 Africa Magic Viewers Choice Awards, he was honored with the Industry Merit Award for outstanding achievements in acting for his dedication to his acting career spanning over five decades.
In 2015, he was honored with the City People Movie Lifetime Achievement Award.
In 2016, he was conferred the Lifetime Achievement Award by the Africa Movie Academy Awards.
How Olu Jacobs Raked In His $2 Million Net Worth
Over the years, Olu Jacobs has raked in an amazing $2 million net worth. This is not surprising considering his numerous works and his consistency in the movie business. Of course, making movies has fetched him a lot of money. From the days he began to star in British TV series to the times he featured in different internationally recognized movies, Olu Jacobs has been raking in money from his work onscreen.
Like we have explained before, the movie legend has starred in more than 200 Nollywood movies. He has consistently churned out Nollywood movies for decades and is still doing so. The exact amount of money he gets paid for every role is not certain but, considering his status as a leading figure in the business, it is quite certain he gets paid really well for his services.
He Runs A Company With His Wife
Apart from just acting in movies, Olu Jacobs also makes money from a company he runs with his wife, Joke Silva, who is also a Nollywood legend in her own rights. Their company is called the Lufodo Group. This company has contributed hugely to Olu Jacob's net worth.
The Lufodo group was established by the couple in 1985. At first, they established the company as a stage and film production company. However, the company eventually evolved over the years and was incorporated on the 25th of September 2000 as a fully-fledged media and entertainment services company.
The Lufodo company is now the parent company of different other outfits, including the Lufodo Academy of Performing Arts, Lufodo Productions, Lufodo Consult, and Lufodo Distribution. Today, Olu Jacobs is the Executive Chairman of The Lufodo group while his wife is the Executive Director of the company.