Equity Bank was founded in 1984, but at that time, it was called Equity Building Society. Equity Bank is one of the leading financial services providers in Kenya, with its headquarter in Nairobi, Kenya. It is among the 44 financial service providers licensed by national banking regulator – The Central Bank of Kenya. By October 2010, Equity Bank being a leading financial service provider had more than 57% of the total bank accounts in Kenya, giving it the largest base of customers in the country. More people kept on coming to open a bank account with Equity Bank because they understood the banking business better than any other then
Equity Bank can boast as the largest financial service provider in East Africa, with just over US$1.5 billion asset base in Eastern Africa. Equity Bank has branches in Uganda, Tanzania, Rwanda, South Sudan and Burundi. Therefore, opening or accessing an Equity account within the country is quite easy because they equally offer online services when you want to open a bank account with Equity Bank. The procedure for account opening is simple and can be undertaken by visiting any bank branch of the bank within the country, via a mobile phone or through the internet.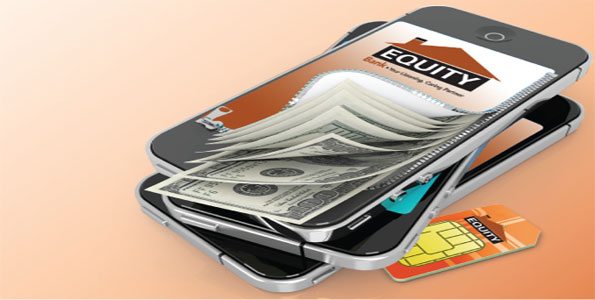 Instant Account Opening
This is known as Equity hapo hapo, and the account is created through a mobile phone
Procedure to Open a Bank Account with Equity Bank
1. What to do to open a bank account with Equity Bank via your mobile phone.
 Dial *247#. You will be required to have a Kenyan national identity card number
 Type in your first name.
Enter your Second name.
Submit the details you have provided after confirmation.
You will then be required to go through the terms and conditions and accept them.
After this process, you will immediately be notified of your account number through a first text message. The second text message will contain your account PIN number.
Eventually, you will be informed on how your account can be accessed through a notification.
2. What are requirements you need in order to open an instant account?
You must have an original Kenyan national identity card
You must have a Mobile phone number which is registered.
3. How do you access your account?
Just dial your *247# and enter your PIN number
4. How do you deposit and receive money into your instant account?
You can transfer cash from Airtel money, Mpesa or yuCash to the account
You can deposit money at any Equity Bank branch or Equity Bank Agent near you
You can receive money from salary remittance, RTGS etc
5. How do you activate your account?
A minimum of Ksh100 deposit as an opening balance will be required. Please, it is important to note that failure to deposit cash in your account for a period of 30 days will render the account dormant.
6. Does opening an account warrant any extra charges?
You will not incur any extra charges in Equity Bank instant account opening
7. Can you open an instant account when you currently have an account with Equity?
No. however, you can use mobile banking services; this can be achieved by visiting Equity branch or agent near you so as to help you sign up for Eazzy 247.
8. Is there a chance one can access your account when your phone is lost?
No. Your cash will be secure provided you have kept your account PIN from everyone.
9. What is the highest operating balance?
When you have more than Ksh100, 000, you will be obliged to advance your account features by visiting any Equity Bank branch.
10. What do you do when you forget your PIN or in case of any inquiries?
You can call the number 0711025000 or visit nearest Equity agent or branch for PIN unblocking or inquiries.
How to Open an Equity Bank Diaspora Account

To open an Equity Bank Diaspora account, it is important to note that there are three important steps for a successful account opening.
FIRST STEP: You will be required to download any account opening form that suits your needs and fill it up.
Available account opening forms for download include;
i. Opening forms for Joint/Personal accounts
ii. Openings forms for call Deposit or Fixed Accounts
iii. Application forms for Business Accounts
iv. Introduction Forms
v. Last but not least, before downloading an application form for ATM Visa it is advisable to read Visa for use. NB: Visa application fee will cost you Ksh500.
OR
You can personally visit any Equity Bank branch with your original Kenyan National ID and its photocopy. When you get there you will be given an Account Opening Form depending on what type of account you want to open, which you will submit for processing after filling it up. In the case of an Equity Ordinary Account, you will not be required to pay any maintenance fees, ledger fees or any monthly charges. This type of account is the cheapest to run as there is no cheque handling charges or cash deposit fees. NB: There will be a charge of Ksh500 for Visa application in case you need one.
SECOND STEP: After filling the form, send Application documents via post to this address: Diaspora Team,
Operations Dept,
Equity Bank Limited,
P.O. Box 75104-00200
Nairobi – Kenya.
You should make sure that the Application documents contain these testimonials and information:
Copies of either currently working passport or Kenyan National ID card
One passport photo (not over 3 months old)
Copy of your address confirmation. This document helps in indicating your address, for instant Bank statement, telephone bill, local authority or government bills and utility bill. NB: bill dates should not be over 3 months old.
Filled and signed Account Opening Checklist. (download)
THIRD STEP: Wait for your Account Activation to be confirmed.
Account activation will be within 24 hours after all the documents are received. After this, you will receive an E-mail of confirmation which will indicate the account details according to account opening form specifications.
For further clarifications, you can contact Equity Bank through either DiasporaEban[email protected] or [email protected].
Summary
The accounts discussed above are just a few out of the many available with Equity Bank. The bank has several other accounts that you can take advantage of within or outside the country. With this tips on how to open a bank account With Equity Bank, you will get off fine in opening any bank account with them.
When looking for customer friendly banking services in Kenya, Equity Bank will be on one of your best options. For convenience, the Bank has several branches spread all over the country – more than any other bank in the country. This means that when you have any complains or difficulties it is easier for you to get help. So go open a bank account With Equity Bank now if you don't have one already.