The trajectory of Oscar Maximilian Jackman's life changed after Hugh Jackman and his wife, Deborra-Lee Furness adopted him and made him a celebrity kid. The celebrity couple went the way of adoption after Deborra-Lee suffered two miscarriages and needed a respite from trying for another baby. Ever since his adoption, they have blossomed as a family and many who aren't aware of his adoption wouldn't guess that he really isn't their biological child.
When it looked like their decision with Oscar was a marvelous idea, the power couple went on a second round and adopted a baby girl who they named Ava Eliot Jackman to complete their family. Read on to find out more facts about Oscar Maximilian Jackman, his family, and background details.
Oscar Maximilian Jackman Biography (Age)
The exact date Oscar Maximillian Jackman was adopted by his celebrity parents, Hugh Jackman and Deborra-Lee Furness are nowhere near the records, however, it is already known that Oscar joined the population of the earth on the 15th day of May 2000. More so, Oscar's true origins are yet to be traced and he is reportedly said that he is biracial- indicating he has a bit of everything- African-American, Caucasian, Hawaiian and Cherokee. As per his nationality, Oscar is an Australian.
With regards to the details of his education, Oscar Maximilian Jackman is believed to be a student in one of the prestigious institutions where his family resides. The exact details of the school he attends is yet to be disclosed. Similarly, Maximillian is yet to begin a career of his own. We would do an update as soon as he begins pursuing a career. Who knows, he might follow in his father's stead or better still tread the same path as his mom or probably do something totally different. Well, we will all keep our fingers crossed and see what life has in store for him.
Facts About Hugh Jackman's Son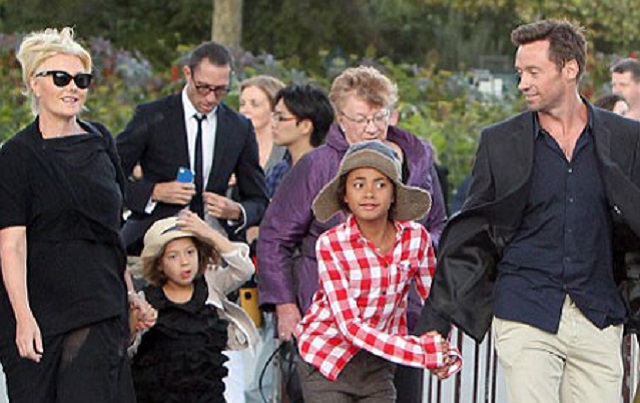 He Shares Great Bond With His Family
Oscar is closely knitted with his family, they often spend quality time bonding with each other. One remarkable outing the family had was their visitation to Disneyland in 2009.
More so, the little lad uses his father's fame as Wolverine to pick up little girls. Unlike other children who would shield away from fame, Oscar Maximilian Jackman tends to love the spotlight and is not overwhelmed by his father's status. Interestingly, in his younger years, his father revealed in an interview that the lad also uses his fame as a line when trying to woo girls. Also, Hugh Jackman disclosed that he helped him to understand what it takes to have a lady around.
His mother and his little sister ain't left out in his world. He is often spotted with Deborrarr-Lee at different spots alongside her baby sister.
His Father is His Super Hero
Just like he is a superhero in movies, Hugh Jackman has in every way done the same for his family. One heart melting events in which he saved his family was when he recused his kids from a riptide that occurred in Australia some time ago in March 2016.  With the aid of an unknown man, he successfully saved his kids.
See Also: Christopher Schwarzenegger, Arnold Schwarzenegger's Son – Bio, Age, Siblings
Net Worth
As at the day this article was penned down, Oscar Maximilian Jackman's net worth is yet to be revealed as it is still under review. He is also known not to have been professionally involved in any kind of business. However, His father, Hugh Jackman has a net worth of $100 million which he mostly earned through his acting career while his mother Deborra-Lee Furness has an estimated net worth of $10 million. By the time he begins to pursue a career in any field of life's endeavor, we are sure to let you know what his finances will be.
Oscar Maximilian Jackman's Body Measurement
Oscar Maximilian Jackman is growing to be a fine young man, though still young, he has got lots of ladies tripping for him! He is quite tall for his age and of course, his weight is just perfect. That being said, sadly, his exact body measurements are nowhere near the records but we know he has brown eyes and brown hairs.