The name Ota Benga may not ring a bell for most people these days but it did cause quite a stir in the 19th century. His tale records as one of the stories that provoked deep thoughts about empathy, the essence of humanity, and the grouping of humans according to their shared social and physical qualities.
The American black society of then saw the treatment of Ota Benga, especially his exhibition in a cage with apes as the ultimate slight to Africans. More than that, the exhibition was regarded as a promotion of Darwin's theory.
Who Was Ota Benga?
Ota Benga was a Congolese man who was sold into slavery after his tribe was attacked by a militia group of King Leopold II. Reports have it he was born in Congo in c. 1883; he was a member of the Mbuti clan and of the tribe of the Pygmy.
Ota was once married and had two kids before the war broke out under the harsh Colonial rule of King Leopold II of Belgium. His family perished in one of the attacks on his clansmen by King Leopold's militia, an attack he narrowly escaped because he went out hunting.
Why Was He Brought To The United States?
Even though Benga survived the massacre of his people, he was soon captured by a slave trader and sold to an American Missionary man named S. Philip Verner who was in Congo on a mission to collect a group of Pygmies. It is said that the pygmies were meant to be part of an exhibition on cultural and archaeological evolution organized in St. Louis Missouri in 1904.
Benga arrived in the United State of America along with other 10 different tribesmen from Africa. At the Lousiana Purchase Exposition, he stood out from the rest of the Pygmies exhibited due to his easy-going way and very sharp pointed teeth which were filed in his youth as a part of his tribe's norm. After the huge success of the exhibition, they were all returned back to their country by Verner but on Benga's return, he could not fit into the new tribe Batwa, because his own tribe had been wiped off during the war. He tried to start his life afresh by marrying a Batwa woman, but she eventually died from a snake bite.
Feeling disillusioned again and out of place with the Batwa tribe, he pleaded with Verner, for another chance to return back to America to begin afresh his life. Verner with the help of the then Director of Natural History Museum in America got Benga to the US where he started living in the museum. He had his sculpture made whilst there at the Museum, attending the galas and exhibitions hosted. But then, his living condition worsened as his demeanor changed, he became erratic and unpredictable. Ota was quickly moved out to the Bronx zoo where he was allowed to roam the grounds of the zoo and take care of the animals he was conversant with, like the elephants and apes.
This move helped gain back the once pleasant and easy going Benga. The presence of Banga Ota in the Zoo increased the influx of people visiting the zoo – curious minds who wanted to satisfy themselves and have interactions with the young Benga. This prompted the unfortunate decision to place Benga in a cage along with an orangutan named Dohong – one of the animals he had developed a strange bond with. The exhibition incited protest and an outright condemnation by the black society.
James H. Gordon, an African-American clergyman in charge of Howard Coloured Orphan Asylum in Brooklyn along with other renown black men were very outspoken about the exhibition, this prompted its immediate closure.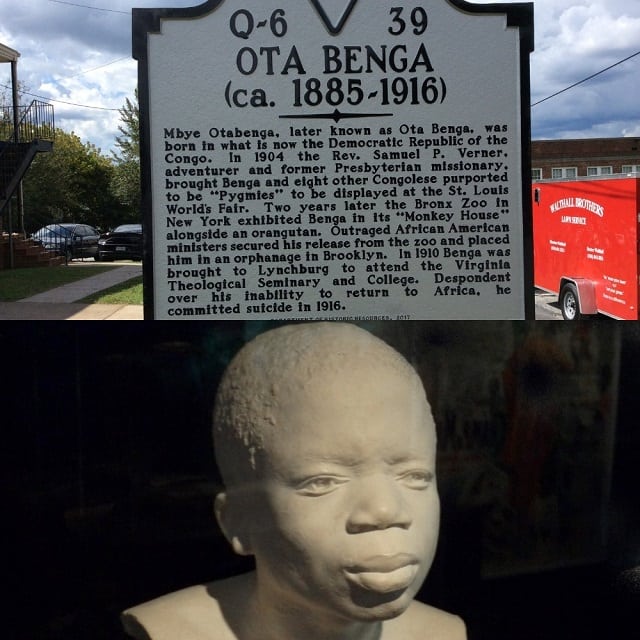 After a massive protest, Benga was removed from the Zoo especially after he threatened the keepers of the Zoo with a knife. The Clergyman, James H. Gordon took him up for rehabilitation. Later in 1990, James sought the assistance of the family in charge of a seminary in Lynchburg, Virginia, in order to settle Benga in a new home.
On his arrival in Virginia, he settled down to a normal life with the family and tried to adapt to the way of life of the Americans. He changed his clothing and attended elementary school at the Baptist Seminary of Lynchburg. He later got a job in a tobacco company, then got a dentist to cap his pointed teeth. Nevertheless, Ota maintained his ways with nature by sleeping, fishing, and hunting in the woods close to the house. He got along with the family and taught the children one or two tricks about fishing and hunting while he actively saved up his resources in a bid to pay his passage back to his beloved country.
Body Features and Personality
Ota Benga stood at the height of 4 ft 11 inches and weighed about 47 kg (103 pounds). He had a very dark skin tone with pointed teeth and black hair. Benga was a pleasant and cheerful fellow, easy going and quick to accept others.
Read Also: Who is Papa Frank Also Known As Filthy Frank or Joji, Where is He Now?
His Tragic Death
Benga saved up most of his resources actively in a bid to buy his passage back home to his country as he was homesick. His plans were rendered futile when another Civil War erupted in 1914, halting his plans as the war made it impossible for passenger ships to sail.
As the war lingered, Benga's hopes of returning to his homeland faded and he gradually slipped back into depression which eventually led him to end his own life in the woods on the 20th day of March 1916 with a stolen pistol. He was laid to rest in the White Rock cemetery and was only 32 years old at his demise.