Pastor E. A. Adeboye (born March 2, 1942) is a 81 years old Nigerian pastor who has become well known to Christians all over the world as the president and founder of The Redeemed Christian Church of God, RCCG. His popularity soared even more when it came to light that he is one of the richest pastors in the world. 
Pastor Adeboye has recorded stellar accomplishments through his many hats as a writer, scholar, and businessman. Even though he is widely revered for his achievements in the propagation of the Gospel of Jesus Christ, Enoch Adejare Adeboye did not initially set out to become a pastor. Beyond his work as a pastor, the man of God is also a devoted husband and a father of four.
Profile Summary Of Pastor E.A. Adeboye
Full Name: Pastor Enoch Adejare Adeboye
Date of Birth: March 2, 1942
Pastor E. A. Adeboye's Age: 81
Zodiac Sign: Pisces
Nationality: Nigerian
Ethnicity: Yoruba
Sexual Orientation: Straight
Religion: Christian
Pastor E. A. Adeboye's Parents: Moses Adeboye (Father), Esther Adeboye (Mother)
Education: Ilesha Grammar School in Ilesha, Osun State, The University of Nigeria Nsukka, Obafemi Awolowo University, and the University of Lagos
Marital Status: Married
Pastor E. A. Adeboye's Wife: Foluke Adeboye (m. 1967)
Pastor E. A. Adeboye's Children: 4 – Dare Adeboye, Leke Adeboye, Adeolu Adeboye, Bolu Adubi
Occupation: Professor/Pastor
Years Active: 1973 – Date
Net Worth: $65 million to $80 million
Famous for: Being one of the richest pastors in Nigeria
Pastor E. A. Adeboye's Twitter: @RCCG_ADEBOYE
Pastor E. A. Adeboye Was Born 81 Years Ago in Osun State
Pastor E.A. Adeboye was born with the given name, Enoch Adejare Adeboye on the 2nd of March 1942, and the records captured his place of birth as Ifewara, close to Ife, in Osun State. The pastor's name is an indication of his Yoruba ethnicity. While his life is obviously blessed with the good things and career success, things were not so rosy at the beginning for Adeboye and his birth family.
With the level of success, he has recorded both in his lecturing career and the ministry, many would naturally believe the General Overseer of the Redeemed Christian Church of God was born with a silver spoon but that is far from the truth. The humble and soft-spoken man of God came from a humble background with an illiterate peasant farmer as a father. This meant the family had to survive on limited resources and they also had slim chances of getting any form of education.
His dad who has four children didn't believe in formal education and had no plans of sending any of his children to school. Besides, the poverty level in the family was another side of the story because even though the peasant farmer wanted to send his children to school, he lacked the wherewithal to sponsor them and pay their school fees. Nothing has been said about the preacher's mother and his siblings are not in the limelight. Overall, the renowned pastor comes from grass and has been lifted to grace over time.
The Minister's Academic Pursuit Commenced in His Hometown
Being someone who has always harbored a passion for academic excellence, Pastor E.A. Adeboye was so particular about going to school. This was despite the obstacles that threatened his dreams to be educated. After he was discouraged by his dad who was somewhat rooted in his decision not to send any of his children to school, Enoch did his best in persuading him; he even went on a hunger strike to make his impact felt. When his dad finally consented to see him through school, the lack of money led the senior Adeboye to sell one of his livestock (goat) to raise money for the tuition.
Enoch's academic pursuit commenced in his hometown at one of the missionary schools there and once he started, he never looked back. Upon the completion of his primary education, Pastor Adeboye was determined to get to the highest level and thus joined Ilesha Grammar School in Ilesha, Osun State, located in the Western part of Nigeria; this happened in 1956. It was during his secondary school days that the pastor discovered his exceptional passion for both science and mathematics and decided to forge a career path in the field.
The Nigerian civil war would have put a spoke in the wheels of the pastor's academic pursuits as he badly wanted to go in pursuit of higher academic qualifications and his choice of university was The University of Nigeria Nsukka. However, nothing could stop him from pursuing his academics to the highest level. Even his parent's dire financial condition couldn't hold him back as Enoch went back to the Western part of Nigerian to complete his first degree against all odds.
His first degree was eventually accomplished in 1967 at Obafemi Awolowo University which was then known as The University of Ife. For his first degree, Pastor E.A. Adeboye majored in Mathematics. Armed with a Bachelor of Science degree, he made the move to obtain a Master's in Hydrodynamics from the University of Lagos, graduating in 1969. Having decided to follow a career path in lecturing, the minister of God went after a Ph.D. (Doctorate Degree) in Applied Mathematics also from the University of Lagos; he finished in 1975 while already lecturing. From being a helpless farm boy who didn't know where his school fees will come from, Adeboye now has many degrees among other career achievements.
Pastor E.A. Adeboye Was First a University Lecturer Before Moving Into Ministerial Work
Looking at his elevated position in the Christian community in Nigeria and beyond, it is hard to imagine that there was a time Adeboye was not into ministry work. Before the divine call took over, Pastor E.A. Adeboye had always harbored one great life ambition which was to emerge as the youngest VC of any of the country's frontline universities. Thus, following a career path as a university lecturer was an informed choice that was targeted at fulfilling this big dream.
As one of UNILAG's professors of Mathematics, Enoch was poised to work very hard and see his dream come true. However, fate and providence obviously had better plans for the mathematics expert as he was called into the ministry. Though he still held on to his career in academics at the beginning of his ministry work, he just had to let go after a few years and go into full ministry work. The pastor's traits as an educator are still evident in his ways of teaching as a minister and it is safe to say his days as a lecturer helped in grooming him for the bigger task ahead.
Pastor Adeboye Became A Minister In RCCG at the Age Of 33
Adeboye's former place of worship has never been mentioned but the Mathematics lecturer first came to RCCG (The Redeemed Christian Church of God) in 1973 while he was still a lecturer at UNILAG. The church was then thriving under the leadership of its founder and first G.O, Pastor Josiah Oluwafemi Akindayomi. Thus, the former university lecturer is not the owner of RCCG as many have speculated.
Enoch gave his life to Christ that same year he joined the church, precisely on the 29th of July. Having taken the decision to dedicate the rest of his life to the dissemination of the Gospel, he began participating in several church activities and a couple of years later in 1975, the General Superintendent, Pastor Akindayomi deemed him fit to be ordained a pastor. Thus, it took just two years to establish himself as a force to be reckoned with in RCCG and the authorities in the church noticed him as such.
As a well-educated pastor, Adeboye's duties in the church at the time includes translating Akindayomi's preaching into the English language. Akindayomi could only preach in Yoruba and a translator was required to convey the message to a wider audience. Adeboye executed these duties skillfully and gained ground in the church, as well as warmed his way into the hearts of many.
As time rolled by, Adeboye took charge of church duties such as organizing crusades, bible study meetings, outreaches, and revivals. He was also the man behind the RCCG evangelistic programs popularly referred to as Congress; this proved to be highly successful. By this time, the man of God was still joggling his lecturing work (at this stage, he was only working part-time at Unilorin) with ministry work but later decided to squarely face the church as the work was getting too big to be combined with another.
Pastor E.A. Adeboye Was 39 When He Ascended the Mantle of Leadership as the GO of RCCG
Pastor E.A Adeboye worked so hard under Pa Akindayomi that the founder was very impressed, naming Adeboye as his successor. Upon the death of Pa Akindayomi in 1981, Enoch took over leadership at the Redeemed Christian Church of God as its new GO. This was in fulfillment of the instruction left by the founder before his demise and the decision was a welcomed one as there was nobody more worthy to take up that mantle.
Since his assumption of office as the General Overseer of the RCCG church, God has been using the minister to bring unprecedented growth to the church. The RCCG has since diversified into several lucrative businesses like schools, real estate, hospitality, and the likes. Below are some of his accomplishments since he became the leader of one of the biggest churches in Nigeria.
How Accomplished is Pastor E.A. Adeboye As A Minster Of The Gospel?
Among several other accomplishments, the following is a sneak peek into the achievements of the renowned general overseer.
A short while after Enoch Adeboye started leading the church, he went ahead to acquire a colossal expanse of land located along the Lagos Ibadan expressway. Today, this land has been converted into an edifice for the lord and is known with the moniker Redemption Camp. The church holds its annual Holy Ghost Congress at the site, including other programs.
RCCG that was barely known under Pa Akindayomi has now been listed among the biggest churches, thanks to the expansion project of Pastor E.A. Adeboye. The church's presence is now felt in countries like Germany, Haiti, The United Kingdom, India, and The United States of America.
In Nigeria alone, the church has above 14,000,000 branches and has spread its tentacles in over 196 countries of the world under the leadership of Adeboye. These statistics were taken as of March 2017 and it goes without saying that it has been boosted within the last five years.
The minister's already achieved expansion goals notwithstanding, the General overseer of the Redeemed Christian Church of God is striving towards planting parishes within five (5) minutes driving distance in developed cities, as well as five (5) minutes walking distance in cities that are still developing.
When he held the maiden RCCG Holy Ghost Congress at Lekki-Lagos in 1998, it had over 7 million worshipers in attendance; This was before the congress was permanently moved to the RCCG Redemption Camp in 1999. In recent times, activities at the campground shut down the express road due to the large turnout of worshipers.
Adeboye is listed as one of Nigeria's most influential pastors and he is equally recognized on a global scale. Millions view him in the light of a spiritual father while he serves as a mentor to several highly placed individuals such as heads of state, presidents, world leaders, and the likes.
Pastor E.A. Adeboye has been tagged a preacher of the controversial prosperity gospel – a claim he wholeheartedly accepted, professing that the Pentecostal arm of the church has this kind of impact because they usually talk about the here and now, in addition to the by and by… while Christians have to worry about making heaven, there are also certain things God needs to do for his children in the here and now.
We cannot lay our hands on the exact number of souls the minister has won for God but it is common knowledge that he has converted multitudes from their old ways and has brought them to Christ. While several of these converts never encountered Christianity before, a good number of them came from Christian backgrounds.
The pastor has continued to win souls from his ministration at various fora both in Nigerian and outside the country. His works resonate across the globe.
His sermons at different RCCG parishes during special programs have brought many to Christ.
It was Pastor E.A. Adeboye who introduced special programs like the popular RCCG 'Go-A-Fishing' evangelistic outreaches, Annual Convention, Holy Ghost Services, open-air crusades in different communities, and stadia, Holy Ghost Congress, campus outreach in different campuses in Nigeria, and a whole lot more.
Who is Pastor Adeboye's Spiritual Father?
Having a spiritual father has become a common practice among successful people of the world. A spiritual father is a term used in describing a role model or someone more exposed and more knowledgeable than you whom you constantly look up to in the course of your spiritual life. Having this role model has helped a lot of people climb to the top echelons of their careers and Adeboye is not an exception.
In the case of the General Overseer of The Redeemed Christian Church of God, Pastor Enoch Adejare Adeboye, the identity of his spiritual father remained a cause for speculation until January 2020 when speculations triggered by an online source hinted that Adeboye revealed his spiritual father to be Rev. Dr. Uma Ukpai. Dr. Uma happens to be the man behind the establishment of Uma Ukpai Evangelistic Association Incorporated – an Akwa-Ibom-based nondenominational gospel ministry.
Reacting to this, Pastor E.A. Adeboye debunked the speculations, declaring them as false. Though Dr. Uma is recognized as a highly respected and long-standing minister of the Gospel, he (Adeboye) never viewed him as his spiritual father, the G.O said. In a bid to clear the air and set the records straight, he announced his spiritual father to be none other than the founder and first G.O of the Redeemed Christian Church Of God, Pastor Josiah Oluwafemi Akindayomi. This doesn't come as much of a surprise since he served under the former general overseer for some years before he passed on.
Adeboye's Resignation As GO Was a Shocker To The RCCG Congregation
In a 2017 ministers' thanksgiving service at the Redemption Camp of the Redeemed Christian Church of God, The general Overseer dropped a shocking announcement about his official resignation as the General Overseer of RCCG Nigeria. The current deputy president of Nigeria Professor Yemi Osibanjo who is a pastor in RCCG was present at the service.
According to Enoch Adejare Adeboye, Pastor Joseph Obayemi who is an Assistant General Overseer in the church will take over leadership. While the AGO will lead the Nigerian arm of the church, Adeboye will still continue as the GO of RCCG Worldwide, thus, he is still the one wielding the big stick. His resignation also has a strong reason to back it up and it has nothing to do with trouble in the church.
Explaining the reasons for the sudden decision to their stunned congregation, Mr. Leke Adeboye who is Pastor E.A Adeboye's last child, as well as his personal assistant noted that his dad had to step down in a bid for the church to comply with the latest legal requirements by the Financial Regulations Council stipulating that the leaders of all registered mosques, churches, and CSOs, will now only lead for a maximum of 20 years while in retirement. Besides, considering the fact that Daddy GO has led the flock for over four decades, the decision was a necessary one.
Appealing to members to help pass the correct information to the general public, Leke reiterated that his dad remains in charge as GO of RCCG Worldwide. The personal assistant to the General Overseer also urged all church members to try and understand the new structure and continue with their services to the Lord and humanity in soul winning and holiness.
The GO of the Redeemed Christian Church of God, Pastor E.A. Adeboye is Also an Acclaimed Writer
In addition to his busy schedule as the leader of a church as big as the RCCG, Pastor Adeboye still manages to find the time to indulge in writing. This shows that his academic background as a former lecturer was not shelved at all. He takes the credit for writing the RCCG daily devotional manual popularly known as Open Heavens the publication is available in multiple languages such as English, French, including other major languages. Open Heavens is distributed on a global scale and widely read. Below are some of the remarkable titles of this daily devotional;
The Overflowing Christian
Time of Favour
God has a Purpose for Your Life
The Swimming Axe-Head
Practical Guides for Prosperity (Vol 1-4)
Anatomy of Greatness
The Ten Virgins
Carriers of His Power
The Gate of Mercy
The Tale of the Three Women
The New Life
The General Overseer Has Bagged Multiple Awards and Commendations Through the Course of his Career
In 2008, President Goodluck Ebele Jonathan of Nigeria awarded Pastor Adeboye, Order of the Federal Republic of Nigeria.
2009 was when Newsweek Magazine named him one of "The World's Fifty Most Powerful People"
A National Sports Honor came his way in 2010 when he was named, the Spiritual Pillar of Nigerian Sports.
His latest award came in 2019 when New African Magazine cited him among the "Top 100 most influential Africans"
Pastor E.A Adeboye is also a recipient of multiple honorary degrees. Remarkable among them is his honorary doctorate from UNN (The University of Nigeria, Nsukka) and another honorary doctorate from UNILAG (University of Lagos).
Pastor E.A. Adeboye Embraced Matrimonial Life at Age 25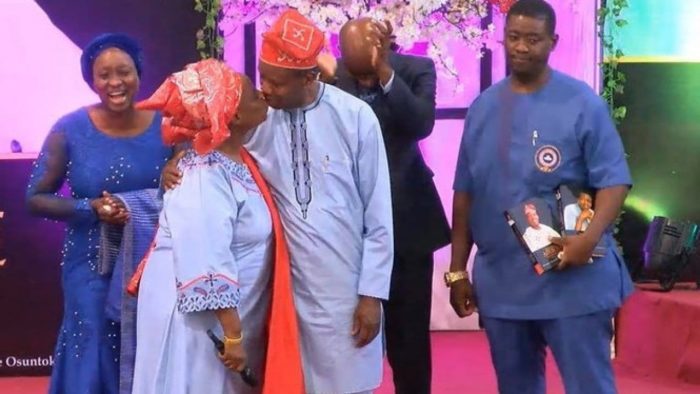 The General Overseer of the Redeemed Christian Church of God was barely 25 when he gave up bachelorhood to embrace matrimony. His union with Mummy GO, Foluke Adenike became official in 1967 and after over five decades of successful married life, the duo is still going strong with an unshakable founded rooted in the Christian faith.
They have four children to show for their years together as man and wife – Adeolu Adeboye who is the oldest, Bolu Adubi (née Adeboye) is the GO's only daughter, and Leke Adeboye is his last child. Unfortunately, the Christian power couple lost their third child Dare Adeboye who died on the 4th of May 2021 at the age of 42. All the surviving children of Adeboye are all doing well in the ministry as pastors, and they have since made their father a grandfather many times over. Adeboye is by all standards an accomplished man with both his career and personal life thriving. He has also built a strong spiritual life with God and his faith is unshakable.
Here Are Pastor Adeboye's Major Age Milestones
Pastor Adeboye accomplished his first degree in Mathematics at the age of 25 from The University of Ife
He just hit 27 when he bagged his Master's degree in Hydrodynamics from the University of Lagos
Enoch Adejare Adeboye became a Doctorate degree holder at the age of 33, majoring in Applied Mathematics From UNILG
The Osun State-born professor was ordained as a pastor in 1973
He became the General Overseer of RCCG (The redeemed Christian Church of God in 1981
Pastor E.A Adeboye Has Been Enmeshed In Controversies in the Past
Just like several other men of God of similar ilk, Pastor Enock Adejare Adeboye has had his fair share of controversies and below are some of the ones that broke the internet.
Adeboye's Private Jet Controversy
Pastor E.A. Adeboye has always had a perceived humility admired by many. They see the man of God as simplicity personified – no snazzy suits, no pulpit theatrics, and completely devoid of foreign accent. He has been described as humble, soft-spoken, and someone not taken to flamboyancy until 2009. The mind-boggling event that disabused people of these fancy views of the General Overseer was his acquisition of a private jet at the stipulated cost of N4 billion.
The jet which was bought by the church sparked the mother of all controversies in both the mainstream media and the social media, dividing the GO's followers into those for and against his latest acquisition. According to the critics, it was glaring that Adeboye has left the league of humble ministers of God and has crossed over to the league of gaudily ostentatious pastors which was fast becoming the order of the day in Nigeria. Social media users also had a field day dissecting the situation.
Some Of His Social Media Comments Have Been Frowned on by Feminists
In the last decade, Pastor E.A. Adeboye has been quite active on the internet space and on his spouse's birthday, he made some sly comments that snowballed into a Twitter storm, sparking huge controversy about feminism. Here are some of the comments he made on Twitter:
"No matter how successful or educated a woman can be her husband remains the head and she must regard him as head at all times"
Talking about his wife, Mummy GO, Foluke Adeboye, the General Overseer said – whatever is on her itinerary does not matter, if he tells her to accompany him to somewhere, his wife would waste no time in canceling whatever it was she was to doing and come along with him.
In another post, he advised one of his sons who is married to sack a secretary that he started looking forward to seeing everyday at work; this didn't go down well with the feminists.
Advising bachelors in a 2016 post, he told them to avoid marrying a lazy woman who does not know how to cook. A wife must know how to cook and do other household chores as her husband can't afford to be constantly eating his meals outside.
All these comments from the general overseer obviously riled feminists who dismissed him as having a sexist attitude. Nonetheless, he has continued to attract respect from the millions of people who hold him in high esteem.
Controversy on His Stance About None Payment of Tithe
Pastor Adeboy has been one of the front liners of the religious doctrine that underlines the need for payment of tithe before one can make heaven. However, the man of God sounded it as a warning to his pastors after the lockdown orchestrated by the Corona Virus Pandemic was lifted in 2020.
It was at the RCCG Redemption camp that he sounded the warning while addressing ministers of the church. His exact words were that the attending pastors should go back to their respective congregation and make it clear to each and every one of them that "Anyone not paying his or her tithe will not make heaven, full stop". Did the public take it without a fuss? Of course not. In the present era of social media and freedom of speech, people don't hesitate to drag whoever they think is doing or saying something wrong.
Daddy Freeze Wasted No Time In Giving Pastor Adeboye A Reply
Pastor Adeboye's preaching on payment of tithe was taken with mixed reactions by the Nigerian public. Besides, when you consider the fact that it came immediately after the lockdown was lifted and coupled with the financial condition of the population at the time, it didn't go down well with many.
Most notable among the GO's critics was the on-air personality Daddy Freeze who gained massive popularity thanks to his "Free the Sheeply Movement", Daddy Freeze who has been leveraging his movement to advocate against the payment of tithes was quick to answer Adeboye as according to him, the scriptures do not support the payment of tithes.
Going on, Freeze volunteered to show Adeboye the bible and that tithing ensures people of hell! Freeze quoted Jesus in the bible where he said "love your neighbor as yourself ", labeling Adeboye and his ilk as those who disobey Jesus by building schools that cannot be attended by their neighbors, even though those schools were built with contributions from their neighbors. Concluding, Freeze said, How can you disobey our Lord Jesus and then tell me to obey Malachi?"