Pat Sajak is one of the most popular TV game show hosts in America. He commenced his career as a radio disk jockey as well as a TV weatherman before being tapped to host Wheel of Fortune, the longest-running syndicated game show in the United States. Sajak has hosted the popular game show from 1983 till date, making him the longest-serving game show host on TV. His incredible run has seen him win two Daytime Emmy Awards (1993 and 1997) as well as the People's Choice Award for favorite game show host in 1987.
In addition to those awards, he has also received a star on the Hollywood Walk of Fame in 1994; a testament to his accomplished career. Find out more about Sajak here, including his age, whether he is gay or married as well as the details surrounding the life of his soon-to-be-famous daughter.
Age and Biography
Pat Sajak was born Patrick Leonard Sajdak on the 26th of October 1946 in Chicago. His father's name is Leonard Anthony while his mother's name is Joyce Helen. Both of his parents are of polish descent. He lost his dad when he was still a child and his mom subsequently remarried a man named Walter Backal. He has two brothers; David Sajdak from both his parents and a half-brother named William Backal.
Sajak attended the Farragut High School, graduating in 1964 before enrolling at Columbia College in Chicago. While in college, Sajak was informed of a job opening at a Spanish radio station. He immediately snapped it up and worked as the station's English newscaster.
When the Vietnam War dawned in the 60s, Pat Sajak enlisted in the U.S. Army and was posted to the Vietnamese city of Saigon. While there, he worked as a disc jockey at the armed forces radio station. He later left the army in 1972 and worked for radio stations in different cities such as Kentucky and Nashville. In 1977, he landed the job of weatherman at KNBC-TV in Los Angeles and held the post until 1981 when the head honchos at Wheel of Fortune came calling. It must, however, be stated that his path to the show was not all smooth sailing as the then president of NBC opposed his hiring.
Pat Sajak overcame these adversities to later become the host of both the daytime and the night-time versions of the show in 1983. He stepped aside as host of the daytime version in 1989 but remains the mercurial host of the night-time version to date. Asides from Wheel of Fortune, Sajak has also served as a regular guest host for shows such as Larry King Live. The Chicago native also tried his hands at late night talk show but did not achieve much success.
Is Pat Sajak Married to a Wife or Is He Gay?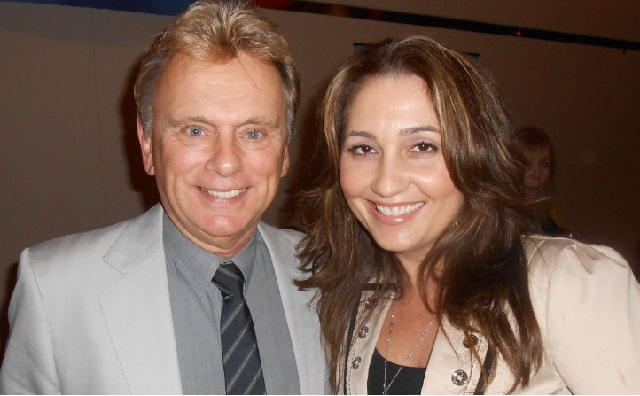 We can authoritatively state that Sajak is not gay as he himself loudly proclaimed his sexuality in a tweet on the 18th of April 2014. Some people, however, criticized the tweet for making light of the importance of coming out for gay people.
With regard to his marital life, the beloved game show host has been married on two occasions. His first marriage was to a lady named Sherrill in 1979. The union lasted for seven years and they divorced in 1986. Sajak is now married to a professional photographer named Lesly brown. They got married in December 1989 in a Catholic ceremony in Annapolis, Maryland. Their relationship was not really a case of love at first sight but rather, a slow burner. They first became friends before getting romantically involved. The couple has two children together; a son named Patrick Michael James born in September 1990 and a daughter named Maggie Marie born in January 1995.
Daughter
Pat Sajak's daughter, Maggie Marie Sajak, is a fast-rising country music singer who already has a few singles to her name. They include "First Kiss", "Wild Boy", "If I Was Gonna Go", and "Pretty on The Inside." The talented vocalist also plays several instruments such as the piano, the guitar, and the ukulele (a four-stringed guitar), and is known to write her own lyrics. She is simply a prime example of beauty and brains. In addition to her singing, Maggie has also done photoshoots for magazines such as Teen Vogue and is a student at Princeton University.
Net Worth
Whilst handing out fortunes to other people, Pat Sajak has been able to accumulate a fortune of his own. The Wheel of Fortune host is said to have a net worth of $55 million and reportedly earns about $15 million a year. The bulk of his wealth comes from his salary as well as licensing deals. Sajak has indicated that he will soon be stepping down as host of the famed TV show. This is because he wants to retire while the ovation is loudest.