If there was a list for the top ten most beautiful women who are married to celebrity actors, you can bet that the beautiful and stunning wife of comic actor Rob Schneider;  Patricia Azarcoya Schneider will be on it. Like her husband, Patricia works with the entertainment industry as a Television personality and also as an actress. The Mexican entertainment industry sure had enough of her until she relocated to the United States of America where she later played roles with her husband and daughter, Miranda, in the second season of the Netflix series, Real Rob.
Having gained prominence as a Mexican actress, her height of fame increased upon her move to the US what with her union with the comic actor. While on set in the Netflix series, she became the most loved star on the show and has also overshadowed her husband. We wouldn't leave out the fact that despite her busy schedules she has not ceased to play her part as a loving wife to Rob and a coordinated mother to her children.
Who is Patricia Azarcoya Schneider?
Patricia Azarcoya Schneider was born as a Mexican to her parents, unfortunately, there are no records about her age and her date of birth but it is an obvious fact that she is way younger than her husband Rob Schneider. We would tentatively say that she should be around her 30's as her husband mentioned earlier in an episode of the Netflix series; Real Rob in 2015 indicating that his wife was 29 at that time, so we wouldn't be wrong to say she was born sometime in the 1980's.
She speaks English and Spanish but is more fluent in the latter. Her fans on social media get enough details about her as she is very active on social media platforms especially on Instagram. Patricia Azarcoya Schneider takes a keen interest in the game of soccer. She doesn't miss out on any highlights on the Mexican Soccer League and is a die-hard fan of the Tigres UANL.
In her own way, Patricia is also a human rights activist; she once aired her views on inequality and racism and further played a major role in helping those who were affected by the September 2017 earthquake which happened in Mexico.
Her Career Achievements
Patricia Azarcoya Schneider started out as a model in Mexico and gradually rose to the big screens. As an actress, she made an appearance in the movie Alkahest in 2016. Afterwards, her career in showbiz took the bigger route when she decided to enhance her creativity by being a producer.
In a short while, she climbed the ladder of success and worked on so many Mexican series and television shows. She produced her debut television series titled El Monchis in 2007. By 2008, she played major roles in the movie Cuentame Love and Guerra De Chistes. Subsequently, she kept producing and acting movies until she hit her major breakthrough in season two of the Netflix series Real Rob (2015).
Details of Her Net worth
Besides her role as an actress, Patricia has worked as a television host for Today Show and has her hand in many other cookie jars from which she also earns well, however, she has done a good job concealed her net worth from the public. Nevertheless, her husband Rob Schneider is estimated to be worth $15 million.
See Also: Afton Smith Bio, Kids, Husband, Divorce From Brendan Fraser, Net Worth 
Meet Rob Schneider's Wife
Patricia Azarcoya Schneider is Rob Schneider's third wife. Rob was formerly married to model London King during his early days at Saturday Night Live. Their union produced a daughter, Elle King who has also made a name for herself in the music industry. Rob's second marriage was to Helena Schneider but like his first, their union wasn't successful.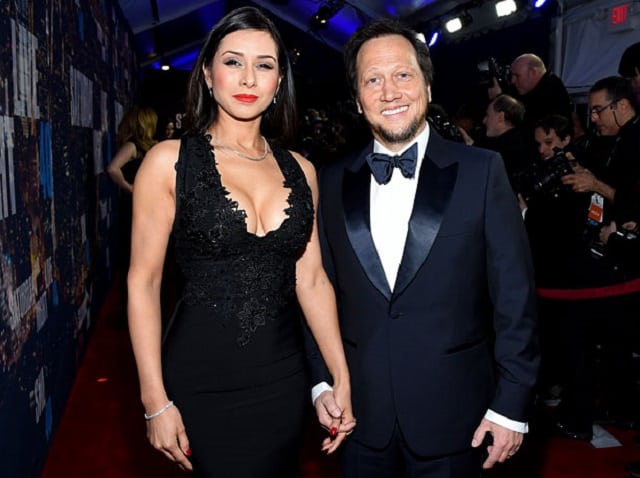 Patricia, despite being so young, fell in love with Rob who was way older than her. They started dating and finally decided to tie the knot in a very private ceremony held in Beverly Hills, California on 23 April 2011.
The two are happily married and their union has been blessed with two daughters. The first Miranda Scarlett Schneider was born on 16 November 2012, and their second Madeline Robbie Schneider came along on 14 September 2016. Their union is heavily publicised as they often make uploads of themselves on social media and have also portrayed their heartfelt love for one another on their TV series Real Rob.
Rob Schneider is a comic actor born on October 31st somewhere in San Francisco but had his younger days in Pacifica. He is well known for his amazing roles in the movies Deuce Bigalow: Male Gigolo (1999), The Benchwarmers (2006), Grown Ups (2010) amongst others. He is also a stand-up comedian for the NBC series comedy series Saturday Night Live which hosts celebrities and other famous people from around the world to a night of comedy and fun.
Patricia has an hourglass physique and is very tall. She has gathered a well-pleasing figure from her routines in keeping fit, watching her diet and hitting the gym despite being a mother of two. Moreso, her body measurements are still being reviewed.