Patrick Swayze will forever be synonymous with his iconic role of the sexy dance instructor, who falls for his student in the cult 1987 movie, Dirty Dancing, but this does not in any way suggest that this was the only notable movie he ever featured in. This real-life classically-trained dancer featured in several of the biggest movie titles in the 90s and rose to become the ultimate Hollywood hunk, thanks to his aura of the gracefully-masculine good guy.
This persona, as well as his undisputed acting skills, served Swayze well into the 2000s and he was set to continue his flourishing career for a very long time. He was, however, cut down in his prime after a long and hard-fought battle with cancer. Swayze has now been gone for about a decade but the world continues to remember the remarkable contribution he made to Hollywood history.
How His Iconic Role In Dirty Dancing Mirrored His Real-life Skills
Patrick Wayne Swayze is best known for his portrayal of a sexy dance instructor in the 1987 cult classic, dirty dancing, and this is quite poignant, given that he was a professionally-trained dancer and ballerina in reality. As a child growing up in Houston, Swayze was athletically gifted and played high school football. He also inherited a talent for dancing from his professional ballerina/dance teacher mom and took part in ice skating and ballet.
The young Patrick initially honed his skills at his mom's dance school, where it has been revealed that she was quite strict with him almost to the point of being abusive. He later obtained a gymnastic scholarship to San Jacinto College in Pasadena. Patrick would stay in college for two years before his love for dancing and acting won. He subsequently dropped out to join the Disney Parade Tour as the dancing prince charming. When the Disney gig ended, Swayze initially moved to New York with the hopes of pursuing a dancing career.
His dreams sadly were truncated by a knee injury and he decided to focus on acting. The Houston native was soon cast as a lead in a stage production of Grease and by 1979, landed his first movie role. This was in the comedy musical film, Skatetown, U.S.A, and he played the leader of a dance and roller skating gang. From thereon, Swayze steadily increased his popularity with appearances in several movies and TV series such as MASH, The Outsiders, and Red Dawn. This was until 1984 when he landed the career-defining role of a dance instructor in the movie, Dirty Dancing.
Dirty Dancing was initially planned for just a low-key video release but Swayze's, as well as his co-star's (Jennifer Grey) performance, made the film a sleeper hit. It became a global success within the twinkle of an eye and sold about one million copies. It also went on to total over $200 million at the box office. Such overwhelming success made Patrick Swayze an overnight movie star and this status was further cemented with his nomination for best lead actor in a motion picture (comedy or musical) at the 1988 Golden Globes Awards.
He Dominated The 90s With Ghost And Point Break
Patrick's Swayze's breakthrough on Dirty Dancing came at the near end of the 1980s decade. It thus fuelled his rise to the top echelons of 90s Hollywood, starting with an appearance in the 1990 blockbuster, Ghost.
In Ghost, Swayze played the lead role of Sam, a murdered investment banker who relies on the help of a psychic to avenge his murder, as well as protect his beloved girlfriend. The movie was panned for some of its plotlines but it was nevertheless a massive success at the box office. It grossed about half a billion ($505 million) on a budget of just $22 million. It also received an Oscar for best original screenplay. For his efforts, Swayze was nominated for best leading actor in a motion picture (comedy or musical) at the Golden Globes, as well as for best lead actor at the Saturn Awards.
Just a year after the massive success of Ghost, Swayze once more set Hollywood abuzz by delivering yet another cult classic in Point Break. Co-starring alongside Keanu Reeves, Swayze portrayed the role of Bodhi, the charismatic leader of a gang of surfers/armed robbers who develops a complicated relationship with the undercover cop sent to nail him. Point Break was a critical and commercial success, grossing $83 million at the cinemas. This established Swayze as Hollywood's leading man and People Magazine confirmed this by naming him the sexiest man alive in 1991.
Some Of His Acting Roles Before His Final Bow
After the success of Point Break, Patrick Swayze went for about four years before landing another acclaimed role. He was seen as a drag queen in the 1995 comedy film, To Wong Foo, Thanks for Everything! Julie Newmar. His co-stars and co-drag queens included the likes of Wesley Snipes and John Leguizamo, and the movie once more impressed – both commercially and critically. Swayze himself also scored his third Golden Globe nomination for best actor in a motion picture, musical or comedy. Following To Wong Foo, Patrick Swayze went on to continue working consistently in Hollywood, appearing in films such as Donnie Darko, Waking Up in Reno, as well as Forever Lulu.
His best outing, however, came in what would turn out to be his final acting appearance. It was in the TV series, The Beast where Swayze portrayed the lead role of Charles Barker, a hard-edged FBI agent who resorts to unscrupulous and even illegal tactics in a bid to bring down criminals. Such tactics unsettle his partner and spurn internal investigations. The Beast debuted on the A& E Network in January 2009 and Swayze featured in about 13 episodes. His performance drew praise from several quarters, including one critic who described it as the performance of a lifetime from the actor.
Swayze Enjoyed Marital Bliss With His Teenage Love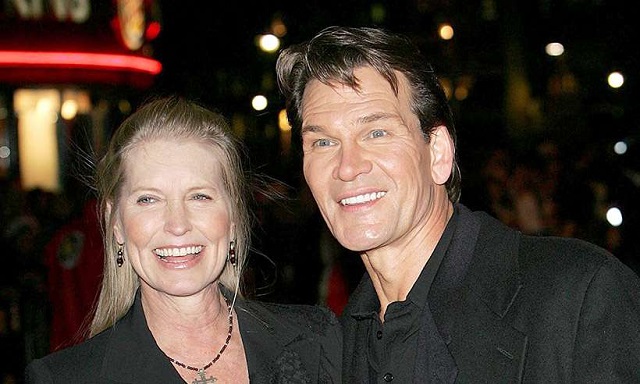 Swayze was married to a professionally-trained dancer, as well as an actress and author named Lisa Niemi. He and Niemi first met when she was a 14-year-old dancing in his mom's ballet company. They began a relationship a year later in 1971 and tied the knot in 1976. Swayze and his wife collaborated on several projects in his lifetime. They co-starred in two movies – Steel Dawn (1987) and One Last Dance (2003). One Last Dance is about two ageing ballerinas and was written by Niemi.
It must be noted that the couple did not have any children together. However, in 2018, some tabloids alleged that Swayze had a secret love child. According to them, the Dirty Dancing star had a short affair with a young lady named Lebetta Whittle in 1972 and the fling resulted in the birth of a son named Jason Whittle. The tabloids also reported that Jason was planning to sue for a part of the actor's fortune. It must be stressed that these are just rumoured stories. It hasn't been reported in reputable news outlets and as such, the story is not reliable.
The Actor Left A Large Family To Mourn Him
Away from his immediate family, the late Swayze hailed from a large family background. His mother's name was Patsy Swayze while his father's name was Jesse Wayne. The actor also had two sisters named Vicky (now late) and Bambi, as well as two brothers, Don and Sean.
#Don is also an actor but with less success when compared to Patrick. He has appeared in films and soap operas such as Urban Cowboy, Shy People, Death Ring, Alamo: The Price of Freedom, True Blood, The Young and The Restless, and Days of Our Lives. He has also appeared in several theatrical productions.
Details Of His Valiant Battle With Pancreatic Cancer
Patrick Swayze passed away on the 14th of September 2009. He was 57 years old at the time of his demise and died from complications arising from chemotherapy. The actor had been diagnosed with pancreatic cancer in December 2007 and was undergoing chemotherapy to control it. He also resorted to other forms of experimental treatment in order to see if he could stop the disease in its stride.
Swayze did not let the disease hold him down but fought valiantly. He also continued doing what he loved best – acting. At the time of his demise, he was featured in a TV series known as The Beast. Throughout this agonizing journey, Swayze's wife was there to serve as his primary caregiver. When it all got a bit too much for her, she enlisted the help of his brother, don, and they cared for him to the best of their abilities.
The actor was thus able to live his life in relative dignity before ultimately passing away. Upon his death, his remains were cremated in accordance with his wishes and scattered over his New Mexico home. Swayze has been gone for more than a decade now but his loved ones continue to keep his memory alive. In 2019, they released a documentary on his life on the Paramount Network titled I Am Patrick Swayze.