Pattie Boyd was the woman who changed the face of music being both wife and muse to two of the biggest rock and roll stars of the 20th century. She is a British former hairstylist, runway queen magazine model, actress, and photographer.
Boyd was a perfect model of the British female look in the 60s. Her autobiography Wonderful Today: Autobiography and her montage Through the Eyes of a Muse published in 2007 are exhibited throughout the United Kingdom and the United States. Learn about her career, tumultuous marriages, and more.
Who Is Pattie Boyd?
Patricia Anne Boyd was born on March 17, 1944 (which is St. Patrick's day, hence the name) in Taunton, Somerset, England. Her parents Colin Ian Langdon Boyd (father) and Diana Frances Boyd (mother) moved to Nairobi Kenya in 1948 when her father, who was in the Royal Air Force, was deployed to Africa.
They returned to England in 1953 when he was discharged. Pattie Boyd has three younger siblings, Colin (brother), Surrey (sister) and Jenny (sister). She also has two half-brothers and sisters; David, Robert Jr, Claire, and Julia.
She schooled at Hazeldean School Putney, in South-west London, and the two convent boarding schools – St. Agnes and St. Michael School, East Grinstead, and St Martha's Convent, Hadley Wood, Hertfordshire where she earned her O Level certificate in 1962. She later worked in a salon before she was urged by a client who worked with UK monthly magazine to work as a model.
When Boyd started out in 1962 as a photographic model, she appeared on several Vogue front covers and worked the runway for top designers like Ossie Clark. Other renowned models of her time followed her fashion style of mini-skirts, straight hair, and wide-eyed loveliness.
Pattie Boyd met and became close to Beatles' lead guitarist George Harrison when she appeared on British music comedy film A Hard Day's Night as a schoolgirl. Her modeling career hit the limelight when they became romantically involved.
Picking interest in photography in the early '60s, she purchased a camera and became part of the Royal Photographic Society. She took several photographs of popular musicians, friends and of course her famous boyfriends and husbands. However, Boyd never really did professional photography until 2004.
In 2007, she published a memoir titled Wonderful Tonight: George Harrison, Eric Clapton and Me which was a UK bestseller on release. Boyd released another book she titled Wonderful Today: The Autobiography where she reveals her life with her two former husbands.
Indeed this English former model is a valuable photographer, as her well-documented photos of her 2 former superstar husbands have been released for public exhibitions in February 2005 and in May 2016 at galleries in San Francisco and Liverpool respectively.
The collection included sights of historical moments, the tours of the legendary music group, the Beatles, Geroge Harrison, Eric Clapton, among others, including their intimate moments.
 Who Are Her Spouse And Children?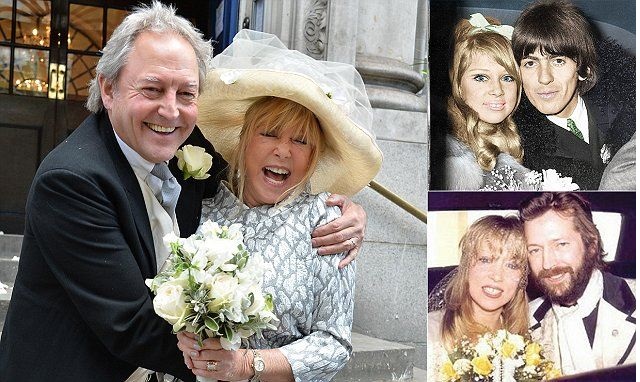 Pattie Boyd has been in two highly publicized marriages to award-winning rock and roll musicians. Her third marriage is to a not-so-known personality, a property developer named Rod Weston
Her first marriage was contracted with the highly famed lead guitarist of Beatles, George Harrison in January 1966. The pair met and started dating in March 1964. They married in 1966 and were divorced a decade after in 1977.
Harrison credits Pattie Boyd as his major influence on his musical career as she served as his muse for the hit songs; Something from the 1969 album Abbey Road, I Need You, For You Blue from 1965 album Help! and Let it be.
Harrison also confessed that she even broadened his outlook in life. Unfortunately, the foundation of their marriage became strained due to infidelity and alcoholism on Harrison's part. In 1977 they were divorced.
After they became separated, Boyd began dating yet another famous musician, Eric Patrick Clapton whom she married in 1979. He was a close buddy and frequent music collaborator with Harrison. Eric Clapton had become enamored by Pattie Boyd when she was still dating Harrison. In a bid to keep a close tab on Boyd, Eric Clapton dated one of her sisters, Paula.
He openly declared his affection for her via the classic hit Layla, a song which described his un-reciprocated love for Boyd. Eventually, they became lovers but their blissful marriage would turn out to be a nightmare with Eric Clapton repeating the cycle that Pattie Boyd had left Harrison for. The debacle of their romance took its toll on Boyd who began battling alcoholism.
Following their divorce in 1989, Boyd instantly underwent a rehab program to get back her life. Afterwards, she turned to photography in the years that followed.
Pattie Boyd didn't walk down the aisle again until 2015. With two highly publicized failed marriages she couldn't be blamed for taking that much time. She met her current husband, Rod Weston in 1991, and they would go on to date for decades before finally deciding to tie the knot in April 2015 in Chelsea, London.
Despite making several attempts, including having several IVF in the course of her past marriages to conceive her own child, Pattie Boyd has never had any children of hers.
Where Is She Now?
Pattie Boyd had long given up on modeling, as far back as the 70s. She is now seen as an icon in popular culture. After retiring from active show business, Boyd came to involve herself with charity work, teaming up with actress and model Barbara Bach who has married been to a Beatle member, Ringo Starr since 1981. Boyd engages in charity work as well as photography while residing in West Sussex in the south of England with her current husband, Rod Weston.
How Much Is She Worth?
The 5 ft 7 inches tall icon who started her career in 1962 has no doubt come upon a good fortune as her net worth is valued at about $20 million. She's one of many proofs that being genetically-blessed sure does pay off.