Paul Greene is a very talented individual who can be described as a 'jack of many trades, master of all'. His plethora of talents is nothing but incredible. Asides being an actor who is well known for his role as Dr. Carson Shepard in When Calls the Heart (2017-2019). Paul is a singer (with two recorded albums), a model, photographer, pilot, budding filmmaker and an aspiring director. He also plays several instruments like the guitar, piano, drums, harmonica, and the bass. Paul is known to be very active in sports; he is good at boxing, swimming, golf, football, tennis, soccer, basketball and baseball.
As an actor, he is popular for playing the lead in several romantic comedy films mostly with the 'Hallmark Channel'. The level of work Paul puts into his character is mind-blowing as he has revealed that he sometimes writes an entire back story on his character to make him understand his role and subsume himself in the character. While he hasn't won any of the big awards in his career, he sure is in a good place in his life.
Is Paul Greene Married To A New Wife?
The actor was born in Wetaskiwin, Alberta, Canada on the 2nd of June 1974. Paul grew up on a farm and was raised by his parents, Fran and Earl Greene, who are devout Christians. While he wasn't permitted to watch 'unchristianly' movies, his interest in acting began when he saw the movie Bloodsport in a neighbor's house. He kept on dreaming about acting and began taking lessons when he turned 16 and could drive himself there. He went to college on a volleyball scholarship to study marine biology but met someone at a bar who introduced him to modeling thereby jump-starting his career in the entertainment industry.
Paul Greene is a very intentional person and most of the success he enjoys today were seeds he actively sowed with hard work in the past. He describes himself as a spiritual seeker and also a God discovering man with millions of curiosities and interests.
He has been married once to a lady named Angi Greene Fletcher; they got married when they were both pretty young – she was 19 and he was 23. This might have contributed to the breakdown of their marriage; however, they were married for 16 years before they parted ways.
Greene, who shares tidbits about his love life on social media, revealed that he was scared to commit himself to any relationship after his divorce. All that ended when he saw a picture of Kate Austin. It must have been love at first sight as he asked a friend to introduce him. They arranged a movie date, after which, things just picked up from there. Kate is an actress and a film producer and some of her works include Stay With Me (2019), Home and Away (1988) and Friends and More (2019).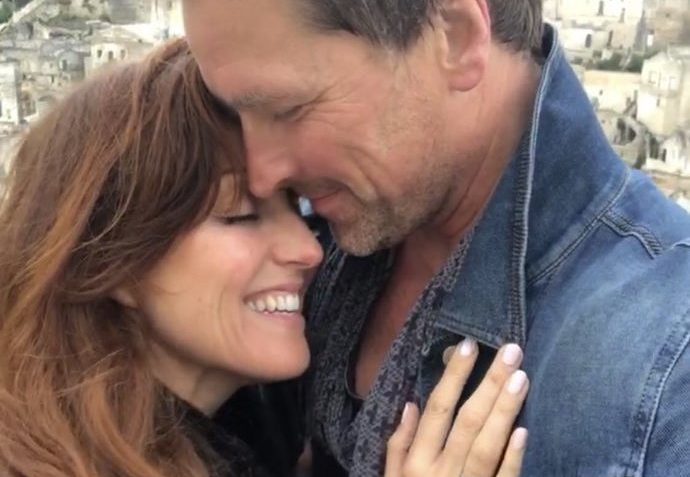 Paul must have learned from his failed marriage and romantic movie roles, as he is quite the romantic partner and writes very loving and thoughtful captions for every one of their pictures he posts on social media. He has also been very open about the struggles they have been through in their relationship. He revealed in August 2018 that they had a 'breakdown' due to miscommunication and misinterpretation but have come out stronger as they sought help.
Things seem to be going well with the duo as Paul proposed to Kate Austin in May 2019 after about four years of dating. They haven't made any official announcement about their wedding plans but rumours have it that it will be soon. So Yeah! Paul has a new fiancée who he is about to wife!
Read Also: Tyron Smith – Biography, Wife, Family, Weight, Height, Salary
Does Paul Greene Have A Son?
Paul Green has a son named Oliver with his ex-wife – Angi Greene Fletcher. His son was born in 2003.
After their divorce, Paul got custody of their son but co-parents with his ex-wife. He has tried to maintain a good relationship with his ex-wife who has remarried and now has two children with her new husband. Paul has described his son as a very kind individual whose love for God is almost palpable.
Moreover, the icing on the cake for Paul in all of this is the bond and relationship between his soon-to-be-wife and his son. He is elated that they not only get on well together but also share a close relationship which has made family time a beautiful and relaxing time.