You would know you are in for a good laugh that is guaranteed to leave you in stitches when you see Paul Rudd as a member of the cast of a movie you are about to watch. The American actor, comedian, and screenwriter join the likes of Steve Carell and Seth Rogen as some of the best comic actors in Hollywood.
Rudd has exhibited his comic talent in several unforgettable movies. They include productions like Anchorman: The Legend of Ron Burgundy, The 40-Year-Old Virgin, Knocked Up, and I Love You, Man. He also belongs to the select club of actors who have played superhero roles. Since 2015, he has portrayed the size-shifting superhero Ant-Man in several movies in the Marvel Cinematic Universe. Rudd has certainly enjoyed career progression as he had to work his way up from taking roles in TV series before becoming a blockbuster star.
Paul Rudd's Acting Career Commenced on The TV Drama Sisters
With his mind made up to pursue a career in the performing arts, Paul Rudd attended the University of Kansas where he studied theater in a bid to smoothen out the rough edges in his acting skills. Upon graduating, he proceeded to Los Angeles, California to pursue an acting career.
Paul got his debut role in 1992 in Sisters – a television drama where he was cast as Kirby Quimby Philby. Between 1992 and 1995, he appeared in about 20 episodes of the show before leaving to join the cast of Clueless – a comedy film which gave him the opportunity to share the screen with the likes of Alicia Silverstone. Clueless is considered as his big break.
Whilst appearing on Sisters, Rudd landed a lead role in the 1994 TV series, Wild Oats. Even though Wild Oats only lasted six episodes, it nevertheless helped Rudd to land other roles. The actor further made appearances in movies like Halloween: The Curse of Michael Myers in 1995, Romeo + Juliet in 1996, and The Locusts in 1997. He equally appeared in The Object of My Affection, Overnight Delivery, 200 Cigarettes, and The Cider House Rules, which received nominations for a SAG award, between 1998 and 1999.
By the turn of the millennium, Paul Rudd starred as FBI Agent Ian Curtis in Gen-Y Cops before taking the role of Mike Hannigan in the sitcom Friends. In 2006, he joined the cast of Reno 911! playing Guy Gerricault in several episodes.
Rudd's Work With Judd Apatow Helped Bring Him to the Limelight
The year 2004 was a memorable one for Paul Rudd as that was the year he began collaborating Judd Apatow – one of the most talented comedy filmmakers in Hollywood. The two first collaborated in Anchorman: The Legend of Ron Burgundy – a comedy movie where the actor played the role of Brian Fantana and shared the screen with other actors like David Koechner, Steve Carell, and Will Ferrell. Apatow served as the movie's producer.
The next year, Apatow directed The 40-Year-Old Virgin which featured Rudd, Carell, and Seth Rogen. The two have since then continued to work together. In Knocked Up in 2007, Paul depicted the character of Pete, the frustrated husband of Leslie Mann's character. The movie featured other stars like Jonah Hill, Jason Segel, Jay Baruchel, and Seth Rogen.
Paul joined the cast of the 2007 comedy movie Walk Hard: The Dewey Cox Story as John Lennon and was also in Sarah Marshall in 2008, both of which were produced by Apatow. In 2012, he and Apatow co-produced the film Wanderlust which he also starred in. Apatow then directed and produced This Is 40 (a spinoff from Knocked Up) starring Paul alongside Leslie Mann. The two again collaborated in 2013 for Anchorman 2: The Legend Continues where Paul reprised his role as Brian Fantana.
His Marvel Movie Character Put Him on a Higher Level
Between 2012 and 2020, Paul Rudd appeared in six episodes of Parks and Recreation portraying Bobby Newport. For his performance in the series, he won a Critics' Choice Television Award for Best Guest Performer in a Comedy Series in 2012.
A couple of years later, Rudd landed the blockbuster role of Scott Lang/Ant-Man in the 2015 Marvel film, Ant-Man. The actor would go on to reprise the role in Captain America: Civil War (2016), Ant-Man and the Wasp (2018) and Avengers: Endgame (2019). In between the Ant-Man roles, he featured in The Fundamentals of Caring in 2016, The Catcher Was a Spy in 2018, and Living with Yourself in 2019.
The Actor Has Made a Fortune From His Acting Career
An actor as prolific as Paul Rudd who has appeared in a number of blockbusters is sure to have an affluent fortune. Rudd started earning the big bucks right from his early days as an actor when he made his big break on the set of Clueless, and it goes without saying that his earnings since then have been boosted with more popularity.
According to Celebrity Net Worth, the last review of Rudd's net worth was estimated to be in excess of $70 million. It is said that while he has earned heavily from Hollywood, he has also taken home a good amount of money from endorsement deals. The actor has appeared in commercials for big brands such as Hyundai, Super Nintendo, Samsung, and Miller Lite Beer. Blessed with good looks and an award-winning smile, it is not surprising to see that Rudd is in hot demand for commercials.
Paul Rudd Married His Wife About Eight Years After Meeting Her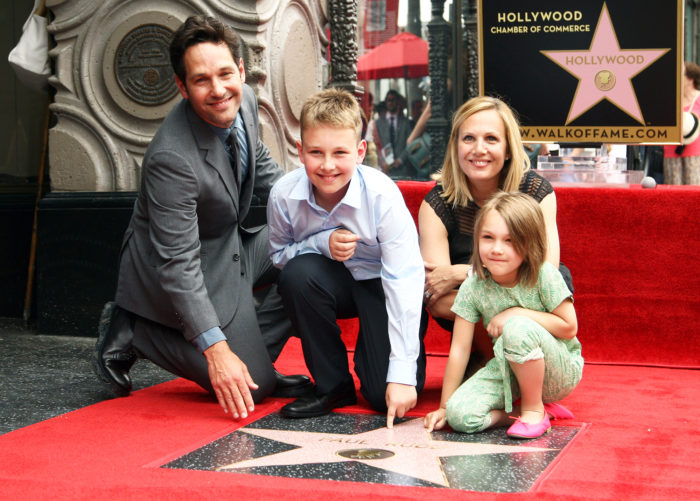 Paul Rudd is married to Julie Yaeger, who just like her husband, is of Jewish origins. She is a former publicist who now works as a screenwriter. She has worked on a number of films that have featured her husband, most notably those that had the hands of Judd Apatow like Knocked Up and This is 40. She also wrote the screenplay for 2017's Fun Mom Dinner which her husband executive produced.
The couple first met in 1995 when Rudd came to her place of work. It happened that he was running late for an audition and she assisted him with his luggage. Paul later asked her out and the rest, as they say, is history. The couple got married on the 23rd of February 2003 after eight solid years of dating.
The duo are very private with their family life thus not much can be gathered about them. They also have two kids together; a son named Jack Sullivan born in 2006 and a daughter named Darby born in 2010. The Rudd family currently resides in Rhinebeck, New York.