In Hollywood where it takes literally months for couples to call it quits on each other, Pauletta Washington and her husband of 36 years are a shining example of those few couples whose marriages hardly reflect the zeitgeist of divorce, dramas, and fights. Pauletta Washington is an American actress who is best known for her marriage to the Oscar-winning actor, director, and film producer, Denzel Washington. She has also appeared in movies such as Beloved (1998), The Watsons Go to Birmingham (2013) and 90 Days (2016). More than that, this diva is also a mother of four adult children. Let's find out more details about her bio, age, kids and net worth below.
Pauletta Washington – Bio (Age)
Pauletta Washington was born—Pauletta Pearson—in North Carolina, USA, on September 28, 1950. There are no details about her early childhood, educational background or parents and what they did for a living. However, we know she and her sister, Rita Pearson, were raised in a black community in North Carolina. In 1970, aged 20 at the time, Pauletta Pearson became the first black participant in the Miss North beauty contest and finished 1st runner-up in the competition. This was setting the foundation for what would not only be a]successful acting career, but also a platform to meet her future husband and father of her kids.
Washington's acting career began quite early. She appeared in Wilma (1977) and also the 1981 Telefilm Purlie. She is also popular for her roles in Beloved (1998), Antwone Fisher (2002), 90 Days (2016) and Steps (2017). Plus, she has appeared on TV shows like the situation comedy, The Parkers, where she starred as Terri Angelou. The show ran from 2002 to 2004. It would be one of her most notable big screen appearances. But it wouldn't be the last. In 2017, Washington played the role of Miss Ella Chisholm on the widely watched Netflix comedy series She's Gotta Have It.
Her Husband – Denzel Washington and Kids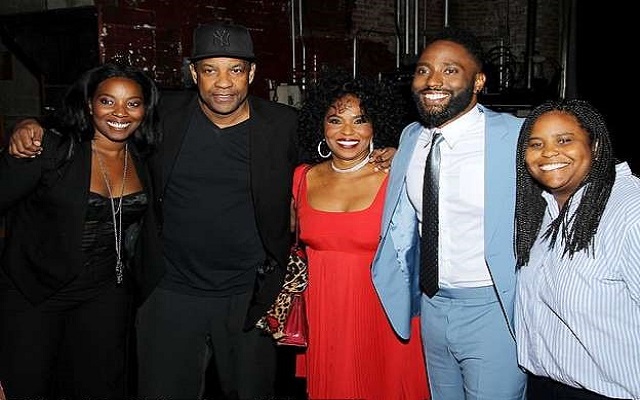 Pauletta Washington is married to Academy award-winning actor, producer, and director Denzel Washington. At the time of writing, their union is 36 years strong. They first met on set the movie, Wilma back in 1977. Although we are not sure how long they courted, we know, however, that Denzel had asked for Pauletta's hand in marriage three times. Call it persistence, and you won't be wrong.
They eventually got married on June 25, 1983. In 1995, during a romantic trip to South Africa, the couple renewed their vows, in a ceremony which was officiated by South African Archbishop Desmond Tutu. Together, they have four adult children. Their first child, John David Washington (b. July 28, 1984), played football for the United Football League's Sacramento Mountain Lions before delving into acting, like his parents.
He appeared as Ricky Jerret in the 2015 HBO comedy series, Ballers. Their second child, Katia Washington (b. November 27, 1986), who graduated from Yale now works as a Hollywood producer. She is known for Django Unchained, Fences, and The Birth of a Nation. On April 10, 1991, Pauletta and Denzel welcomed their twins—daughter Olivia Rashelle Washington and son Malcolm Washington. Malcolm studied film at the University of Pennsylvania.
Unlike most celebrity marriages, their union has stood the test of time. Even though it has had its fair share of storms. In 2013, sources confirmed four pictures of Denzel Washington sitting on a couch with a lady, grabs her arm, pulls her close and lands kisses on her lips. However, the authenticity of those photographs hasn't been verified. Other sources also claimed to have caught Denzel "sleeping out" severally. Although the rumors have been deemed false by Washington's manager. However, the marriage was said to be "on its last legs" at the time. Pauletta reportedly moved out of their home for a while to rethink her marriage. Good for the couple and their children she decided to stand by her husband.
See Also: Cara Whitney – Bio, Age, Facts About Larry The Cable Guy's Wife
Pauletta Washington's Net Worth
According to sources, Pauletta Washington has a net worth of over $1million much of which she has amassed from her decades of acting. While $1million is no chicken feed, it becomes almost 300 times smaller when compared to her husband's $290 million fortune. Washington's husband remains one of the highest paid actors in Hollywood.
Height and Body Measurements
For a woman her age, Pauletta Washington still maintains that slim graceful look. She stands 6 feet 1 inch (1.85 meters) tall, has black hair and brown eyes. As far as specifics go, we have no details on her bra, shoe, dress sizes and body measurement for her bust, waist, and hips.