In Hollywood where it literally takes just days for married couples to call it quits on their union, Pauletta Washington and her husband of nearly-40 years are a shining example of those few couples whose marriages hardly reflect the zeitgeist of divorce, dramas, and fights which are rife in the industry. Pauletta is an American actress who has appeared in movies such as Beloved (1998), The Watsons Go to Birmingham (2013), and 90 Days (2016).
She is however best known as the wife of Oscar-winning actor, director, and film producer, Denzel Washington. The two have been married for nearly 40 years now and have four kids together. They have been able to make their union a long-lasting one despite the fickleness of the industry they both work in. It has however not been all glossy as they have encountered some storms which they were lucky to brave through. Even though she is widely known as Denzel Washington's wife, she thas earned her stripes in America's film industry.
Pauletta Washington's Strides as an Actress Between the 1970s and 2000s
Pauletta Washington began her journey into showbiz by taking part in the 1970 edition of the Miss North Carolina beauty contest. She finished as the 1st runner-up and made history as the first black participant in the competition. Following that respectable outing, Pauletta continued seeking for opportunities in the showbiz industry and later scored her first acting role in the inspiring 1977 sports biopic, Wilma.
Moving on from that, she went on to score supporting parts in other productions such as Purlie (1981), Beloved (1998), and Antwone Fisher (2002) She also had a recurring role in the hit situation comedy, The Parkers. The Parkers revolved around a mom-daughter duo who attend the same school at the same time with all the hilarious and embarrassing consequences attached. The series debuted in 1999 and Pauletta played the role of an author named Terri Angelou. She appeared in a handful of episodes from 2002 to 2004.
The Movie Projects She has Done in Recent Times
With all her kids all grown and out of the coop, Pauletta Washington has found herself with more time on her hands and she is utilizing it to pursue her interests in the movie industry. In recent times, she has appeared in short films, 90 days (2016), and Career Suicide: Arthurs Edge (2017). She is also credited as an actress on the 2013 TV movie, The Watsons Go to Birmingham. This is a drama about the experiences that a family gains during a road trip.
In 2017, Washington played the role of Miss Ella Chisholm on the widely-watched Netflix comedy series, She's Gotta Have It. The series is a drama about a Brooklyn-based artist, Nola, who is trying to stay true to herself while being pulled in different directions by friends, work, and relationship commitments. In the series, Pauletta portrayed the character Miss Ella Chisholm and appeared in about five episodes between 2017 and 2019.
How Pauletta Washington Met and Married Denzel Washington
Pauletta Washington is married to Academy award-winning actor, producer, and director Denzel Washington. The couple first saw each other on the set of the 1977 movie, Wilma, which they both featured in. They, however, did not strike up any conversation until a year later when they ran into each other at a party hosted by a mutual friend who had also appeared in Wilma. The two were reintroduced at that party and the next night, they both found themselves attending the same play.
Such coincidental meetings couldn't be let to go to waste and as such Pauletta and Denzel decided to go on a few dates. These dates eventually turned into a serious relationship and the actor asked Pauletta to marry him. She famously turned him down twice before saying yes at his third attempt. They eventually got married on the 25th day of June 1983. Pauletta and Denzel have been together to date and in 1995, they renewed their vows during a romantic trip to South Africa. The ceremony was officiated by none other than renowned South African Archbishop Desmond Tutu.
How She Helped Midwife Her Husband's Success
To date, Pauletta Washington has appeared in about two dozen productions. This is quite decent but dwarfs in comparison to her husband who is undoubtedly one of the best actors of his generation.
In a glittering career spanning four decades, Denzel has featured in about 50 movies. They include highly-acclaimed works such as Glory, Training Day, Malcolm X, Cry Freedom, The Hurricane, The Great Debaters, and American Gangster. He has accumulated a net worth estimated at $300 million. He has also notched up several awards including the 1990 Oscar for the best supporting actor as well as the 2002 Oscar for best actor. The New York native has also been bestowed with a lifetime achievement award by the Golden Globes as well as the American Film Institute.
Putting the couple's respective achievements side by side, it is quite obvious that Pauletta made several sacrifices, including her career to some extent, in order for her husband to succeed. He himself is well aware of this fact and often shows how grateful he is. While receiving a Lifetime Achievement Award from the AFI in June 2019, Denzel stated that he would not be alive without Pauletta. He, therefore, asked the crowd to honor her with a round of applause for all she had done for him and their kids.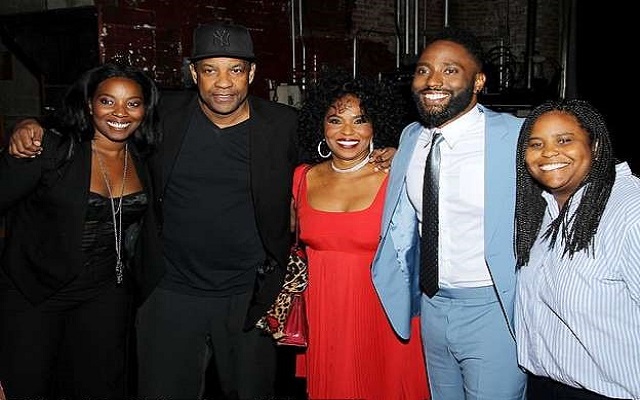 The Kids Are Following Their Parents' Footsteps into Hollywood
Together, Pauletta Washington and her husband have four adult children. Their first child, John David Washington (b. July 28, 1984), played college football for Moorehouse College. He later spent a few years as a pro with the United Football League's Sacramento Mountain Lions before delving into acting. John appeared as Ricky Jerret in the 2015 HBO comedy series, Ballers. He also played the lead role of Ron Stallworth in the 2018 thriller, Blackkklansman.
His performance in the movie earned him a Golden Globe nomination for best actor in a motion picture drama. He also received a SAG award nomination for outstanding performance by a male actor in a leading role.
The couple's second child is Katia Washington (b. November 27, 1986). She graduated from Yale and now works as a Hollywood producer. Katia is credited as a producer on movies such as Fences (2016) and Assassination Nation (2018). She has also fulfilled miscellaneous roles on the set of highly-acclaimed films such as Django Unchained (2012), The Equalizer (2014), and The Birth of a Nation (2016).
On April 10, 1991, Pauletta and Denzel welcomed their twins—daughter, Olivia Rashelle Washington, and son, Malcolm Washington. Both are grown up now and are also set for careers in showbiz. Malcolm holds a degree in film studies from the University of Pennsylvania. He also graduated from the American Film Institute Conservatory in 2016 and is working on his first film. His sister, Olivia, is looking towards a career in front of the screens. She honed her acting skills at the famed Stella Adler Studio of Acting in New York. She has since appeared in TV series and movies such as Empire, Madoff, Mr. Robot, and The Butler.
The Washington children may have a superstar dad but they always go out of their way to acknowledge the role that their mother played in their success story. During an appearance on the Today Show in August 2018, eldest, John David reminded the host that he was not only the son of Denzel Washington but also Pauletta Washington. He also highlighted his mom's achievement as a Julliard-trained pianist. This act fetched him praises from several personalities including award-winning actress, Octavia Spencer, and Beyoncé's mom, Tina Knowles.
The Cheating Rumors and Divorce Speculations That They Have Survived
Pauletta Washington and her husband have built one of the stable unions in Hollywood and as such, many people are often curious about the secret to their longevity. Denzel has jokingly quipped that the secret is that he does as he is told and keeps his mouth shut. However, on a more serious note, the Oscar winner has revealed that there is no special secret and that it is his wife who has done the heavy lifting in the union. According to him, she has sacrificed a lot for the family; raised the children right; and turned their house into a loving home.
The actor, however, admits that their union is less than perfect and that they have had their own share of ups and downs. One of those challenging moments came in 2013 when he was pictured hugging and kissing a mystery lady. The pictures sparked allegations that he was cheating on his wife and that their marriage was on the brink of divorce. Some anonymous sources even claimed that Pauletta had moved out of their home but his representatives maintained that they were neither separating nor divorcing.
In a cryptic interview with Ebony Magazine, she revealed that she gives her husband the stability to go out and succeed and she can't dwell too much on whether he has misused it. Moving on from the mystery lady scandal, another storm that the couple has also survived was allegations that Denzel had cheated with his Out of Time co-star, Sanaa Lathan. Lathan, however, quashed all the rumors and attributed it to the fact that they had done a love scene in the 2003 film.