Brazilian legend Pele, now 75, spent almost six decades in football and he is set to auction off some memorabilia that he accumulated in the course of that rewarding career.
See Also: Enda Athletic: Running Shoes By Kenyans For Kenyans
The sale is meant to take place in London next month and spans the start of the striker's career as a 15-year old signing for Santos to the present day.
Pele in the meantime has been in and out of the hospital for back, hip and prostate surgery over the past year and just seeks to rid himself of the various objects he has picked up during the last 60 years.
He said;
"It was a difficult decision to make but it takes a lot to properly care for these artefacts, and I felt I could do much more good by sharing these items with the world, as well as helping my causes that are important to me."
To that end, some of the money raised from the sale will go to the Pequeno Principe pediatric hospital in Brazil, and the auction house looking after the sale estimates that between £2.5m and £3.5m will be raised.
There is said to be practically 1,500 items available, inclusive of; crowns and ceremonial daggers, model ships and jet fighters, as well as more everyday items like clocks, dishes, and freedom-of-the-city keys.
For football fans however, these five awesome memorabilia which will be on sale, will be the most coveted.
The Ball Pele Scored 1,000th Goal with
It was on 19 November 1969 that Pele scored the 1,000th goal of his career in a Brazilian league match for Santos against Vasco da Gama. The ball that he scored with is estimated to sell for between £28,000 and £42,000.
L'Equipe Athlete of the Century Award
The l'equipe athlete of the century award was a conventional statue, awarded to Pele in 1981 and will go for up to £20,000.
Jules Rimet Trophy
The one-off of the original World Cup trophy was made for Pele after Brazil's triumph in 1970. That particular triumph followed wins in 1958 and 1962 and Pele had been part of the Brazil team for all three wins. The replica trophy is the most expensive item being auctioned, with an estimated price tag of between £281,000 and £420,000.
Escape to Victory Boots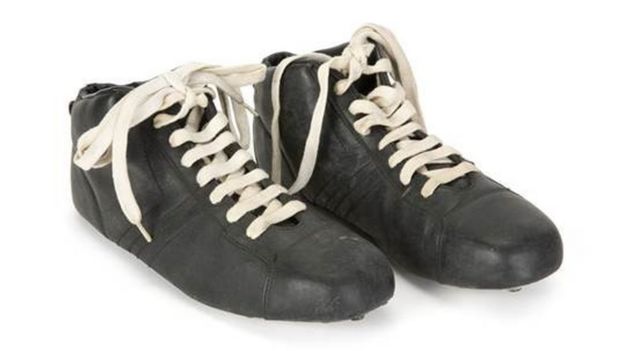 The film was a 1981 football film, that became a fast hit. Pele was joined in the movie by Sylvester Stallone, Michael Caine and England's 1966 World Cup winning captain Bobby Moore and towards the films end, Pele scored a dramatic bicycle kick while wearing the boots.
See Also: Lionel Messi Stands Trial In Barcelona
World Cup medals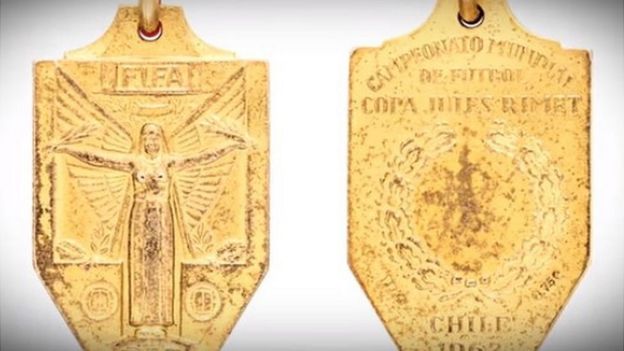 Finally, Pele's world cup medals from 1958, 1962 and 1970 are also part of the auction, costing between £68,000 and £136,000 each.