It is almost impossible to take an inventory of A-list Spanish talents without mentioning Oscar-winning actress Penelope Cruz. Since making her debut screen appearance at the young age of 15, Cruz traversed the rocky path to fame with her versatile roles and talent and has eventually established her status as a model and Hollywood star. From Vanilla Sky to Blow, many films and projects have defined Penelope's status as a Spanish-Hollywood icon.
In learning about the beautiful actress, we take a look at the projects and roles that made Penelope Cruz famous, along with details about the family that makes it all worth it.
How Penelope Cruz Has Built An Iconic Reputation As An Actress
Penelope Cruz was born on 28 April 1974 in Alcobendas, Madrid, Spain. She is the daughter of Encarna Sanchez, a hairdresser, and Eduardo Cruz, a car mechanic and retailer. The Spanish native was named after the song "Penelope" by Joan Manual Serrat.
She and her two siblings Monica and Eduardo, grew up in Alcobendas. Cruz began exhibiting her passion for acting and modelling from an early age. To hone her talents, she enrolled in Spain's National Conservatory, where she learned Classical Ballet for nine years and later studied theatre at New York School.
Penelope Cruz began her acting career in Spain, first with commercials and TV roles and then the Spanish silver screen. A talent agent discovered her when she was a teenager, this happened after winning an audition with more than 300 other talents.
Her debut came in 1989 when she starred in the Mecano music video for La Fuerza del Destino. Although it was nothing groundbreaking, it kickstarted a career that has spanned over two decades and recorded several achievements.
She Now Has Over 84 Movies and TV Shows To Her Credit
After making her debut in the music video, Penelope Cruz starred in several Spanish productions. Although she did not make her Hollywood debut well into the 90s, her appearance in Jamon Jamon (1991), made her an international star. Playing the leading role of Silva, Penelope's acting and a topless scene transformed her into a household name. It was her first feature film.
In 1991, Cruz established she was no fluke with another appearance in Belle Epoque, delivering a performance that helped the film win an Oscar award. In Belle Epoque, she played the virginal Luz and earned critical praise for her versatility. Her first American made film was in 1998 when she played Josepha O'Neil in The Hi-Lo Country. Although the movie itself was a critical and commercial dud, Cruz earned critical praises, including an ALMA Award for Best Actress.
After a few more appearances in American productions, Penelope Cruz found her major Hollywood successes in 2001. Her roles in the films, Vanilla Sky and Blow, made her a Hollywood star. In Vanilla Sky, an American remake of her previous film, Open Your Eyes, Cruz plays the same character, Sofia. Although the remake was not as critically successful as the first, it made more money, pulling $200 million at the global box office. In Blow, Cruz starred alongside Johnny Depp as Mirtha Jung, wife of an infamous Medellin Cartel operative. With $80 million at the box office, the film was also a commercial success.
Five years after, in 2006, Penelope Cruz became a global superstar. She starred in the Western comedy, Bandidas, alongside another Latina actress, Salma Hayek. Although it failed at the box office, the film has earned a cult following, with Cruz's performance particularly the main attraction.
Her Most Commercially and Critically Successful Works
From Bandidas to Blow and G-Force, Penelope Cruz has a large body of work that has not only made her a household name but also earned her plenty of critical praise. Some of her best works include Nine, Vicky Cristina Barcelona, and Volver. All three earned her an Academy Award nomination. Others include American Crime Story, Elegy, Pirates of the Caribbean: On Stranger Tides, To Rome with Love, and plenty more.
So far, Cruz's resume has 127 award nominations and more than 60 wins. One of those wins is the Hollywood Walk of Fame, the first Spanish actress to earn the accolade.
Aside from her critical successes, commercially, Penelope Cruz became a household name with roles like Angelica in the Pirates of the Caribbean: On Stranger Tides. The film made more than $1.04 billion at the global box office. So far, her movies, more than 41 of them, have made more than $3.3 billion at the worldwide box office.
See Also: Eva Longoria Husband, Daughter, Age, Net Worth, Height, Weight
Dissecting Penelope Cruz's Family Life With Creative Siblings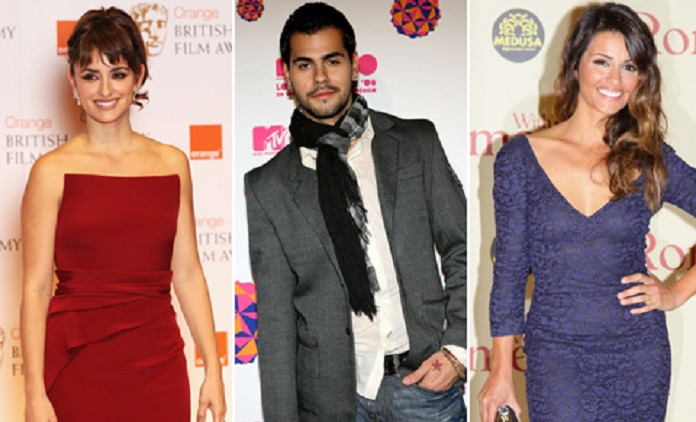 Penelope has a lookalike little sister Mónica Cruz who is three years younger than the star actress. Just like her big sister, Monica is also a Spanish beauty and brunette bombshell, a visible pointer that beauty runs in their genes. The two Cruz sisters are famously close and have collaborated on a couple of business projects.
Though she may not be as successful as her sister, Monica does have an impressive resume. She is a star dancer and actress. Some of her works include Iron Cross, Last Hour, Jerry Cotton, and The Inquiry.
Her younger brother, Eduardo, is a singer. Like Cruz, he developed an interest in singing when he was a teenager. He quickly became a star in the Latin music scene and has composed music for several movies, including Pirates of the Caribbean: On Stranger Tides, The Moment, Ma Ma, Wasp Network, and more.
Her Parents Are Divorced
Cruz grew up in a happy home under her parents, Encarna Sanchez and Eduardo Cruz – a hairdresser/personal manager and a retailer/car mechanic, respectively. Penelope's parents, being Catholic, raised her as one and supported hers and her siblings' dreams of a career in the arts.
We don't know much about their marriage, but we know that after giving birth to Cruz and her siblings, the couple parted ways in 1999. Through her father's new relationship with Carmen Moreno, Cruz has a half-sister, Salman, born in February 2012. Her father, Eduardo Cruz, died in June 2015 of a heart attack.
Penelope Cruz Is Married To An Actor
On the personal life front, Penelope Cruz is married to her longtime Spanish heartthrob and actor Javier Bardem. The pair began dating in 2007 and tied the knot in July 2010 in a private ceremony in the Bahamas. Bardem and Cruz have two children together, a son Leo, born in 2011, and a daughter Luna, born in 2013.
Having endured as romantic partners in a notoriously fickle industry, the superstar actress and her Academy Award-winning husband are an A-list super couple. The couple also has similarly lauded résumés. Both of them have been working for decades, earned three Oscar nominations, and won one Academy Award (Cruz is the second Spanish actor to win an Oscar Award after her husband, Javier Bardem).
Interestingly, Bardem and Cruz have also been acting opposite one another, on and off in several movies such as Jamon Jamon (1992), Vicky Cristina Barcelona (2008), Loving Pablo (2017), and Everybody Knows (2018), among others.
Before Bardem fell in love with Penelope's feisty personality, the superstar actress dated Tom Cruise for three years, but the pair split in 2004. She also dated her Sahara co-star Matthew McConaughey, but the relationship was also shortlived as it ended in May 2006.