Pete Davidson is an American comedian and actor who first honed his act on various famous MTV shows like Guy Code, Wild 'N Out, and Failosophy. He subsequently made history as one of the youngest comics to ever join the Saturday Night Live crew and has received accolades for his unique brand of comedy. He has grown famous from his stand-ups and specials, as well as for his brilliant performances in some movies, all within a short time.
Another fact that has fuelled Davidson's rapid rise to fame is his fascinating love life. The actor, who has a penchant for honoring his girlfriends with tattoos, has dated a bevy of talented ladies. From pop stars to bright-eyed ingénues, Davidson is steadily building a reputation as a ladies man and it is his body rather than his heart that is taking the beating as he has to get and remove tattoos at a rapid rate.
Overcoming Childhood Family Tragedy Through Comedy
Peter Michael Davidson is one man you can trust to always dish out the laughs and this trait can be traced back to his childhood, a childhood that was ironically filled with a lot of pain and anguish. Young Peter lost his beloved dad when he was just seven and the loss impacted him negatively.
He took to acting out in school and at one point, ripped out all of his hair. Such tendencies attracted the wrath of the school authorities and the young man had to change schools multiple times. He, therefore, attended as much as three high schools including Xaverian High School, St. Joseph by the Sea high school, and Tottenville High School.
Through it all, Peter's mom sought a way to help her son and eventually discovered that comedy made him happy. She encouraged him to start doing stand-up but the young boy recoiled as he had serious stage fright. He eventually did his first at the age of 16, after a bunch of friends dared him to do so.
In order to be able to give his performance, Pete Davidson resorted to Marijuana to get some courage. He has since sustained that habit and has publicly disclosed that he may not be capable of excellent performances without the substance. The comedian however tries to regulate the quantity for health reasons.
His Big Break Came Through Saturday Night Live 
Pete Davidson spent much of his late teens building a reputation on the New York comedy club circuit. Afterward, he started performing in small gatherings and shows and made his television debut on the MTV comedy series, Failosophy, which premiered on February 28, 2013. He progressed from there and appeared on the third-season episode of MTV2 comedy series, Guy Code, and also on Nick Cannon Presents: Wild 'N Out.
By June 2013, the Staten Island native was televised on the second-season episode of the Comedy Central Program, Gotham Comedy Live. Subsequently, he was hired to be a member of Saturday Night Live; an American comedy show. He made history as the first person born in the 90s to join the show and it has propelled him to fame just like it did to the likes of Michelle Wolf.
Pete Davidson appeared in the 2015 comedy, Train Wreck, and that same year made an outstanding appearance on Justin Beiber's Comedy Central Roast. He recorded his first stand-up comedy special, Pete Davidson: SMD, shortly after he was listed on Forbes' 30 under 30 industry-recognized figures in 2016.
The Impact of 9/11 on Pete Davidson's Family
Davidson hails from a family of four; his late dad Scott Matthew is of Jewish descent while his mom, Amy Davidson, is Irish. The renowned comic has a younger sister named Casey Davidson. Davidson lost his father at the age of seven to the September 11 attacks. His dad was a firefighter who worked for the Ladder Company 118 Brooklyn Heights. He was last seen responding to emergency calls at the Marriott World Trade Center Hotel which was destroyed in the carnage.
Due to the loss, Pete became suicidal but was saved by the music of rap artist, Kid Cudi. In a quest to honor his late father, he tattooed his badge number, 8418, on his left arm. He also has a replica of his father's helmet in his living quarters.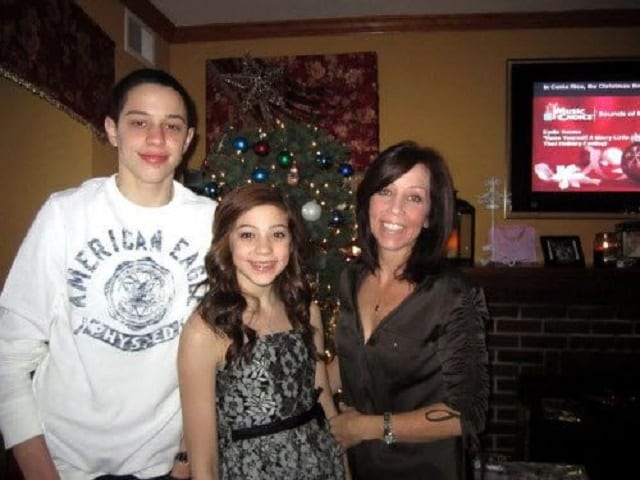 The actor still lives with his mother in the home they bought together in 2019. He has his man cave, which he calls the basement, while his mom has a run of other parts of the apartment. His mom also helps him manage aspects of his career including the payment of bills.
A Look at His Early Love Life
Pete Davidson's love life can be neatly divided into two, before and after Ariana Grande. Before his romance with the pop sensation, he dated fellow comedian and Girl Code castmate, Carly Aquilino. The romance lasted for about a year as they became lovers in 2014 and split up in 2015.
Following that breakup, Davidson took a break from the dating scene before bouncing back in 2016, this time with Cazzie David, daughter of legendary comedian and writer – Larry David.
Pete and Cazzie dated for about two years during which the actor gushed about loving her very much. He got a tattoo of her face on his forearm and thanked her for helping him achieve his ten-year sobriety goal. All seemed well and good in the couple's paradise until the comedian suddenly ended the relationship in early 2018. He described Cazzie as a very talented girl and stated that she would be fine. He got another tattoo to cover up the one he had of her face.
His Engagement and Breakup from Ariana Grande
The term "whirlwind romance" may be an overused cliché but it perfectly describes what went down between Pete Davidson and Ariana Grande. The comic and singer first became an item in May 2018; fresh off their respective breakups, Davidson from Cazzie and Grande with Mac Miller.
They then embarked on a frenzied one-month romance which saw them clock multiple public appearances as well as significant social media activity. Davidson also got two tattoos, including the initials A.G., in honor of his new girlfriend and by June, popped the question.
The rock was a diamond ring worth over $93,000 and Grande gladly said yes. The couple spent the next four months all "booed up" and talking about weddings and babies. All that however failed to materialize as they called off their engagement in October 2018.
Since then, the erstwhile couple has kept things civil but Grande did refer to Pete as a distraction in a Vogue interview. The comic didn't take too kindly to the description and threw shade at her during his Netflix Stand-up special. The singer wisely decided to not respond and it naturally fizzled away.
See Also:  Leonardo Dicaprio Married, Wife, Height, Weight, Girlfriend, Parents, Gay
Relationship with Kate Beckinsale
If Pete Davidson was devastated by his failed engagement to Grande, he is certainly not showing it as he has resumed his love life with full speed. Back in January 2019, the actor commenced a relationship with renowned English actress, Kate Beckinsale. Beckinsale is 20-years his senior and of course, it caused some uproar.
The love birds were however unperturbed as they embarked on several public appearances involving copious amounts of PDAs. They were spotted at the Netflix Golden Globes after-party as well as a hockey game at the Madison Square Garden.
Beckinsale also attended her man's stand up show in L.A. The actress meanwhile revealed that what clinched the deal was the fact that they had a similar sense of humor. That trait sustained them for four months but they couldn't eventually deal with the whole long-distance thing, Kate is based in the U.K. so they parted ways in April.
The split was amicable and the two remain friends. Since the breakup, Davidson has gone on to date Emmy-nominated actress, Sarah Margaret Qualley and Cindy Crawford's daughter, Kaia Gerber. Both relationships lasted for three months each and the comic is once more on the search for his next adventure.