Talk about people with entrepreneurial eyes who run giant multi-million dollar conglomerates, then Peter McMahon comes to mind. Peter is a successful British business mogul who has achieved quite a lot in business. He has successfully practiced international marketing, working with a good number of multinational firms, and sold medically related products. He is immensely popular for serving as the Chief Executive Officer (CEO) of Shopko, a US-based multinational company.
Peter is also the better half of Dana Perino, a political contributor/analyst, author, and media personality who served as a White House Press Secretary during President George W. Bush administration. Although he entered the spotlight for being Dana Perino's husband, Peter McMahon is also well-known for his exploits in many leading retail companies across the globe. Let's tell his story.
Peter McMahon Began His Entrepreneurial Journey At Sainsbury
In 1976, Peter McMahon achieved a degree in Business Administration and Management from the University of Liverpool. Straight out of the University to get practical knowledge of what he studied, he joined Sainsbury, a supermarket chain in the U.K. There, he served as the director of distribution and supply chain from 1992 to 2000. His role in the company saw him working in different countries, including Scotland, Northern England, and Ireland.
With the wealth of knowledge he gathered from this job, Peter subsequently became the supply chain director of Tesco, a multinational retail shop that deals on groceries and general merchandise, with its headquarters in Welwyn Garden City, Hertfordshire, England. He covered the Central European Branch of the company for close to two years from 2002 through 2004.
His Outstanding Skills Landed Him a Spot At Walmart in 2004
After years of displaying his uncanny entrepreneurial abilities, Peter McMahon joined another giant retail store, Walmart, in 2004. The American multinational retail corporation runs a chain of grocery stores, hypermarkets, and discount department stores, with headquarters in Bentonville, Arkansas. Working for the world's largest company by revenue, Peter McMahon showed off his business acumen and resourcefulness serving as Walmart's supply chain director for Germany.
After his days with Walmart ended, he joined Loblaw Companies Limited, a Canadian based reputable food retailer that encompasses corporate and franchise supermarkets, pharmacies, and banking. The savvy businessman served in the capacity of the Chief Operating Officer from 2006 to 2013 when he left the company to join Shopko, another American giant retail store.
McMahon's Career Hit Its Peak When He Was Named the CEO of Shopko in 2013
With specialties in merchandising, human resource management, ICT sales, and promotions, clearing, and forwarding, as well as resource control management, Peter McMahon established himself as a business icon after he was appointed the President and Chief Executive Officer (CEO) of Shopko in 2013.
Shopko first opened in Green Bay, Wisconsin, the United States, and subsequently operated as a chain of retail stores with its line of products, including furniture, clothing, electronics, beauty products, footwear, contact lenses, jewelry, and housewares. After purchasing Pamida and merged into one company in 2012, W. Paul Jones retired from his role as the company's CEO, giving way for McMahon to assume the top position.
McMahon served in that capacity for four years, from 2013 to 2018. In January 2019, Shopko closed four of its stores as a result of poor sales and filed for Chapter 11 bankruptcy. Following the announcement to close all of its locations, except the optical locations, in the summer of 2019, Shopko closed down in June 2019. After he left the company, Peter founded a consulting firm, where he has been working as an Executive Management Consultant since 2018.
He Has Amassed Great Wealth From His Decades-long Career
Peter McMahon was very active in the business sector for almost three long decades, working for reputable firms, and as such, we believe his earnings would be massively solid for his professional services. Through his works as the Chief Operating Officer, as well as Chief Executive Officer, the business icon ought to be living a lavish lifestyle. However, his net worth is currently under review, and his expenditures are yet to be made public. Nonetheless, his beautiful blonde wife, Dana Perino, commands a net worth of $6 million, and she has been his support system.
Peter Has Been Married to Dana Perino Since 1998
The smooth sailing business achievement of Peter McMahon did not reflect well on his past marriages as he was previously married twice before he met and married his third and present wife, Dana Perino. The couple first met in August 1997 while on a flight en route to Chicago. What played out for them in their first meeting was love at first sight, and several months down the line, in 1998, the lovebirds officially sealed their union at a wedding held in England.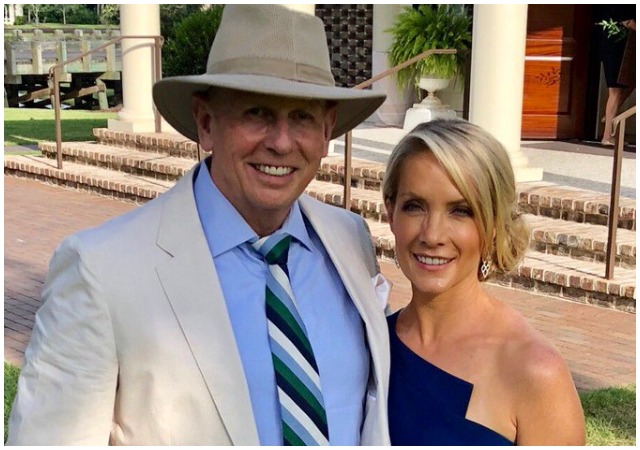 After the wedding, the couple had a 10-day honeymoon at the Island of Santorini, Greece, and have since been committed to their marriage. Although their union is yet to produce any child, the gorgeous couple is happy with each other. They currently reside in Manhattan, with their pet, a Vizsla dog named Jasper.
Meanwhile, Peter McMahon is also a grandpa as his children from his previous relationships have gone on to make families of their own. Dana Perino revealed the names of his grandchildren as Rachel and Sebastian to her fans on a segment of her show at Fox News Channel in 2012.
His wife Is An Eminent TV Personality 
Dana Perino was born on May 9, 1972, in Evanston, Wyoming, to Jan and Leo Perino. She attended Colorado State University-Pueblo, where she graduated with a Mass Communications major and minors in Political Science and Spanish. She also got a master's degree in Public Affairs from the University of Illinois, Springfield. Since the inception of her career, Dana has shown a high level of professionalism such that she was chosen by the then-US Presidents George W. Bush and Bill Clinton to serve as White House Press Secretary during their administrations.
Her service under George W. Bush, which lasted from September 2007 to January 2009, made her the second female White House Secretary in the history of the United States. Then from June 2010 to December 2012, she served as a member of the Broadcasting Board of Governors following her appointment by former US President Barack Obama.
She currently mines her trade at Fox News, where she co-hosts the talk show known as The Five, alongside Grey Gutfeld and Jesse B Watters, while also holding the post of publishing executive at Random House. Dana has also been host her show, The Daily Briefing with Dana Perino, on Fox News since October 2017.
Before then, she started hosting the podcast, Perino & Stirewalt: I'll Tell You What, along with Chris Stirewalt in September 2016. Beyond that, Peter McMahon's wife is also an author of two books, namely "Let Me Tell You About Jasper: How My Best Friend Became America's Dog, (October 2016)" and "And the Good News Is…: Lessons and Advice from the Bright Side (April 2016)."