Peter Porte is an American actor cum model that is most famously known for being on the cast of the hit TV soap opera, The Young and the Restless. He was also among the cast of the popular TV shows, Devious Maids and Baby Daddy. With a couple of screen appearances since he began his career, the actor has drawn some media attention to himself. Here, we will be looking at his background, career and family life.
Peter Porte Bio
Porte was born on the 31st of March, 1985 in Greenwood Lake, New York. His father is of Italian origin while his mother has her roots traced back to Poland. His love for theatre was apparent from an early age as he acted in his first play when he was in third grade. He also went on to act in a series of plays while in high school.
After graduating from high school, Peter realized his passion for acting and enrolled in New York University's Tisch School of the Arts where he earned a Bachelor of Fine Arts. In 2006, he moved to London and studied at the Royal Academy of Dramatic Art where he majored in classical drama. After returning to the United States armed with his degrees, he started working at various theatres before finally securing a job as a cast on the show Mamma Mia! with the Broadway National Touring Company.  Porte later moved to Los Angeles and performed five seasons with the critically acclaimed company, For the Record. 
Even though he is yet to land that one major breakout role, Porte has since made several appearances on a multitude of television shows and films. His most recognized role and longest running appearance on any TV show is on The Young and the Restless, a soap opera in which he plays Ricky Williams. Other than this, Peter has been cast in both leading and supporting roles for shows such as CSI: Miami, Medium, Cold Case, Parks and Recreation, and the popular Lifetime Network TV show Devious Maids.
His filmography, though not long has still earned him some movie screen bragging rights. He starred in Lifetime Network's The Good Nanny and ION's A Cinderella Christmas both in 2016. Porte also starred in three Hallmark channel movies; Love at the Shore and A Gift to Remember both in 2017 and Love, Once and Always (2018).
Is Peter Porte Gay or Married?
In 2013, Porte made a guest appearance in an episode of the television series The New Normal which chronicled the life of gay couples. His brilliant and convincing impersonation of a gay stripper on the episode sparked rumors that Porte might actually be gay. In 2014, the actor and his male friend and fellow actor Constantine Rousoulli posed for DNA Magazine's Tahiti Honeymoon Edition. The photo-shoot featured pictures of the two men clad in tiny underwears that left little to the imagination. A particular shot in the magazine even showed the men locking lips with arms around each other. The photo-shoot certainly helped to fan the rumor flames. Even though Peter Porte has dated several women in the past, he finally put rumors to rest when he married his gay partner in October 2018.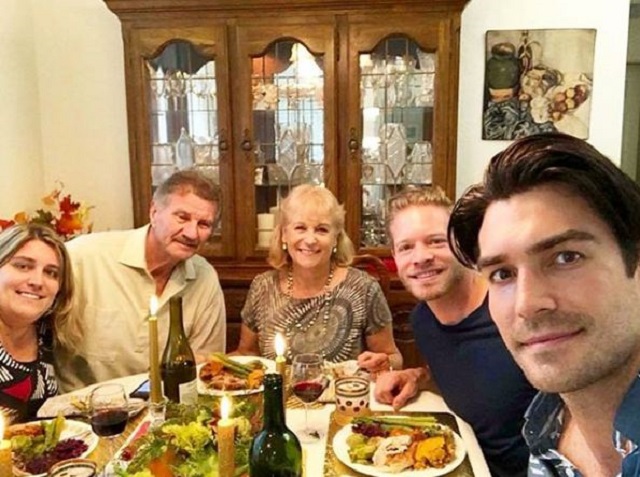 Well, if you have been reading between the lines, you know by now that Peter Porte's 'wife' is actually his 'husband'. Porte's partner Jason Villere is a New Orleans native, and the two love birds had been flaunting their romance on social media for over a year before finally tying the knot on October 2018 in New Orleans. Some Social media pictures shared by Porte show the couple with Porte's parents, and the group looks as happy as ever. Seems that Porte's parents are definitely okay with their son's choice of a romantic partner. The couple kept their relationship very private and very little is known about their lives together. Their wedding pictures are yet to make a web debut.
Previous Relationship
The Young and the Restless star allegedly dated Arizona born actress Chelsea Kane in 2015, and the couple even made several red carpet and public appearances together. The two also worked together briefly on the set of the sitcom Baby Daddy. Even though the couple were spotted on various romantic getaways together, they always deny that they were a thing and constantly maintained that they were just really good friends. They finally went their separate ways towards the end of 2015.
Modeling Career
In addition to acting, Peter Porte had also worked as a model. Before fully delving into his acting career, he walked runway shows in Milan and Paris. He has also posed for various magazines and fashion labels. One only has to google his name and feast their eyes on the plethora of shirtless pictures that can have the average woman swooning and fanning herself.
Kids and Pet
Porte recently welcomed a new member to his family. The couple adopted a dog; Vizsla breed whom he named Butters. The couple is still keeping mute on whether a patter of tiny feet will soon be added to their home as well.
Net Worth
Peter Porte has a net worth that is said to be at an estimated 11 million dollars. This figure, however, is not yet totally confirmed but we like to believe that he hasn't worked hard and served us sweaty shirtless pics for nothing!
Height and Features
In addition to being of gorgeous mixed ethnicity, the actor is blessed with honey brown eyes and spots his hair in a dark brown. color He is also 6 feet tall as if he wasn't already perfect enough!