The former United States Federal Bureau of Investigation agent, Peter Strzok was well known as the Director of the Counterintelligence section of the Bureau. He was the agent that led the probing of Hillary Clinton's case of using a personal email server. He was also the leader of the FBI team which investigated the Russian involvement in the United States 2016 election.
Peter Strzok also worked under Robert Mueller's special investigatory counsel which probed into the connection between Donald Trump's Presidential campaign and the Russian government involvement. Unfortunately, his successful career as a top FBI agent jeopardized following the revelation of his text messages to his colleague Lisa Page, which demeaned the U.S President. As a result of this, he was relieved of his duties on 10th August 2018.
Below are more interesting facts about Peter Strzok's life, career and family.
Peter Strzok Biography 
The former FBI agent was born in Michigan, United States, at Kincheloe AFB Hospital. He was born to Peter Paul Strzok and Virginia Sue Harris. His father worked as a member of the U.S Army Corps of Engineers. His Uncle, Father James Strzok is a Jesuit Priest who is on missionary duty in Africa. Peter Strzok completed his basic education at St. John's Preparatory School in Minnesota before acquiring his Bachelor and Master's degree from Georgetown University.
Soon after his graduation, Strzok enrolled in the United States Army where he served as an officer. Later on, he joined the FBI in 1996 after leaving the Army. While he was there, he was the leader of the team which investigated the Russian spy couple, Andrey Bezrukov and Yelena Vavilova. Furthermore, he was made the Chief of a subordinate sector of Counterintelligence division of the FBI called Counterespionage.
Following his ground experience on the job and unequivocal success in many cases, Strzok was put in charge of the FBI investigatory team which probed the case of Hillary Clinton's use of private email server and also of her assistance in penning down the former FBI director, James Comey's public statement. In addition to that, he also landed the position of Deputy Assistant Director of the Counterintelligence section, where he led China and Russia investigations.
Following his astounding success on the job, Strzok rose to the peak of his career as a top FBI agent when he was assigned to work under Robert Muller's special investigatory team which probed the connection between Donald Trump and the Russian government. In late 2017, he was withdrawn from the team when his text messages to his colleague, Lisa Page was brought to light. From those messages, it was seen that Peter Strzok was an ardent supporter of Hillary Clinton and this prompted public questioning about the credibility of the FBI in handling Trump's investigation. The messages also revealed his hostility against Donald Trump.
During a public hearing of the US Congress, the former FBI agent stated that his personal beliefs do not jeopardize in any way his working ethics as an investigatory agent. Unfortunately, after rendering distinctive 22 years of service in the Bureau, Peter Strzok was fired in 2018 by FBI Deputy Director, David L. Bowdich.
After Strzok's release from the Bureau, his friends founded a GoFundMe campaign on his behalf. Surprisingly, they have raised $449,058 out of the $500,000 needed.
Net Worth
Having rendered a distinguished 22 years of service in the Federal Bureau of Investigation, Peter Strzok obviously made a bank, but he lost a huge amount of his accumulated earnings on legal services following the controversy that marred his career. Hence, the former chief of FBI's Counterespionage division's net worth is still being reviewed.
See Also: Who is Michael Cohen? His Wife, Daughter, Net Worth and Family Life
Family: Married – Peter Strzok's Wife, Affair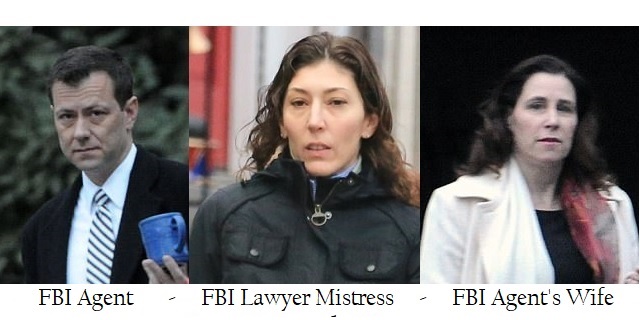 Peter Strzok is married to Melissa Hodgman, who works as the U.S Securities and Exchange Commission associate director. The pair started dating back in college as they both graduated from Georgetown University. A few years down the line in 1994, the couple tied the knot. They have welcomed three kids in their union which has lasted for over 20 years.
In late 2017, their marriage was rocked by a serious controversy following the report of Peter Strzok's extramarital affair with his colleague, Lisa Page. Though the marriage was expected to hit the rocks, the couple, however, worked out their differences and are still together.