In the National Football League, Peyton Manning is ranked among one of the greatest quarterbacks of all time, as a result of the groundbreaking records he has set in the football league. He achieved quite a remarkable feat throughout his career as an American football quarterback.
Being a prolific player who spent 14 seasons with Indianapolis Colt and additional 4 seasons with Denver Broncos, the American football star was able to clinch several awards and titles including winning the NFL MVP award for a record of five times, being a 2-time Super Bowl XLI Champion, and also a 2-time NFL Offensive Player of the Year. Peyton Manning finally announced his retirement from the Football League on 7th March 2016.
Below are more fascinating facts about the American football star's life, career and family.
Peyton Manning Biography (Age)
The former Indianapolis Colt quarterback was born as Peyton Williams Manning in New Orleans, Louisana, US, on the 24th of March, 1976. His parents are Archie Manning and Olivia Williams. He was born into the well-known family of professional American football players, as his father was a former NFL quarterback. Manning is the middle child out of the three sons of his parents. His elder brother, Cooper Manning was forced to retire from American football as a result of spinal stenosis. While his younger brother, Eli Manning, a 2-time Super Bowl Champion, is New York Giants quarterback. Peyton Manning attended Isidore Newman High school in New Orleans and later furthered his education at the University of Tennessee.
Following his family background, the renown athlete had a keen desire to play American football at a young age. He couldn't wait any longer to bring his talent to the limelight as he eventually kicked off his American football career in High School, a place he started to make the headlines. While he was there, he helped their football team to achieve a record victory of 34-5 with his prolific passes of over 7,000 yards.
He then continued with his winning streak when he joined the University of Tennessee Volunteers. There, he displayed an excellent dominance in the field of play and subsequently became the team's all-time leading passers, winning 39 games out of the 45 games he played as a starter.
His Professional Career
During the 1998 draft, Manning was picked by the Indianapolis Colt, based on his overall outstanding performances in high school. He was the first overall pick during the draft. However, his arrival at the club, changed the overall performance of the team, transforming them to top contenders of the Championship. He led the team to clinch one Super Bowl Championship and eight division Championships.
Then along the line, the American football star encountered a major set back in his career as he underwent a neck surgery which forced him out of the 2011 season. After an incredible 14 seasons with Indianapolis Colt which was emblazoned with multiple awards and titles, Manning was released by the club in 2011 after signing a five-year, $90 million contract extension that same year.
Following his prolific performances in the American football league, Peyton Manning signed a five-year deal with Denver Broncos almost immediately after he was released by his former club. The deal was valued at $96 million. There, he also went on to establish new records despite the deteriorating condition of his health and he eventually surpassed the former records set by top NFL players such as Tom Brady and Brett Favre.
On 7th March 2016, the 2-time NFL Offensive Player of the Year announced his retirement from the Football League, after playing for 18 seasons in the league and was honoured with ESPY Icon Award. The highlight of his career achievements includes 1997 SEC Player of the Year, Best NFL Player ESPY, Club Player of the Year, and many more. This explains why Peyton Manning is rated as one of the NFL's greatest quarterbacks.
Family – Wife and Daughter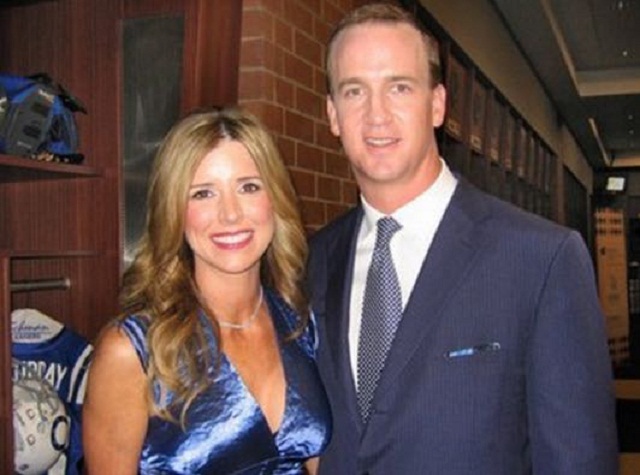 The NFL star is happily married to Ashley Thompson, who graduated from the University of Virginia. The pair, who were next-door neighbours got acquainted when Ashley's parents introduced her to Manning before he enrolled into College. In 2001, the duo moved on to tie the knot on St. Patrick's day. They have gone ahead to welcome twins, a boy and a girl named Marshal Williams and Mosley Thompson who were born on 31st March 2011.
See Also: Brock Lesnar – Bio, Wife, Daughter, Age, Height, Net Worth, Weight
His Height
The notable athlete stands at a height of 6 feet 5 inches (1.96 m). Peyton Manning is obviously tall although, he may not be the tallest man you would ever come across.
Net Worth
The American football icon has gathered enormous wealth for himself, having played 18-seasons in the NFL and also penning down two books alongside his father. Manning has an estimated net worth of about $200 million, his career earnings are said to have exceeded $400 million.