When it comes to discussing issues surrounding terrorism, American Counterterrorism and National Security Expert, Phil Mudd, occupies a globally significant position. He has voiced his interest in the fight against terrorism and insecurity on many popular media platforms, both print and broadcast, such as CNN, BBC, CBS, MSNBC, al-Jazeera, ABC, NBC, Fox, The New York Times, and The Washington Post, The Wall Street Journal, The Atlantic, The Daily Beast, and so on.
He gained his knowledge from his work with different security agencies before calling it quits over what he termed as inconsistencies in government. He then chose to go into media analysis in order to have room to air his views on national and global security. Read on to find out more about the life and career of the Counterterrorism Analyst.
Biography
Philip "Phil" Mudd was born in 1962. His precise birth date and place are not available. Although he is an American citizen, he is of Irish-Italian origin. Further information on his family and childhood are also not available.
Phil Mudd earned a Bachelor of Arts (B.A) Degree in English Literature from Villanova University in 1983. He furthered his education at the University of Virginia, earning a Master of Arts (M.A) Degree in the same course of study in 1984.
So far, he has authored three books; The Head Game, Take Down and Black Site. He is also the founder and president of Mudd Management, a security consultancy and analytic training organisation. In addition, he is respectively a senior analyst and senior global adviser at the think tank New America and consulting firm Oxford Analytica.
Mudd speaks English and French. On 14th February 2018, he broke down in tears on air while commenting on the gruesome school shooting in Florida, pointing out that such menace is not acceptable.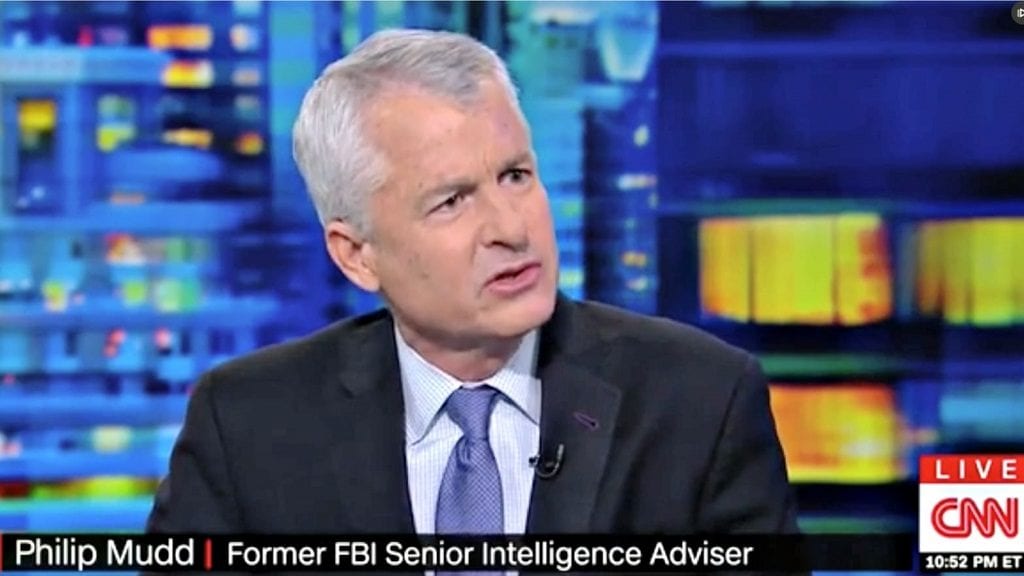 CIA and FBI Career
Phil Mudd started his professional career in 1985 when he got a job at the Central Intelligence Agency (CIA), working as an analyst in South Asia and the Middle East. In 1992, the CIA moved him to the Agency's Counterterrorism Department. By 1995, he became the National Intelligence Officer at the National Intelligence Council, covering the Near East and South Asia. He occupied this position until 1999 when he became the analysis manager for the Iraq war.
In 2001, CIA shifted Phil Mudd to the White House National Security Council, making him the council's Director for Gulf Affairs. Shortly after the September 11 terrorist attack, he joined a CIA diplomatic mission to Afghanistan. On his return in 2002, he was elevated to the post of second-in-command at the National Counterterrorism Center (NCTC). He subsequently became the Center's Deputy Director in 2003, a position he occupied until 2005 when the Federal Bureau of Investigation (FBI) created their National Security Branch (NSB). Mudd then became the NSB's inaugural Deputy Director. Later on, the FBI made him a Senior Intelligence Adviser. He served in this position until March 2010 when he finally resigned from public service.
Notwithstanding his resignation, Phil Mudd remains a member of the National Counterterrorism Center Advisory Board as well as the National Intelligence Directory Board.
Also See: Is Chris Jansing Of MSNBC Married, Who Is Her Husband?
Is Phil Mudd Married, Who Is His Wife?
It is not clear whether Phil Mudd is married or not. It is also not known if he is dating anyone. This is simply because the former CIA and FBI official keeps his private life a top secret.
So far, in all his interactions with the media over the years, Mudd has always focused on serious issues, never mentioning anything about his romantic relationship(s). The only time he mentioned a girlfriend was in a satirical tweet which he posted on February 16, 2018. In the tweet, Mudd said that he and his girlfriend changed their safe-word to Richard Painter in celebration of the charges brought forward by Robert Mueller. No one knows if the girlfriend he made mention of is real or if it is just a joke.
Considering his age, Phil Mudd may be a married man who has decided to completely shut out his wife and family from the prying eyes of the media. However, we cannot make any conclusion on whether he is single or married until substantial information on the issue becomes available.