The NASA flag bearer is known to be a big fan of sports and has several times participated in sporting events publicly.
He has played in a number of football matches in order to keep his fitness levels up but this new photo of the 72-year-old working out is raising some eyebrows.
Raila is pictured bench pressing weights thought to be around 45kg. 45kg? Really Mzee? Someone in the Presidential hopeful's team should be fired for releasing that unrealistic photo to the public.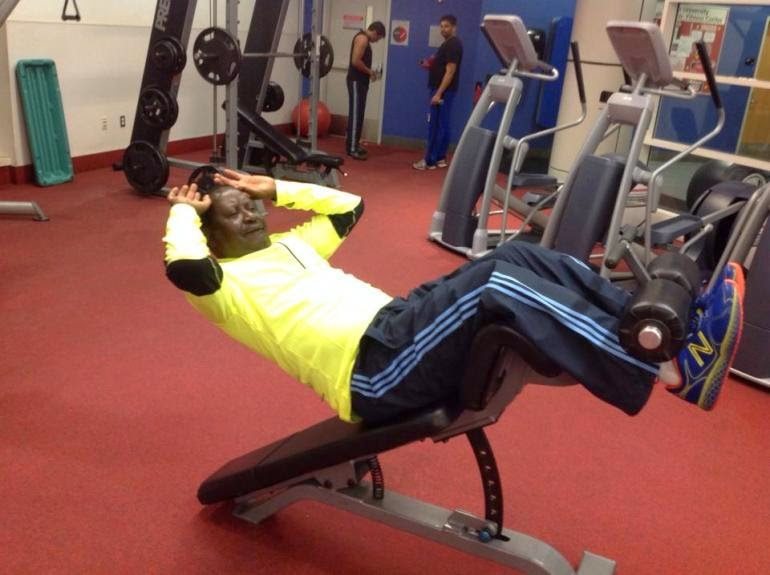 In a previous interview with KTN News, Mr Odinga said that he usually works out every day before he gets on with his campaign duties. The physical exercises help him stay fit for the day as he moves around the country trying to convince the populace to vote for him.
Nevertheless, physical exercises or aerobic activities such as running, swimming, walking, riding a bicycle, dancing, and doing jumping jacks are exercises expected for such an elderly man, not lifting weights.
Now, the question is, how are the masses supposed to buy into what he is selling if little lies like this are allowed to be peddled around?
For what it's worth, the only reason this photo should have been allowed to be released to the public was if Mr Odinga was directly appealing to Rugby players to join his cause.
But his team are just probably borrowing a leaf out of the U.S. President, Donald J. Trump's book of lies and the increasing number of social media users who post fake pictures to attract attention.
Read: The Amazing Health Benefits Of Kiwifruit
Below is a video showing Raila Odinga working out the right way and I must say, he does look quite fit.
Meanwhile, Raila is not the only leader known to workout daily. DP William Ruto has been spotted a number of times, working out in the morning before he goes to work.