Pico Alexander is notable for kick-starting his on-screen career in Hollywood with his appearance in the 2009 film, Turban. The actor has remained relevant since then, earning various roles in movies, and his sterling acting has endeared him to a lot of people. He is well known for his roles in movies like War Machine, A Most Violent Year, and Home Again in which he starred alongside Reese Witherspoon as her character's love interest.
Before his film roles, the actor plied his trade as a stage actor, making appearances in several plays. He can be seen in stage works like Our Town, Punk Rock, What I Did Last Summer, and The Portuguese Kid which premiered in 2017.
Pico's Upbringing Set The Pace for His Expoilts as an Actor
Born as Alexander Lukasz Jogalla on the 3rd of June 1991 in New York City, United States, Pico was raised in Park Slope, Brooklyn. He was given the nickname Pico before his birth and when he was born, the name surprisingly took over his birth name. He once said in an interview that no one called him his birth name except his 6th-grade teacher. It was also gathered that his parents, Magdalena Deskur and Lukasz Jogalla, are Polish immigrants to the United States of America.
During his formative years, Pico was very close to his grandfather Jerzy Jogałła who was an actor in Poland and eventually decided to follow in his stead. It is also known that his dad was a cinematographer while His mom was a singer who attended a music school in Poland. So from a young age, Alexander started taking classes to learn how to play classical piano and trumpet.
He also accompanied his father to various movie sets and met Hollywood big shot, Hugh Jackman, on the set of Kate & Leopold. The two took pictures that the actor later mailed to young Pico, this meant a lot to the aspiring actor back then. Before meeting Hugh Jackman, the actor met Slyvester Stallone back in 1997 during the making of Cop Land.
He Started Stage Acting as a 2nd Grader
The young actor commenced his acting career as a 2nd grader when he landed a part on a stage play which was about a son returning from war. For his appearance in the play, he received his first paycheck which was $200. Hence, upon completion of his basic education at Fiorello H. LaGuardia High School, he went on to horn his skills at Mason Gross School of the Arts at Rutgers University.
He has been seen in a handful of plays over the years which include the remake of the popular 1930s play, Our Town, sometime in the early 2000s. He was part of the New York cast of the play Punk Rock, in which he portrayed Nicholas Chatman; this was in 2014. The next year, Pico Alexander was cast as Ted in What I Did Last Summer which was written by A.R Gunney.
Pico was also seen in the 2017 production of The Portuguese Kid which was shown at the Manhattan Theatre Club. He played the role of Freddie Imbrossi, the love interest of an older woman portrayed by Sherie Rene Scott.
Pico Alexander Made His Movie Debut In 2009
In 2009, Pico Alexander made his first appearance on-screen, appearing in a short film titled Turban as Jonathan. In the following year, he wrote the short film Get Set Go, in which he featured as himself. The aspiring film star went on to appear in a few television series in the coming years. He played Nick in the drama series The Carrie Diaries which aired on CW from 2013 to 2014. While working on that project, Pico landed another job to play Reuben in the drama series Alpha House.
Within the same period, he appeared as Joe in an episode of The Following. He also portrayed Darren Bentley in the series Bluebloods and appeared in Orange Is the New Black as Ian. Pice also got a notable role in the 2014 feature movie, A Most Violent Year, playing Esai Morales, the brother of the lead character. Two years later, he played Sonny Cottler, a Jewish fraternity president, in the blockbuster movie, Indignation.
The years that followed proved to be good for the actor as he was cast as Trey Wandella in the Netflix Original War Machine, starring alongside Brad Pit in 2017. That same year, he was seen playing Harry, the love interest of Alice portrayed by Rese Witherspoon in Home Again; this brought him wide acclaim and recognition in Hollywood. Pico went on to describe his role in the romantic comedy as the first real romantic role he ever received since his career began. He later appeared in 2018 productions like Summertime, Hot Air, and the Rock star Game, Red Dead Redemption 2. 
The Home Again Star Has a Mystery Girlfriend
Unlike most celebrities who have gone ahead to publicize their relationships on most social media platforms, Pico Alexander has kept this aspect of his life very private. More so, he is not active on any social media platform, and according to him, he prefers to keep things that way.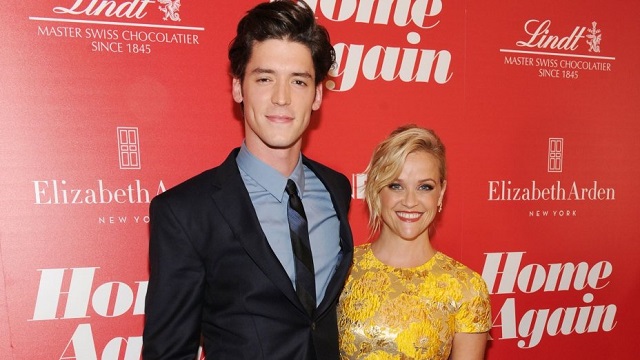 After his sizzling romance on-screen with his Home Again co-star Reese Witherspoon, it was rumored that the pair began a romantic relationship off-screen. Many actually looked forward to the pair towing in the path of other celebrity couples who met and fell in love on set.
But then, there seems to be no substance to the claim that they are lovers as both Pico and Reese are yet to confirm or deny it. Nonetheless, the young actor is believed to be in a relationship with a Mexican photographer named Renata Balleza.
For someone that loves to keep the attention he gets on his career, it is not a surprise that much is not known about the actor's dalliance with Renata. They have kept their romance very private as his girlfriend also loves to keep a low profile.