Pilar Sanders' rise to fame was a very interesting love story before the many controversies that muddied the water. The actress and model became famous when she news broke that she got hitched to eight-time Pro-Bowler Deion Sanders. But all of the attention soon turned sour with the divorce and custody saga between Pilar and her now ex-husband, Deion. P-Love, as she goes by on the media, is a Television personality, actress and producer, but none of that gave her the exposure she achieved by being associated with and subsequently marrying football royalty, Deion Sanders.
For those who do not remember her, Pilar starred on the reality series Football Wives alongside her husband when the going was good. She also gained huge fame for starring on the reality television show Deion and Pilar: Prime Time Love. However, when her legal woes began, it looked like all that media glare on their private lives turned on her and made her an easy target for tabloids to have a field day with. Read on for details about her background and what went wrong with her marriage to Sanders.
Pilar Sanders' Early Life and Background
Pilar Sanders was born on the 10th of October, 1974, in Elmira, New York to Jeanette and Dan Biggers. She was nurtured by her parents alongside her two siblings – Scottie Biggers, her brother and Kandie Biggers, her sister.
Her educational background is inaccessible so far but she was known to have had a good dose of interest in acting from way back when she was younger, and she did not hesitate in pursuing that passion. She dived into her acting career around her mid-twenties with her recorded debut being an appearance in the movie, The Mod Squad (1999). This was followed much later by other movie credits such as in Streets of Bloods (2009), and Percentage (2014) which she produced, etc.
On the small screen, Pilar Sanders featured in the reality television shows Deion & Pilar: Prime Time Love and Football Wives. These shows gave her the recognition she so deserved as a talented actor.
Kids And Marriage to Deion Sanders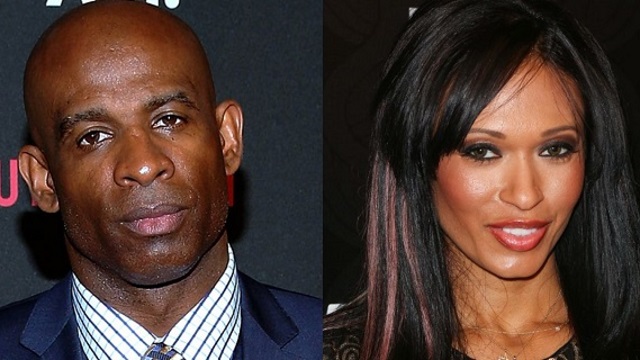 Pilar Sanders married Deion Sanders on May 21st, 1999. The union produced three children – two boys, Shilo Sanders who was born in 2001 and Shedeur Sanders who was born in 2003; and a daughter, Shelomi Sanders who was born in 2004. In 2011, it came to light that Deion had filed for divorce from Pilar citing infidelity and lies; the athlete did not tell Pilar about the divorce and she found out about it on TMZ. When it became apparent that Deion was not backing down, Pilar took to begging and trying to make amends but none of it worked. The divorce was eventually finalized on 28th June 2013. Following the divorce, a bitter custody battle ensued which Deion won, but the ruling has since been reversed.
Deion Sanders caught the eye of the world with his incredible skills and abilities as a professional football player. He set some incredible records as a player and after becoming Atlanta's first round pick in 1989, Sanders quickly established himself as one of the best defensive players in NFL. Blessed with phenomenal speed, he is considered to be one of the best cornerbacks ever to play football and is known for completely shutting down his side of the field.
Deion was so successful that he won all-state honours in football, baseball, and basketball at North Fort Meyers High School. Among his many achievements, he was an 8-time NFL Pro Bowler, NFL defensive player of the year in 1994, and a two-time super bowl champion – 1994 and 1995. He has had a career total of 7838 all-purpose yards and 22 touchdowns with a remarkable record of being the only player in NFL history to have scored a touchdown in six different ways.
All these show how successful Deion Sanders has been, why his life could not be out of the limelight, and why Pilar's association with him gave her a bigger dose of fame that she could handle.
Since her divorce, Pilar Sanders has had rumors running rampant as to who she moved on to especially since Deion cited infidelity as his reason for wanting a divorce. The news differs at every angle; she was first rumored to be in a relationship with Wesley Snipes and then Johnny Mitchell. None of these has been substantiated.
Currently, Pilar resides in New York and seems to be living a happy life with her children. They have also appeared on the American Game Show, Celebrity Family Feud. Apart from her role as a mother, Pilar Sanders has been all about making out the very best from her life. She does this by devoting time to her modeling and acting career.
Pilar Sanders' Net Worth
The actress has been very successful in her career endeavors and isn't stopping any time soon. Upon her divorce from Deion Sanders and her successful custody take over of the children, Pilar petitioned the court with a bill of $24,000 monthly for child support. They eventually settled the amount to be paid in private hence the figure is not known. However, through her various endeavors as a model, actress, and a fitness expert, she has amassed a net worth $5 million.
Other Facts About Deion Sander's Ex-Wife
• Pilar and her ex-husband Deion, starred on the reality TV show Deion and Pilar: Prime Time Love, in April 2008 on the Oxygen Network.
• During the custody battle for her children, Pilar appeared in court during some of the proceedings without a lawyer and represented herself.
• While the going was good, Pilar and Deion founded the Sanders Claus charity in 2009. The major aim was to provide opportunities for Dallas/Fort Worth children in need.
• Before her divorce from Deion was finalized, he got into a relationship with Tracey Edmonds, the ex-partner of actor and comedian Eddie Murphy.
How Tall Is She?

With much care and attention given to her body due to her career, Pilar Sanders stands at the height of 5 feet 9 inches. The mother of three has worked on herself since having kids and now weighs 59kg. Her other body stats are 35-24-35 inches for her chest, waist, and hips respectively.