With a salary of about R1,403,000 per annum, averaging at about R117,000 per month, Police Chief Bheki Cele is one of the highest-paid officials in the defense force of South Africa. He assumed office as the Minister of Police on the 26th of February, 2018. Before that role, he held several other political positions, including serving as the National Commissioner of Police until 2011.
However, Cele's career has experienced some major scandals, ranging from corrupt practices to incompetence, because of his reportedly low educational qualification. Under the leadership of President Jacob Zuma, he was at some point suspended due to allegations of corrupt practices.
Profile Summary Of Police Chief Bheki Cele
Full Name: Bhekokwakhe Hamilton Cele
Age: 71 years
Nationality: South African
Marital Status: Married
Educational Qualification: Diploma
Occupation: Politician, Anti- Apartheid Activist
Current Position: Minister of Police
Salary: More than R1,403,000
Net Worth: $500,000 (estimated)
Bheki Cele's Educational History
The Minister of Police is known to hold a Teacher's Diploma which he obtained from one of the colleges in South Africa. This was not his initial aim as he has hinted that he wanted to study Law. That dream was, however, aborted as he could not fund his studies nor could he get financial aid after the death of his father. He even tried to seek financial assistance from his father's supervisor, but his luck ran out, as the man was not able to help him.
After finishing his diploma course, Bheki went to teach at Mbumbulu School and during that period, he began to tow the path of politics as he joined the ANC underground structures, where Jacob Zuma was their leader. More so, it is gathered that he has garnered vast experience as an educator and happens to be one of the founding members of the National Education Union of South Africa.
Controversies He Has Been Roped Into Because Of His Educational Qualification
News broke all over the media when it became public information that the Minister of Police's highest educational qualification was a Diploma from one of the higher institutions in South Africa. The media spat on the qualification by saying he was qualified to be a crèche (preschool) teacher. The controversies surrounding his educational qualification eventually became a thing to look into when his team failed to handle the free Zuma riots.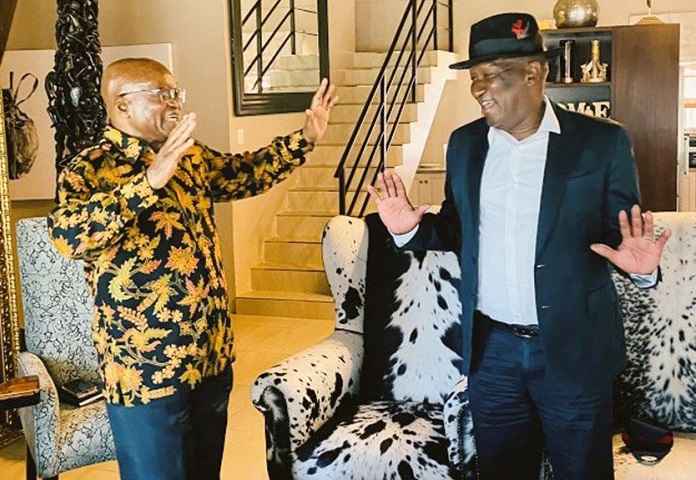 In order to clear the misconceptions that were being circulated in the public space and redeem his image, the Minister told the media that the police were not given the requisite knowledge to effectively handle the riot, but the Minister for State Security, Ayanda Dlodio, said otherwise, that her department gave all the necessary information to effectively combat the violence.
In the long run, the public excused Bheki Cele's alleged incompetence, blaming it on his lack of educational qualification for his position. Besides, they did not expect much from a crèche teacher and that he clearly was not equipped with the skills and educational background for the job.
Police Chief Bheki Cele Has Held Several High Profile Positions
Irrespective of the controversies he has courted because of his educational qualification, Police Chief Bheki Cele has served in other political cum social positions and did deliver appropriately proving that one's qualifications do not determine his/her capabilities.
At the onset of his career, he reportedly joined the ANC in the early 1980s and went on to hold several positions in the party. However, a series of unfortunate events resulted in him fleeing the country in 1984 when the security police were gaining on him. After a few years passed, Bheki was smuggled back in 1987 but was apprehended within the period and he ended up spending more than a decade in prison. He was eventually released in 2001. He continued his political engagements with the party, serving at prominent positions before he was appointed as Transport, Safety, and Security MEC in 2004. However, the exact amount he made during the various positions with the party remains unknown.
As the Transport and Safety Security MEC, Bheki did exceptionally well and he is credited for addressing several issues which promoted road safety on local roads and highways. More so, he spearheaded rural developments by prioritizing road infrastructure development for regions that were once neglected; the good conditions of the road led to a more equipped fight against crime in the community.
Cele was later appointed as the National Commissioner of Police for South Africa in 2009. In this position, he made a lot of improvements to the SAPS. During that period, he also played a major role in the suspension of a 3-day strike at the National Education, Health, and Allied Workers' Union (NEHAWU). NEHAWU openly stated that they suspended the strike after speaking with Bheki. During his time as National Commissioner of Police, his salary was speculated to be around R1.3 million and he is believed to have earned this amount until 2013.
In 2014, Bheki Cele assumed the office of the Deputy Minister of Agriculture, Forestry, and Fisheries, and during this period, his salary was pegged at about R1.2 million. He held this office till 2018 when President Cyril Ramaphosa appointed him as the Police Minister during his cabinet reshuffle in the month of February. More so, although he had never been a police officer before, he has also not fallen short of expectations, as he is seen combating both physical and biological vices in South Africa. However, the exact amount he gets paid for this current position is not known, but his salary is speculated to be more than R.1.4 million.
Recap Of the Official Positions Police Chief Bheki Cele Has Held
Member of the Executive Council (MEC) for Transport, Safety and Security for KwaZulu-Natal (2004- 2009)
National Commissioner of the South African Police Service (2009 – 2011)
Deputy Minister of Agriculture, Forestry and Fisheries (2014 – 2018)
Minister of Police (2018 – date)
Member of the African National Congress Executive committee
Founding member of the National Education Union of South Africa
What Corruption Scandals Have Affected His Career The Most?
In 2011, the minister came under scrutiny as then-president Jacob Zuma suspended him due to an investigation that revealed that a sum of R1.7 billion spent on building leases was not proper, stating that it was misused funds and that was totally unlawful. Jacob Zuma publicly told the press that he had to relieve Cele of his duties and he installed the country's first female Police chief, Mangwashi Phiyega.
In October that year, it was confirmed that Cele was involved in an unlawful property deal, where police buildings were leased from a company at high prices. It was said that the buildings were supposed to serve as police headquarters and the deals were illegitimate, as the prices were also inflated. The minister denied any wrongdoings but he was eventually relieved of his office.