Having passed through a lot in life, Pom Klementieff has built courage in her misfortunes and has made a name for herself in the movie industry. She is a Canadian-French actress who gained fame in the film Guardians of the Galaxy Vol. 2 (2017) and Avengers: Infinity War (2018). Pom is not one of the popularly known actresses in showbiz but in her little way, she has charmed her audience with her personality.
Her career took off in 2007 and Pom has remained active with increasing relevance in the competitive industry. As such, many have come to wonder how she started her career as much as they inquire about the life of the actress before she found fame.
The Actress' Name Speaks of Her Mixed Heritage 
The Canadian-French actress was born on the 3rd of May 1986 in Quebec City. She is of mixed ethnicity as her mother is Korean and her father, French-Russian. From what we have learned, her half-Russian, half-French father was obsessed with Asia. He met his Korean wife on the street in Seoul; they fell in love, got married, and had Pom.
The actress' first name "Pom" offers some insight into her identity as someone from a mixed ethnic background. It is said that her mother Yu Ri Park gave her the name because of its multiple French and Korean meanings. While Pom in Korean could refer to tiger and spring, "pomme" means apple in French.
Although Pom was born in Quebec City, Canada, she would come to make homes in a few countries because of her father's job. The man was a consul with the French government and the job required him to move with his family to countries like Japan and the Ivory Coast. Pom Klementieff spent her early years in these countries before settling in France. Though the actress can't claim any ethnic heritage that can be linked to these countries, there is no doubt that they have contributed to shaping her nature as a person and how she views the world.
Pom Klementieff Lost Her Father When She was Only 5
The actress has faced an unfair share of life's tragedy. She doesn't have much memory of her father and this is because he battled with cancer and died when Pom was just five.
It was an unfortunate incident for Pom and her family but fate had another devastating blow to throw at the actress, such that meant she wouldn't be raised by her parents and subsequently endure more heartbreaks.
As her father passed on, her mother suffered from schizophrenia and was not fit to take care of Pom and her older brother, Namou. So, Pom Klementieff had to be raised by relatives like her paternal uncle.
Enduring Another Death on Her 18th Birthday 
Being raised by her paternal uncle, Pom grew to be very fond of the man as he played a fatherly role in her life. She has described him as a second father, so it is easy to understand why her life was torn apart when the uncle died precisely on the day she was supposed to mark her 18th birthday.
After her uncle passed, Pom Klementieff went to law school. She did this to please her aunt but soon realized it wasn't what she was meant to do. She wanted to do something that would help her express her feelings and this inspired her to try acting. She would later attend Cours Florent, a prestigious drama school in Paris but that was after she worked as a waitress and saleswoman.
A few years down the line, the actress would face another tragedy on her birthday. It was on her 25th birthday, the day her older brother committed suicide. To endure the pain and keep his memory alive, she tattooed his name on her left wrist.
Pom Klementieff Made Her Acting Debut In 2007's Après lui
IMDb STARmeter Award in the Breakout Category ✨✨✨ thank you!!! You can watch the IMDb show on May 3rd (on my bday!) ✨✨✨ @IMDb #imdbshow pic.twitter.com/GAT3WpnfJL

— Pom Klementieff (@PomKlementieff) April 26, 2018
The beginning of her acting career has been traced to when she was 19 and enrolled at Cours Florent drama school. Pom wasted no time to show that it is the right career path for her as she soon won a theatre competition which earned her a two-year free class.
As Pom Klementieff kept working hard, it was only a matter of time before she made her professional acting debut. This came to pass in 2007 when she played Emilie in a French independent movie titled Après Lui (2007). It was directed by Gael Morel and earned Pom quite an attention as she played the stepdaughter of the popular French actress, Catherine Deneuve.
Her major role debut was in the movie, Loup (2009). Before that, she appeared in The Easy Way and after Loup, portrayed various characters in several 2011 movies: Silhouettes, Borderline, Delicacy, Sleepless Night, and Love Last Three Years. Subsequently, she appeared in Radiostars and Porn in the Hood before her big break came knocking.
How Her Career Has Fared Since Her Breakthrough
Gradually, Pom Klementieff started spreading her wings from the French movie industry to Hollywood, this led to her breakthrough which came with her role as Haeng-Bok in Spike Lee's Oldboy (2013).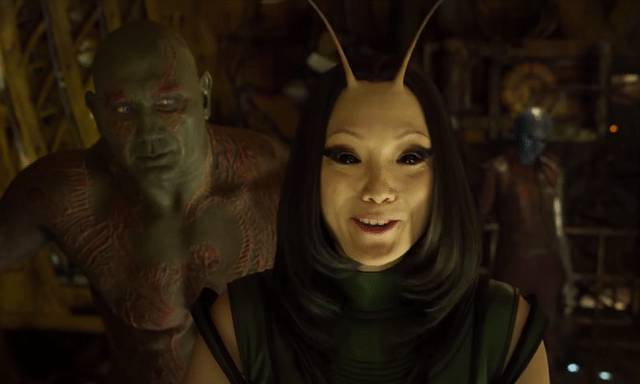 The actress took a break from acting in 2014 and concentrated on learning Taekwondo and is currently a purple belt holder. She resumed acting in 2015 and featured in the film Hacker's Game. Afterward, she joined the Marvel Cinematic Universe and acted as Mantis in the super-popular movie Guardians of The Galaxy Vol.2 (2017). This earned her global recognition and also paved the way for her to take part in other Marvel Cinematic Universe productions. She reprised her role as Mantis in 2018's Avengers: Infinity War and 2019's Avengers: Endgame.
She has been a part of other popular projects like Uncut Gems, The Addams Family, Newness, and Ingrid Goes West. She is expected to appear in 2021's Mission: Impossible 7 and Thunder Force.
She hasn't had many television roles. As far as we can tell, she has only been a part of three small-screen projects: Pigalle, la nuit (2009), Black Mirror (2019), and Westworld (2020). With the passage of time, she might land more television roles.