Muhammadu Buhari (born December 17, 1942) is the fifteenth President of the Federal Republic of Nigeria. The 80-year-old Daura native was a military man who ruled Nigeria for the first time in a two-year military regime from 1983 to 1985. He would return years later as a politician to rule Nigeria again from 2015 to 2023. 
Buhari became Nigeria's President after suffering many defeats at the polls between 2003 and 2011. Even though he achieved his dream of becoming a president, his regime was reportedly one of the worst the west African country has experienced in its 63 years of independence. Take a look at his journey from birth until his ascension to the presidency of Nigeria. 
Profile Summary Of Muhammadu Buhari
Full Name: Muhammadu Buhari
Date of Birth: December 17, 1942
Muhammadu Buhari's Age: 80 Years Old
Zodiac Sign: Saggittarius
Nationality: Nigerian
Ethnicity: Fulani
Sexual Orientation: Straight
Religion: Muslim
Muhammadu Buhari's Parents: Mallam Hardo Adamu and Hajiya Zulaihat Adamu
Siblings: Hajiya Rakiya Adamu (Sister)
Education: Katsina Middle School, Katsina Provincial Secondary School, NMTC (Nigerian Military Training College, Mons Officer Cadet School, Aldershot, Nigerian Military Training College in Kaduna, Army Mechanical Transport School in Borden in the UK
Marital Status: Married
Muhammadu Buhari's Wives: Safinatu Yusuf (1971 – 1988), Aisha Buhari (m. 1989)
Muhammadu Buhari's Children: 10
Occupation: Soldier, Farmer, Politician
Years Active: 1963 to date
Muhammadu Buhari's Height in Inches:  6 ft 4
Famous for: Being Nigeria's President
Muhammadu Buhari's Twitter: @Muhammadu Buhari
Muhammadu Buhari Is A Fulani Man From Daura in Katsina State
Nothing much is known about Muhammadu Buhari's birth family except for a few tidbits. His date of birth is captured as the 17th of December 1942 and he was born in Katsina State, Daura to be precise, where he spent his growing up years. No doubt, Buhari is Fulani by tribal inclinations. The records identified his father as Mallam Hardo Adamu who served as a chieftain with the Fulani tribe. His mother, on the other hand, is Hajiya Zulaihat Adamu who was said to have both Hausa and Kanuri ancestry.
Mallam Hardo Adamu was obviously a polygamist as Buhari's position in the family was said to be that of the twenty-third child. After Mallam Hardo's demise when Buhari was barely four, the responsibility of raising him fell on his mum who did a good job of bringing him up.
Who Are His Siblings?
It is a known fact that Buhari's father had several wives with many children, however, it is very few of those siblings that are known. For one, we are aware that Mamman Daura's father, Alhaji Dauda Daura, who was a holder of the traditional title, Durbin Daura of the Daura Emirate, was an older brother to President Muhammadu Buhari. His position in the family was not mentioned.
Also, it is common knowledge that the president has only one surviving sister, Hajiya Rakiya Adamu, who once mentioned that Buhari is the last child of their mother, though he was older than five of their father's children from his other wives. Rakiya has also been eloquent in speaking up for her brother. After rumors of his death hit the airwaves during his time as president in the late 2010s, she spoke in his defense. According to her, she was always on the phone with her brother during his days on medical treatment in London.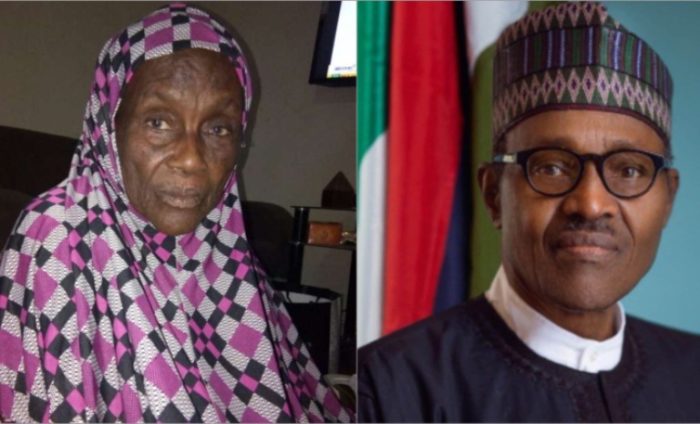 Buhari Received His Education in Nigeria and Britain as a Military Officer
Buhari commenced his academic pursuit in 1953 when he was enrolled at Katsina Middle School. Between 1956 and 1961, he was a student at Katsina Provincial Secondary School. Barely one year after he finished his secondary education from Katsina Provincial Secondary School, Buhari went to fulfill his dream of becoming a military officer by joining the Nigerian Military Training College (later renamed Nigerian Defence Academy after its upgrade to an Officer Commissioning Unit of the Nigerian Army) in 1962. He was 19 years of age at the time.
Muhammadu Buhari later left Nigeria for England where he enlisted at Mons Officer Cadet School, Aldershot for his cadet training – this was accomplished between 1962 and 1963. Apart from Britain and Nigeria, the former soldier also underwent military training in counties like the United States of America and India.
He was Just 20 When He was Commissioned a Second Lieutenant
At 20 years of age, in January 1963, the Nigerian Army commissioned Muhammadu Buhari a second lieutenant. Following this, he was deployed to Abeokuta to serve as Second Infantry Battalion platoon commander. The need to attend necessary military courses took Buhari to the Nigerian Military Training College in Kaduna where he proceeded to join the platoon Commanders' Course; this lasted from 1963 to January 1964.
Returning to the United Kingdom, he attended the Mechanical Transport Officer's Course; this was at the Army Mechanical Transport School in Borden. Between 1965 and 1967, he was named commander of the Second Infantry Battalion; this was when they appointed him Brigade Major, Second Sector, First Infantry Division.
He Continued To Rise In The Ranks In The Military Despite Participating In A Number of Military Coups
Buhari was named as one of the officers involved in the bloody counter-coup that took General Aguiyi Ironsi out of office in July 1966. Following the coup, Yakubu Gowon assumed office as military head of state. In 1975, Muhammadu Buhari joined effort with other top military officials in ousting Gowon and bringing General Murtala Mohammed to the seat of power. Before the year ran out, Murtala appointed new governors to the regions and Buhari was placed in charge of the North-Eastern State as its military governor. This position lasted from the 1st of August 1975 to the 3rd of February 1976. He was given the mandate of overseeing economic, social, and political improvements in the region.
The North-Eastern State witnessed a major change on the 3rd of February 1976 when it split into three distinct states – Borno, Bauchi, and Gongola. Buhari was then named Borno State's first military governor – a position that lasted from February 3rd, 1976 to March 15th, 1976.
Muhammadu Buhari Became Chairman of Nigerian National Petroleum Corporation in 1977
Following General Murtala Mohammed's assassination in a failed 1976 military coup d'état, his second in command, General Olusegun Obasanjo, came to power. On his assumption of office, Obasanjo appointed the then Colonel Buhari as the Federal Commissioner for Petroleum and Natural Resources.
After the creation of the Nigerian National Petroleum Corporation in 1977, Buhari became its chairperson, lasting in office till 1978. Some of his achievements as the Federal Commissioner for Petroleum and Natural Resources include:
Huge investments were made in infrastructures for pipelines and petroleum storage
Around 21 petroleum storage depots were constructed in Nigeria from Calabar to Gusau and from Lagos to Maiduguri.
Buhari's time in office saw the construction of a connecting pipeline network linking Bonny terminal to the PH refinery to the depots.
It was also during his administration that the Kaduna refinery contract was signed and that of an oil pipeline to link Escravos oil terminal down to Warri Refinery
He Served As Military Secretary at the Army Headquarters and was a Member of the Supreme Military Council
By 1978, Buhari was working at the seat of government at the Supreme Military Headquarters where he functioned as its Military Secretary – a position that spanned from 1978 to 1979. During the same period, he became a member of the country's Supreme Military Council. The Daura native was a colonel in 1979 when he was called to attend the United States Army War College, Carlisle, Pennsylvania. He reportedly bagged a Masters in Strategic Studies at the institution. Upon return, he became a General and would go ahead to man the following divisional commands as General Officer Commander (GOC):
4th Infantry Division – August 1980 to January 1981
2nd Mechanised Infantry Division – January 1981 to October 1981
3rd Armed Division – October 1981 to December 1983
Muhammadu Buhari Became Nigerian Military Head of State At Age 37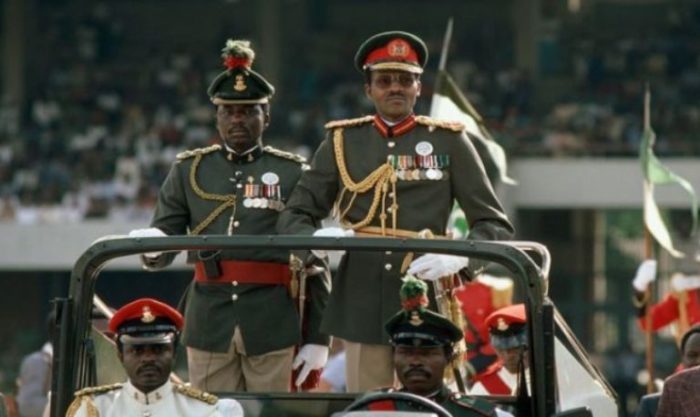 Civilian rule returned to Nigeria in 1979 under what was tagged as the Second Republic. Shehu Shagari was elected as the president of the country. Shortly after he assumed office, Nigeria began to suffer dismal economic status as there were reports of widespread corruption. This led to another military coup d'état executed on the 31st of December 1983, leading Buhari to emerge as the new Military Head of State for Nigeria.
Buhari's days in office as a military head of state were also plagued by the same economic problems of Shagari's administration. In a bid to combat them, he instituted and executed a lot of policies;
He instituted austerity measures.
Took a tough stance on corruption. Hundreds of businessmen and politicians were tried and convicted.
Temporarily banned the recruitment of federal public sector workers
Prohibited borrowing by state governments
Prioritized the importation of raw materials and spare parts that were needed for agriculture and industry.
Launched the War Against Indiscipline (WAI). The major objective of WAI was the promotion of positive values in society.
Though a majority of the Nigerian population initially welcomed his corruption-fighting efforts and the promise to bring improvements in societal values, the oppressive measures employed by Buhari's regime, against the backdrop of ongoing economic troubles, led to discontent. Even the military was not happy with his policies and had had enough of his administration. As a result, he was overthrown in August 1985, and Maj. Gen. Ibrahim Babangida took over the helm of affairs.
Following this, Buhari was detained in Benin City in a small bungalow. Babangida only allowed visits from his family and he had access to a TV showing just two channels. Buhari was later freed in 1988 when he also left the army.
He Launched A Political Career in 2003 At Age 61
After he got freed from detention in December 1988 following the death of his mother, the former Nigerian Military leader retired to his hometown Daura where his farm had been thriving under the watch of his close relatives. While he took over the management of his farm, Muhammadu Buhari was also active in his state politics, emerging as Katsina Foundation's pioneer chairman – the foundation was launched to encourage socio-economic development in the state.
Not much was heard from Buhari until 2003 when he made it clear that he still harbors an interest in becoming the country's number one citizen. That year, he joined the presidential race but was defeated by the sitting president, Olusegun Obasanjo. Buhari tried again in 2007 but was unsuccessful as Umaru Yar'Adua carried the day. Even in the face of several failed attempts, he still did not give up and made his third bid during the presidential elections of 2011 where he lost to Goodluck Jonathan.
In 2014, Muhammadu Buhari was nominated as the presidential candidate of the newly-formed All Progressives Congress. It must be noted that, by this period, people were already disillusioned with the government of Jonathan and were wishing for a strong and competent leader to curb the ravages of the terrorist group, Boko Haram. The ensuing 2015 presidential election saw Buhari defeat Jonathan alongside several other candidates to emerge the winner. Buhari's victory marked a first in Nigeria where an incumbent president lost at the polls. His inauguration happened on the 29th of May 2015.
His Time In Office Has Been Nothing Short Of Controversial
After he assumed office as the President of the Federal Republic of Nigeria, Muhammadu Buhari's government experienced a rough start as the country fell into recession in 2016 partly because of the decline in oil revenue. 2018 saw evidence of partial economic recovery from the 2016 recession but millions of Nigerians were still living in abject poverty.
The ongoing struggle with the terrorist group Boko Haram continued. Even the little progress that was witnessed upon Buhari's assumption in office, when the military curbed the group, didn't last as they appeared to have bounced back stronger. What of the security threats in the southern part of Nigeria where militants sought to disrupt oil production and the Indigenous People of Biafra led by Nnamdi Kanu began advocating independence for a separate nation of Biafra. The problems continued to pile up for the former military leader.
Though Nigerians initially lauded Buhari's war on corruption at the outset, it later received heaps of criticism for majorly focusing on political opponents while his allies were exempted. As the criticism raged on, President Muhammadu Buhari angered Nigerians the more by his repeated visits abroad for medical tourism. This brought his ability to steer the wheels of the Nigerian topmost office to question.
It all came to a head in 2017 following Buhari's incessant absence from office under the excuse of going for treatment for a sickness that remained undisclosed. At a point in time, his absence from office stretched to five months during which his deputy, Vice President Oshibanjo, started acting in his stead.
Buhari's unfriendly policies led to the disillusionment of several senior citizens whose activities during Johnathan's tenor contributed to bringing him into office. A good example is the Nigerian Nobel Laurette for Literature, Professor Wole Soyinka.
Buhari Won A Second Term Against All Odds At Age 77
Buhari's unexplained extended absence from office, coupled with the lack of transparency regarding his health condition, sparked rumors that he died in London and his allies replaced him with a doppelganger. Dismissing the concern about his failing health, the All Progressive Congress still went ahead to name him its presidential flag bearer for the 2019 elections. After contending with 70 opponents, he was declared the winner with 56% of the total votes cast.
Since Buhari's first tenor in office, the country's economy only averaged a growth rate of 0.9%. What's more, unemployment hit an all-time high of 23% as several millions of people started living below the poverty line. President Muhammadu Buhari displayed this un-energetic personality combined with a contemplative decision-making procedure that made him lose millions of supporters.
All the Offices Buhari Has Occupied in Nigeria
Military Governor for the North Eastern State 1st of August 1975 to the 3rd of February 1976
Military Governor of Borno State – February 3rd, 1976 to March 15th, 1976
Federal Commissioner for Petroleum and Natural Resources – 1976
Chairman of Nigerian National Petroleum Corporation – 1977 to1978
Military Secretary of the Supreme Military – 1978 to 1979.
Nigerian Military Head Of State – 1983 to 1985
President of the Federal Republic of Nigeria 2015 to 2023
Buhari Was Enmeshed In Serious Controversy About His Secondary School Certificate
It would be recalled that President Muhammadu Buhari failed to submit his WAEC certificate to the Independent National Electoral Commission (INEC) during his 2015 presidential run. This raised a lot of eyebrows. As the preparations for the 2019 general elections were ongoing, Buhari's bid for a second term in office, the old saga about his missing WAEC certificate was brought up again.
Going by the Nigerian Electoral Act, a secondary school certificate/its equivalent is a prerequisite for the office of the president. After posting the names of the 70 candidates vying for the Nigerian presidential seat in 2019, it became glaring that every other person except Buhari submitted their School Cert. When quizzed, the incumbent president answered that he submitted all his certificates to the military, producing an affidavit to that effect. Curiosity hit sky level when it was noted that, that was exactly the statement he rode on during the 2015 elections, avoiding necessary scrutiny until he emerged winner at the polls.
When inquiries were made at the Nigerian Military headquarters, the officials denied his claims. According to the military, Buhari's WAEC certificate was not in their possession. They also added that when the incumbent president enlisted in the military during the early 1960s, there was no record of any verification carried out on the original copies of Buhari's credentials.
The available records that were eventually dug up indicated that President Muhammadu Buhari's application to enlist in the Nigerian Military only showed that he was then a Form Six student at the Provincial Secondary School in Katsina.
At the height of the WAEC certificate result saga, the Registrar of the West Africa Examination Council, Dr. Iyi Uwadiae, visited the State House in Abuja alongside other officials to present Buhari with the Attestation and Confirmation of his WAEC Certificate.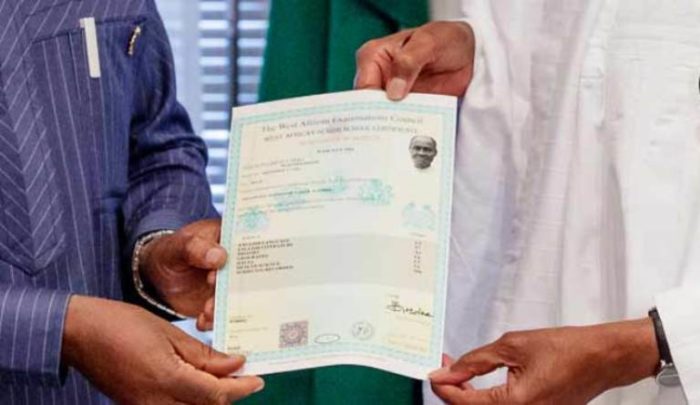 The Hasty Presentation of An Attestation Certificate From WAEC Triggered Immediate Response from The Opposition
Condemning the act of WAEC in issuing President Muhammadu Buhari's with an attestation certificate, the People's Democratic Party described the doc as bogus. According to the PDP, a scrutiny of the said attestation reveals that it lacks "Original Certificate Number" which happens to be the chief authentication feature in any genuine attestations from the West African Examination Council. Rather than the "OCN", they entered 'non-applicable' which is an indication that the beneficiary has no certificate to be attested to; thus rendered the supposed attestation fake, unauthenticated, and of no effect.
Going on, the PDP bared the fact that Buhari's handlers were able to drag a reputable institution like the West African Examination Council into public disrepute as well as opprobrium. On their own part, Nigerian citizens were quick in demonstrating the marks of forgery in the president's attestation.
It would be recalled that the sitting president claimed that he finished secondary school during the 1960s and the attestation he received was for the West African Senior School Certificate. Now, considering the fact that the Senior School Certificate Examination only came into existence during the late 1980s, it goes without saying that Buhari who claims to have graduated in the 1960s couldn't have sat for an exam that only started existing in the 1980s.
No doubt, this smack as a high-level scam for WAEC which initially came out in 2015 with confirmations that it didn't have any records of the president's certificate. It was really deemed to be appalling that WAEC suddenly remembered that Buhari deserves an attestation in 2019 and sent its officials to the Statehouse to present the same to him. And we are not forgetting the fact that the said attestation lacked the vital "Original Certificate Number".
Also, the spokesperson of the People's Democratic Party equally noted WAEC's rules which stated that the only people eligible to receive attestation were those who had lost their certificates or in the event that it was destroyed. With that said, one cannot help but wonder why Buhari who said his certificate was with the military will be entitled to an attestation that is meant for only those who lost theirs.