The history of the African continent features stories about monarchs who lived vastly and controlled a significant area of land and while this may have changed in the past centuries, the Zulu nation still runs a monarchy of its own. One of the popular royals in the Zulu Royal family is none other than Princess Ntandoyesizwe. She has proven herself as an important member of the prestigious family while doing very impactful work outside of what she has to do as a member of a royal family.
Profile Summary Of Princess Ntandoyesizwe Zulu
Full Name: Ntandoyesizwe Zulu
Year of birth: 1976
Age:47 years
Education: St. John's Diocesan School for Girls, Pietermaritzburg
Occupation: Former model, ex-beauty Queen, Businesswoman
Relationship: Married
Present Spouse: Moses Tembe
Former Spouse: Oupa Moilwa
Children: 5 (2 Biological, 3 Stepchildren)
Father: King Goodwill Zwelithini
Mother: Queen Mantfombi Dlamini
47-Year-Old Ntandoyesizwe Zulu Comes From A Very Large Family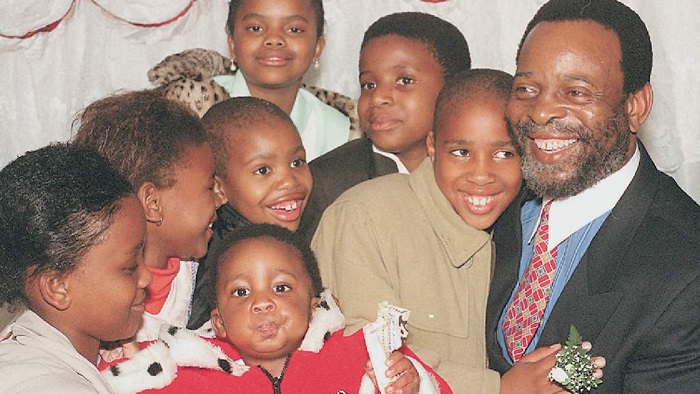 Ntandoyesizwe Zulu was born on the 28th of June, 1976. She is the sixth daughter of the 8th King of the Zulu Nation and the second child of her parents, Queen Dlamini and King Goodwill. Ntandoyesizwe grew up, as the second child in a family of 10, with 8 children. Where she held the position of the second child and the first of 3 daughters.
But the children that her father and mother had are just a fraction of all the siblings she has. Her mother was the 3rd wife of a man who had 6 wives. His total number of children is 28. The first wife Sibongile Winifred had 5 children, Buthle MaMathe, the second wife had 7, the fourth wife Thandekile Jane Ndove had 2, the fifth and sixth wives Nompumelelo Mchiza and Zola Zelusiwe Mafu had three children and one child respectively.
On this long list of children, Princess Ntandoyesizwe Zulu is the 13th child.
There is not a lot of information available on the educational pursuits of the princess. It is known that for her primary school education she attended the prestigious Pietermaritzburg's St. John's Diocesan, a private boarding and day school for only girls.
Here is a list of her siblings in no particular order. The female among them are:
Ntandoyesizwe Zulu
Nandi Zulu
Sibusile Zulu
Nomkhosi Zulu
Nombuso Zulu
Bukhosibemvelo Zulu
Ntombizosuthu Zulu-Duma
Ntandoyenkosi Zulu
Sinethemba Bati Zulu
Cebolabo Zulu
Nqobangothando Zulu
While the males include:
Masikomahle Zulu
Mandlesizwe Zulu
Lethukuthula Zulu (Deceased)
Misuzulu Zulu
Shlobosenkosi Zulu
Bambindlovu Zulu
Nhlangano Zulu
Simengaye Zulu
Lungelo Zulu
Nhlendla Zulu
Phumuzuzulu Zulu
Mukelile Zulu
Sihlangu Zulu
Nhlanganiso Zulu
Butho Zulu (Deceased)
Buzabazi Zulu
Bizwekhaya Zulu
Sihlobosenkosi Zulu
Queen Mantfombi Dlamini Was Ntandoyesizwe Zulu's Mother
Queen Dlamini, the mother of Princess Ntandoyesizwe was many things to the people of South Africa, and one of such things was the Great Wife. The entire nation referred to her with this title and it was because of how influential she was in the running of the royal family. But this was also influenced by political decisions, before her marriage to Goodwill Zwelithini, the condition that she would be the Great Wife of the Zulu Kingdom was given and this was influenced by the fact that she hails from a royal family as well. This ensured that all her male children were first in line to succeed the king in the event of his death.
It remains unclear if Princess Ntandoyesizwe Zulu and her mother were very close, but following the death of her mother who had been crowned Queen Reagent, she fought to uphold the institution that her mother had established, especially in regards to the running of the royal family. The job of Queen Reagent was to appoint the next king in line to the throne but before she could do this, Dlamini died, under circumstances that have been described as suspicious.
In the wake of this event, Princess Ntandoyesizwe Zulu maintained her stand that the law as set by her parents is adhered to and fully back the appointment of her brother as next in line for the throne. She called for peaceful proceedings and asked that all events take place with unity at the back of everyone's mind. This call for peace and unity was done when she read a speech on behalf of her brother, Misuzule Zulu, who according to the law was meant to be next in line.
Ntandoyesizwe Zulu Has Been Married Twice
Princess Ntandoyesizwe Zulu has been married twice, her first marriage which ended in divorce was to Oupa Moilwa, a member of the Bhaurutse royal family. It is believed that Ntandoyesizwe had met Moilwa at an event in Beaufort West, an elite town in Western Cape Town. The couple had an elaborate traditional wedding ceremony that took place at the Enyokeni Royal Palace in Nongoma. The couple then had a civil ceremony 2 years later in 2004 that had 5000 guests. This marriage was short-lived and the reason for its end has not been divulged by either member of the union.
The end of her first marriage did not deter the princess from finding love again. This time it was to a man called Moses Tembe, a non-royal with whom she had 2 children – Mbali and Vukile. Regardless of the fact that Tembe is a non-royal he is a wealthy man who is known for his entrepreneurial skills that have made him a very relevant member of society.
She is the second wife of Tembe, whose first wife, Lulu died. With his first wife, he had 3 children Zamatonga, Nosipho, and Nellie. Together, they chose to raise all five children as one family.
In April of 2021, the family suffered a great tragedy when one of the children, Nelli, allegedly committed suicide when she jumped from the 10th floor of a hotel. At the time of her death, she was engaged to South African rapper AKA. Moses Tembe is of the opinion that his daughter's death was not purely suicide and suspects that alcohol and drugs had a hand in her demise.
Ntandoyesizwe Is A Successful Business Woman
It is easy to imagine that all a princess would get up to with her life is things that concern the royal family and affairs of state. This is not the case with Princess Ntandoyesizwe Zulu.
For a long time, she has shown that she is not particularly keen on leading a life that is solely tailored to royalty demands and expectations. When she was much younger, Ntandoyesizwe participated in a number of beauty pageants, and in one of them, she emerged a winner. The princess is widely known for her modeling career and for the fact that she is a former beauty queen.
Now that she is much older, Princess Ntandoyesizwe Zulu has her hand in a number of businesses that she runs with her husband, Moses Tembe – who is known for his business acumen. They have interests in a number of industries and some of them are in retail, tourism, manufacturing, engineering, and real estate. All of these have contributed generously to their wealth.