Air travel is increasingly becoming common in our modern society, and this is gradually making the once easy means of transportation, a rather saturated and rigorous one. Gone are the days when if you want to avoid delays and unnecessary traffic  hitches, you go for flights. Nowadays, the number of people using this means of transport has so much increased that problems like flight cancellations and delays, security check and customs queues, luggage thefts   , are becoming annoyingly rampant. All these have made it necessary for people to start buying their own planes in order to be able to go for their businesses in any part of the world anytime they wish. Meanwhile, a private jet the most expensive asset one can acquire when it comes to means of mobility. It is a property that only a few of the rich men of the world can afford.
Then, coming to all the jets owned by individuals today, there are the fabulously expensive ones that we couldn't just ignore. They are so luxuriously designed to suit the owners' taste. Judging from their inside looks, you won't help but exclaim they are nicer than most rich men's homes. 
Checkout: The World's 10 Most Pricey Private Jets at the moment – No.1 is completely mind-blowing!
10. Boeing 757 – $100 Million
Owner: Donald Trump
Donald Trump bought this jet from Paul Allen, Microsoft co-founder at about a hundred million dollars. Trust Donald's taste of design; he transformed this Boeing 757 and gave it an overall customized 'Trumplike' new look. The private jet is now covered in gold, boasts the latest electronic equipment, marble bathroom and 24-carat seat belt buckles, glossy walnut tables and has the family logo emblazoned on just about every surface.
See Also: Libyan Rocket: Africa's Exotic Safety Car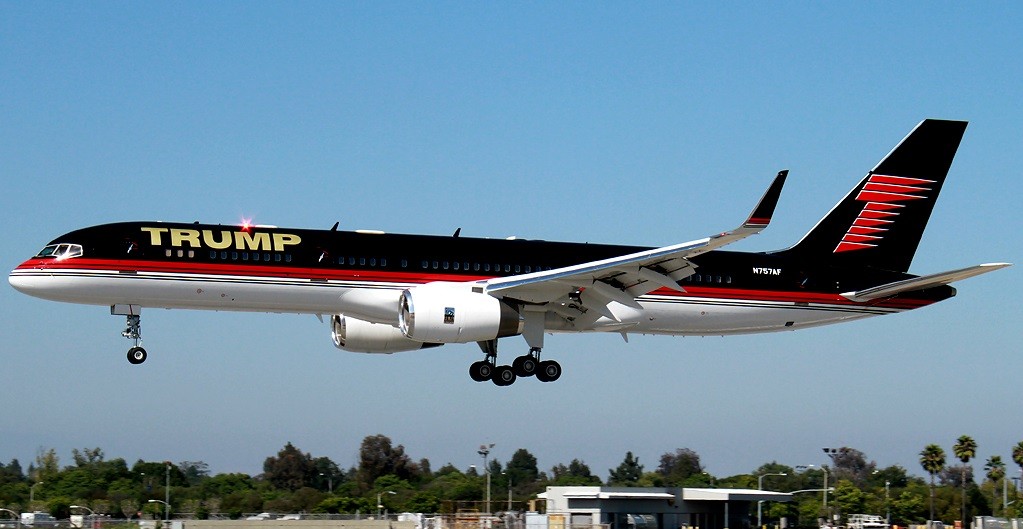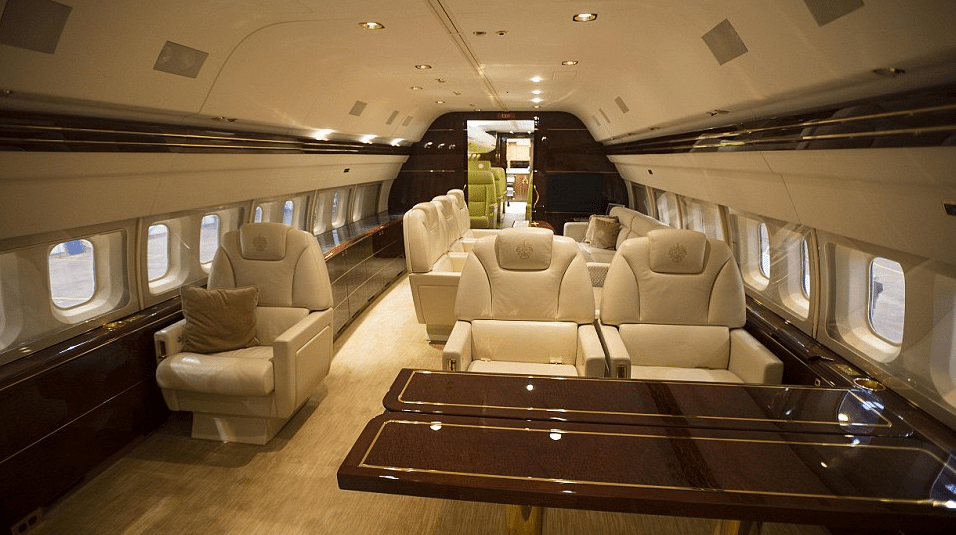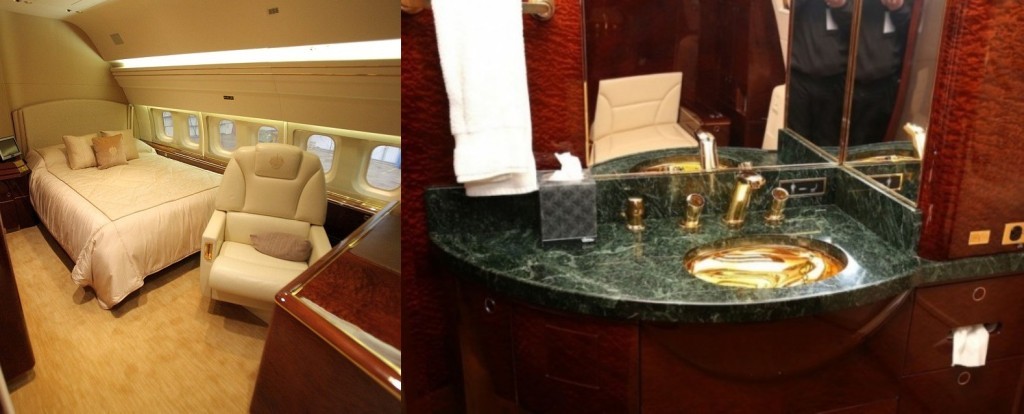 9. Gulfstream III – $125 million
Owner: Tyler Perry
Tyler Perry's Gulfstream III is another private jet that stands out among the rest. This lavish aircraft is only worth a small $125 million. It is well equipped with all the amenities like a 42-inch HD TV, multiple Blu-ray players, satellite TV, theater lighting, and electronically controlled window shades.  There is never a need to leave the comfort of the airplane as it comes with a full bathroom as well as a compact kitchen.
8. Boeing 747-8 VIP ($150 Million)
Owner: Not Specified
The Boeing 747-8 VIP literally looks like a portable palace. Boeing would let you customize your own private jet. If you can just spare $150 million of your cash, then you can join the billionaire band to fly in style!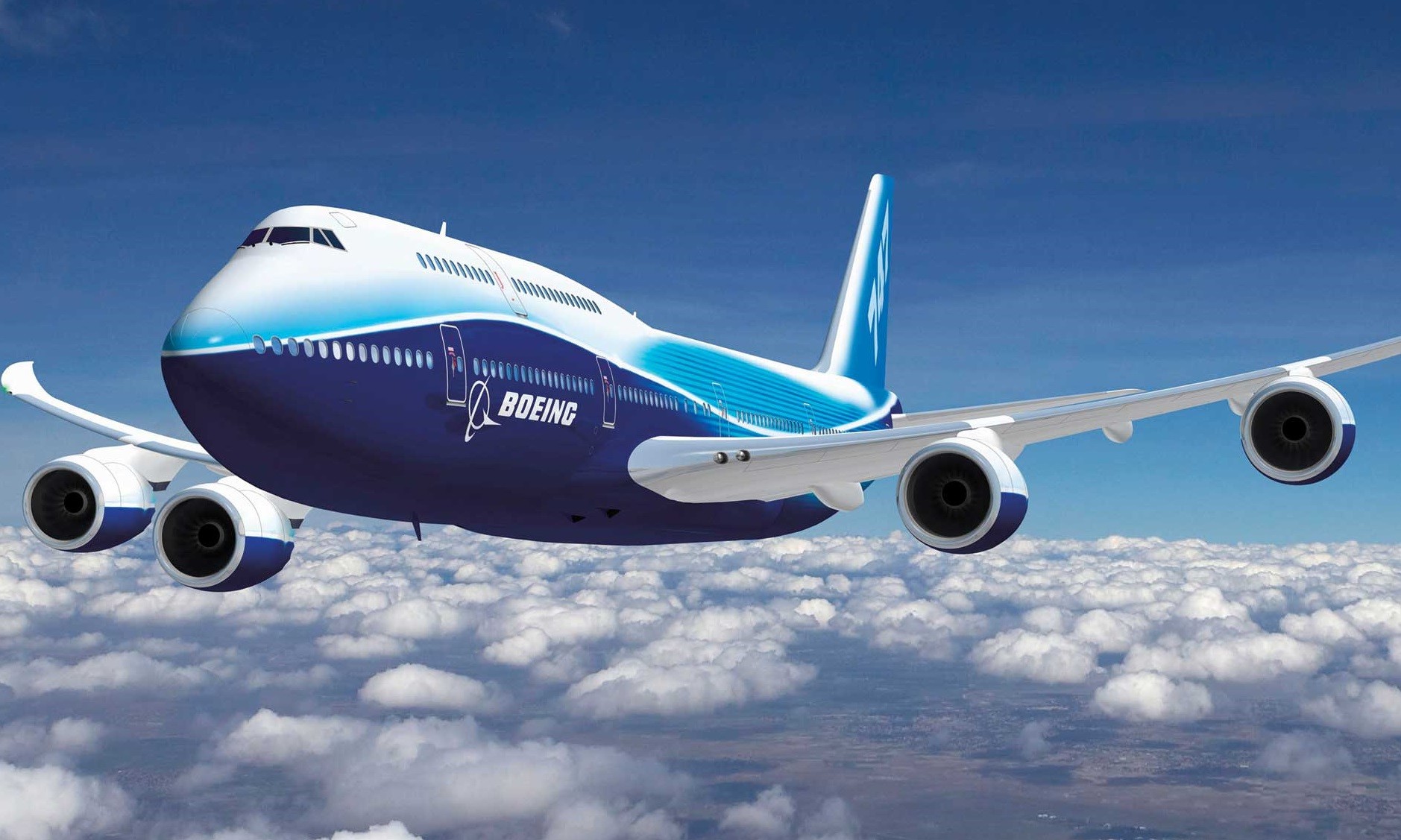 7. Boeing 747-8I VIP – $153 million
Owner: Joseph Lau
This 8I-VIP model of Boeing 747 is owned by the Hong Kong real estate tycoon, Joseph Lau. The plane called "Dreamliner" features exclusive design in hand with all the state of the art technology to ensure a luxury VIP class travelling experience throughout the journey. Some of the interior features include vaulted ceilings, spiral staircases, video displays on walls and so on.

6. Boeing 767-33A (ER) – $120-170 million
Owner: Roman Abramovich
Roman Abramovich is the ninth richest man in Russia according to Forbes. He owns impressive cars, yachts and private jets. Boeing 767-33A/ER, known as "The Bandit" due to its cockpit paint detail is considered one of the many expensive private jets. It appears to be ordinary on the outside, but its interior is reportedly outfitted with chestnut and decorated with gold. Originally the aircraft was ordered by Hawaiian Airlines but the order was canceled and Abramovich bought it from Boeing and refitted it to suit his own requirements. Interior details or images are scarcely available to public view. The aircraft can often be spotted at Luton Airport some 40 miles north of London, where Abramovich spends much of his time.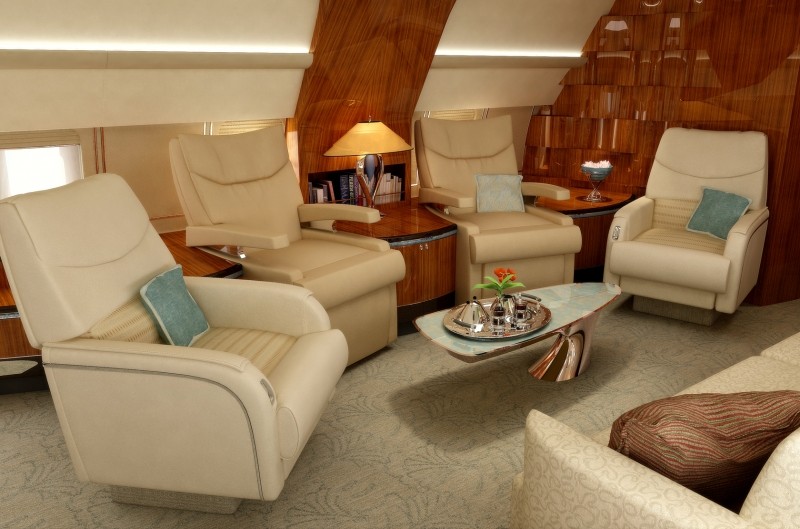 5. Boeing 747-400 – $220 million
Owner: Prince Al-Waleed bin Talal
Al-Wleed bin Talal, considered to be the richest man in Saudi Arabia is the Saudi prince who owns the $220 million Boeing 747-400. In case the Boeing experiences problems, the prince often has it trailed to its destination by his Hawker. On board the big plane are 11 flight attendants from around the world. Copies of the biography Alwaleed: Businessman, Billionaire, Prince by Riz Khan are constantly placed on tables in the living room.
4. Boeing 747-430 – $233 million
Owner: Sultan of Brunei
Sultan of Brunei is considered to be the richest monarch in the world. Just as millionaires boast a fleet of cars, that's how the oil awash billionaire sultan boasts a fleet of jets. Among his other aircraft, Boeing 747-430 is the largest. He bought this 747 brand new for at least $100 million and had it fitted with a special interior and features such as wash basins of solid gold and Lalique crystal at an additional cost of over $120 million.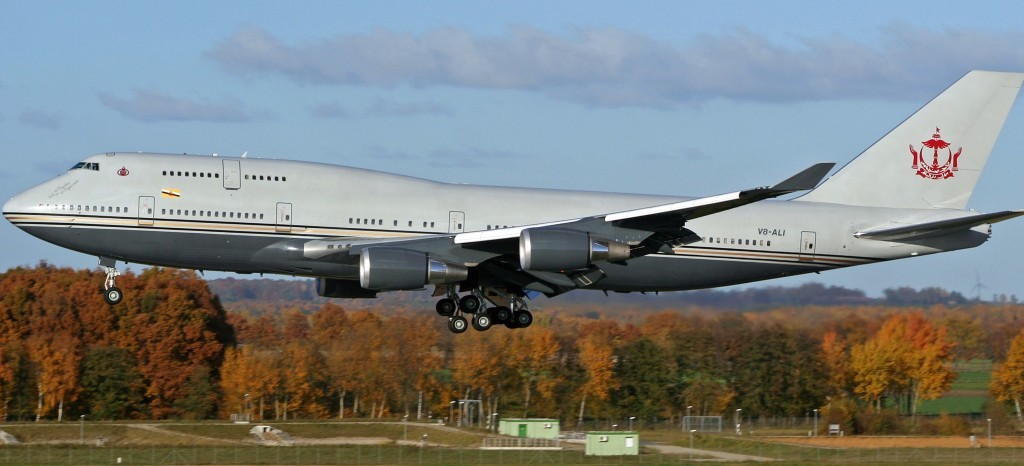 3. Airbus A340-300 – $250-500 million
Owner: Alisher Usmanov
Alisher Usmanov is the largest shareholder of Metalloinvest, Russia's biggest iron-ore producer. He was once #28 in the Forbes' List of World's Billionaires. It was reported that Alisher made this extravagant acquisition after selling his Facebook shares worth $1.4 billion. Straight from the Airbus factory the A340 cost about $250 million, but the price tag for the customised version could as high as half a billion dollars depending on the taste of the user, of which we believe Umanov won't prefer to have anything less than luxury in its fullest. His is the largest private jet in Russia, and possibly in all of Europe.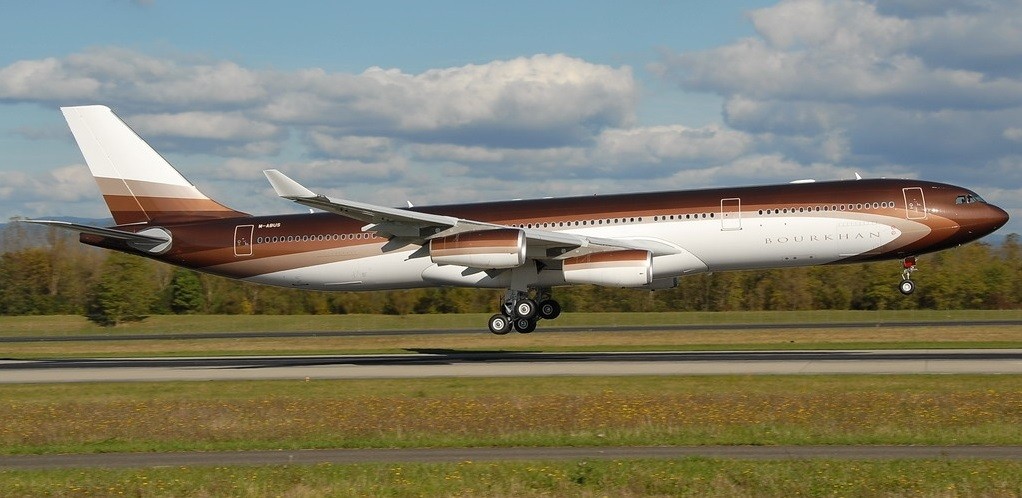 2. Airbus A380-Custom – $500 million
Owner: Prince Al-Waleed bin Talal
Airbus A380, a double-decker jumbo jet is the world's largest passenger jet and can accommodate 853 passengers in commercial guise. Prince Al Waleed bought it at a prodigious sum of $300 million and splashed another $200 million in furnishing it. He customised this Airbus A380 and turned it into what could be called a flying palace: complete with a throne-like chair in the living room, a dining room table that seats 14, magic carpet room, a lounge area, two comfy bedrooms and a concert hall, among other unique features of which we may not provide the details here.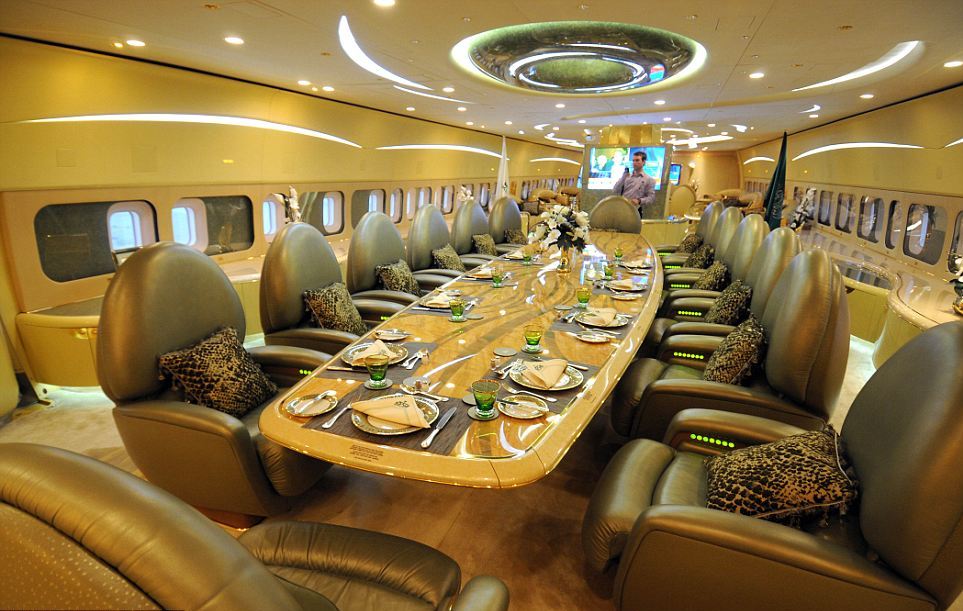 1. Boeing 747 refit – $617 Million
Owner: Anonymous Billionaire
This is the most expensive jet owned by an individual as of now. Ordinarily, the jet is a Boeing 747 but it has been refitted to give the world's most classic and expensive private jet – complete with bedrooms, multiple lounges and an on-board restaurant. The billionaire made out time to endow his jet with wealth and luxury giving the it a sense of exoticism, wonder, and magic. More sleeping space is provided in the 'aeroloft' on the top deck of the vessel, with eight full beds for passengers who prefer to get some nap in the course of their flight.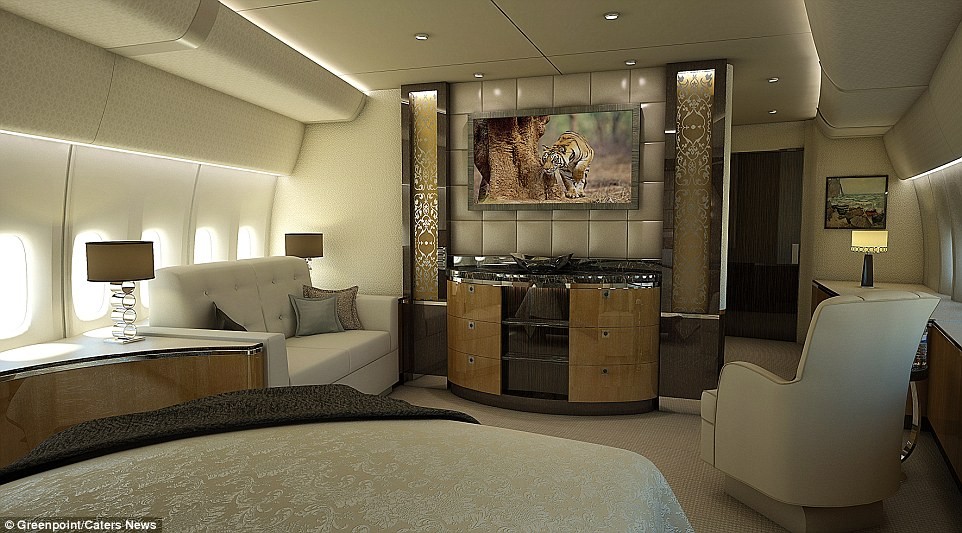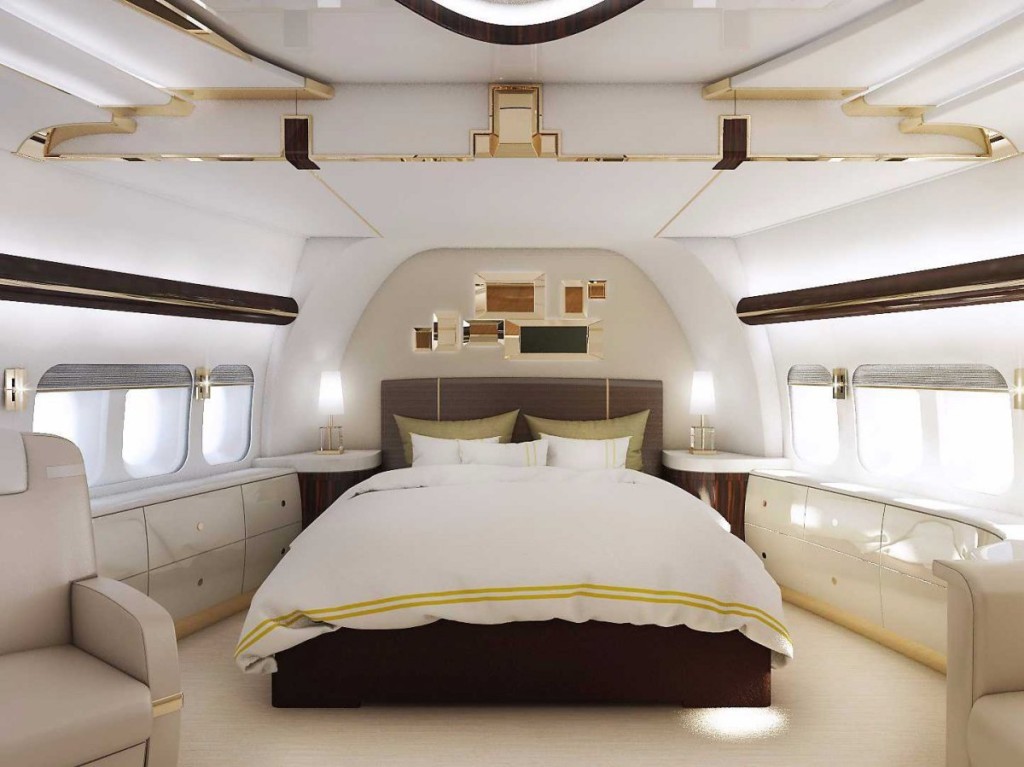 The custom-built Boeing 747 is said to have cost its super-wealthy owner over $600 million after it was converted to a luxury home to fit his specifications.