The name Prophet Owuor has become very common especially in Kenya. Hardly a week passes without the self-proclaimed prophet being mentioned. A few years back, Dr. David Owuor or as commonly known, Prophet Owuor was hardly known. But, in today's world, he is quite popular. People know one or two things about him.
Dr. David Owuor is known for his huge crusades and miracles. He came into Kenya's spiritual landscape with a message of repentance, pointing out that God is angry because of people's sins. However, his spiritual activities seem to differ from what he preaches.
Prophet Owuor Biography
Born in 1966 to Hezekiah and Margaret Ochieng, in Goma village, Usenge in Bondo District, Kenya, David Owuor, popularly known as Prophet Owuor is the second child in a family of six girls and three boys. Born into a Christian home, Owuor grew up knowing about God through his mother who a devoted Christian, a housewife and a peasant farmer. His father, a civil servant worked with East African Community Prison Service where he rose in ranks to a Sergeant Major.
Coming from a family who knew the importance of education, Owuor started schooling at an early age. He first went to Wambasa Primary School in Yimbo but had to move to other schools where his father was transferred to as a civil servant. These schools include Jusa, Luzira and Kitalya in Uganda. He later joined Mbale Senior Secondary School where he obtained his 'O' level before proceeding to St. Peters College in Tororo to obtain his 'A' levels certificate.
Like his early school year, Owuor's tertiary education was done in three different universities. He joined Makerere University for a Bachelor of Science degree but later moved to the University of Nairobi where he completed his first degree in 1988. The following year, he joined the Ben Gurion University of the Negev in Israel for his Ph.D in Molecular Genetics, otherwise known as the "Science of the Future". While doing this, he began to prepare for his journey as a preacher and prophet of God.
Owuor encountered God in 1987 at the time when Uganda was in political turmoil. As a preacher, he centred his messages on repentance and the need for man to prepare for the Second Coming of Christ. Owuor became popular as a preacher in 2002 after the Kenyan elections. He was not just known as a common preacher, but as one who is gifted with healing powers and can foretell the future.
Two controversial issues surrounding the preacher then was the fact that he does not derive his wealth from his congregation as most preachers do and that his prophecies are always "bad news" either for the people of Kenya or the world at large. Prophet Owuor doesn't accept donations or offerings from his followers neither does he encourage Christians to do so in their various congregations. This makes people to wonder from where he generates his massive wealth.
See Also: 13 Lesser Known Facts About Joseph Kony and Lords Resistance Army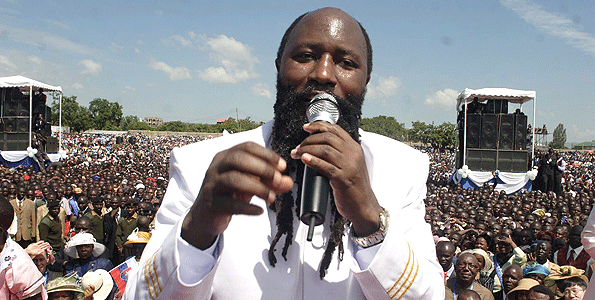 The Illuminati and Snake Saga
The rise of Prophet Owuor came with shock and fear not only to Kenyans but also to the nations across the coast. He was seen as not just as a prophet of doom but as one whose spiritual activities portray that of a secret society called The Illuminati.
He not only penetrated into the hearts of ordinary Kenya citizens but also got his way into the country's political system and mingled with top government officials. Some Kenyans who knew nothing about him took notice of him when he presumably led the former Prime Minister of Kenya, Raila Odinga to Christ. Unknown to many people, he spends most of his time giving talks or participating in forums and holding miracle crusades. Call him a prophet of doom, a magician or like the man of God as he is popularly called, one striking thing about Prophet Owuor is that his prophecies or forecasts of future happenings such as earthquakes, hurricanes, and torrential rains were also being forecast by scientists.
More controversial about the self-proclaimed prophet were the emerging stories terming him as a devil worshipper. His miracles are said to be stage-managed by the power of Satan which he allegedly got by sacrificing his father who died in 2005, and some members of his congregation. A closer look reveals that he dresses usually in white, shoes inclusive. Probably, he does this to reflect his cleanliness or purity.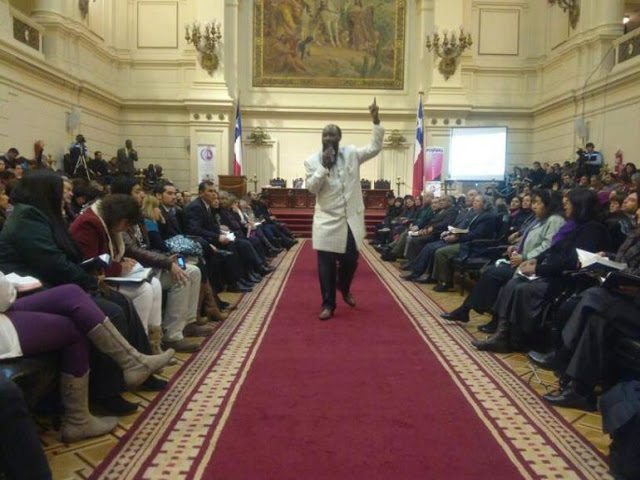 Moreso, while preachers and teachers of the bible use the traditional mass media as a way of reaching out to their congregation Prophet Owuor relies on the internet. Once in a while, he will release a YouTube video or podcast to give the world a view of a recent crusade or upcoming event. Rarely does he use the conventional mass media.
In his seminars, crusades or any other forum, Prophet Owuor doesn't sell any books, anointed oil and handkerchiefs or medallions. His ministry is interdenominational. He does not have an affiliation with a particular group and he speaks in any forum especially those that centre on miraculous healing.
More fingers pointing at the Holiness prophet as a member of the Illuminati followed a controversial story that emerged before his crusade at the villages of Kakamega. The story was told by the wife of the prophet's driver who reportedly died after the incidence at a nearby forest in the village. According to the woman, her deceased husband found the prophet kneeling before a huge snake stack naked and uttering some words in an incomprehensible language but was told never to reveal what he saw or he would die. He eventually narrated what he saw to his wife who later found him dead after he asked her to prepare water for his bath.
Prophet Owuor Wife and Family
Prophet Owuor's life is no doubt shrouded in mystery. He is one of the most recognized prophets in the world. The reception he receives everywhere he goes says it all. Funny enough, the prophet is without a wife or family. The preacher defended why he is not yet married, saying that his calling had not availed him the opportunity to do so. Having a family, he said, will tie him down and he may not be able to follow the will of God.
Nonetheless, the preacher had revealed that he had a son in Israel and had wanted to marry the mother but that he moved to the US and the girl refused to go with him. He also said that while in the US, he also cohabited but the woman left after he started seeing visions.
 See Also: 8 Famous Kenyan Pastors and The Huge Scandals That Ruined Their Fame
From the above facts, it is clear that information about the self-proclaimed-man-of-God is still quite limited. In fact, it seems as if the more people try to get more information about him the "more gray" the details become.