It would be quite difficult to find someone who is ignorant of the existence of the famous disc jockey called DJ Fresh. In addition to his gig as a DJ on the radio, the Botswana native has a finger in several other entertainment pies. Fresh evolved into a television personality, a music composer, producer, and singer with about 35 fantastic albums to his credit. The multi-talented artist has proved that he is equally shrewd in the cut-throat world of business, establishing his own company The Big Dawg Productions, and making it profitable. The DJ was originally studying law in the university before making a complete U-turn and changed into journalism and advertising; an apt decision when you consider his huge career achievements in the entertainment industry.
Thato Sikwane as his given name says seems to be a one-man woman as he has been married to his wife Thabiso Sikwane for over 18 years. Thabiso also happens to be in the same profession as her husband and they are raising three children together. However, this is just the tip of the iceberg as there are still a lot of puzzling reveals about this famous DJ of Botswana origin.
The Disc Jockey's Profile
Real name: Thato Sikwane
Alias: DJ Fresh and The Big Dawg
Birthdate: 15th October 1972
Place of birth: Gaborone, Botswana
Residence: Jozi, South Africa
Profession: DJ, producer, presenter, composer, singer, and entrepreneur
Years active: from 1997-present
Marital status: Married
Wife: Thabiso Sikwane
Children: Four
DJ Fresh's Real Name Explained
Born on the 15th of October 1972, the famed DJ was named Thato Sikwane by his parents. However, he has acquired several other monikers like DJ Fresh, The Big Dawg, or simply Fresh through the course of his career as a DJ in the media. His real name is popular, not only in his birth country Botswana, but also in other African countries like Lesotho and SA, and means "love" Though he was born in Gaborone, Botswana, the DJ, producer, radio presenter, and entrepreneur is presently resident in Jozi, South Africa where he moved to in 1995.
The disc jockey just hit his early teens when it dawned on him that he was talented in music. He went on to demonstrate his inherent ability at age 13, deejaying at his boarding school, Maru-a-Pulaa – an A-list private school. He had the chance to make his official debut in 1992 at Botswana RB2 radio show, marking a second significant exposure that played a huge part in his early career development.
He had to go against his Father's Wish of Studying Law
After he was done with high school education in his home country Botswana, his dad wanted him to follow a career path in the legal field to become a lawyer as he moved to South Africa in 1994. However, the DJ got bored with the course along the line and decided to quit law school in pursuit of his passion. He then went for a full-time diploma media course at Joburg's Boston Media House, specializing in journalism and advertising.
DJ Fresh was still in the process of completing his education at Joburg's Boston Media House when he was presented with the opportunity of trying out his wings. His third year in the educational institution saw him working with YFM where he eventually put in a total of eight years before 5FM's popular Drive Time slot beckoned.
From 5FM, DJ Fresh Scored other Jobs
He would spend over a decade with 5FM and in 2017, moved to Metro FM where the station's The Fresh Breakfast Show became a most-loved slot, with Fresh and his colleagues often trending on social media, especially Twitter. Despite his fame in Metro FM, The Big Dawg spent just a couple of years there, moving on in August 2019 to work as the host of 947's Drive Time show.
His career is not all about radio as the DJ has appeared in front of the camera several times in SA's Got Talent, Idols SA, as well as Tropika Island of Treasure. Fresh has been active in the media since 1997 and is still going strong. The celeb DJ is also a competent composer and singer with several songs, albums, and mixes to his credit
The Botswana born entertainer also seems to have a good business head on his shoulders, despite his ever-busy schedule with radio presenting, DJaying, and music, he still finds the time to float his own business and run it successfully. The DJ is the owner of the Big Dawg Productions and is also into organizing scholarship programs; his targets for the scholarship are talented students wishing to study.
The DJ Was Suspended During his Gig with Metro FM
While still working as a radio presenter at Metro FM, DJ Fresh ran into a huge problem that resulted in a six-week-long suspension for the celebrated DJ. According to what we gathered from existing records, The Big Dawg was suspended by SABC on the grounds that he emitted foul words on air.
Reports also said it was thanks to a complaint against the disc jockey by an affected listener that the corporation was compelled to wield the big stick and apply those punitive measures. The ensuing disciplinary action naturally followed interventions from their governing body, the Broadcasting Complaints Commission of South Africa.
When quizzed for his side of the story, Fresh revealed that he got the boot for making use of a word that doesn't even exist. The exact word they said is m*****y" which he used on air. The DJ stated, even though BCCSA red-flagged the word, it may likely find its way (in the nearest future) into the urban dictionary.
— DJ Fresh (Big Dawg) (@DJFreshSA) July 3, 2019
He Vowed Never To Utter The Word Again
In recompense, Fresh vowed never to utter the word again, recognizing that offence can only be in the eyes of the taker, and never the giver. He also admitted it was not his place to say that people are unreasonable.
The famous DJ after disassociating himself from ever using the word again said he is the kind of man that does not believe in using words pointlessly and people should learn how to handle the use of offensive language and not get excited about it. He described it as being far from cool.
His time off work as a result of the suspension was invested in having a critical look at the man in the mirror, the DJ said. At the end of the day, Fresh declared that he feels no regrets about the whole thing but it is a lesson well learned. Fresh sees the situation as the period for a lot of sober reflection when you actually get to meet one on one with yourself and see what is there with all the clothes off.
DJ Fresh Met His Wife at YFM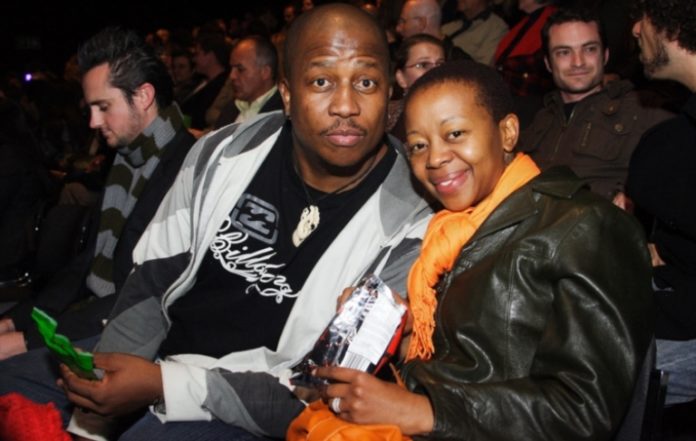 With the level of fame that DJ Fresh enjoys in South Africa and beyond, it is normal for one to expect heightened speculations about his personal life. The Big Dawg as he is fondly called met his significant other Thabiso Sikwane in 1996 during his days as a DJ with YFM. It is quite interesting to know that the duo has a lot in common as they belong to the same profession.
As of the time they met, at YFM, Sikwane was one of the newscasters for the station. The DJ's wife has also worked for other radio stations like Power FM but presently serves with Kaya FM, Home as a talk show host. Away from her work on radio, Thabiso was once the owner of a swimming school where she functioned as a skilled swimming instructor.
Though the internet is not suffused with details of their wedding like wedding date, venue, and reception, it is common knowledge that the couple's union has lasted for all of 18 years as of 2020 which pegs the year of their wedding at around 2002. Unlike most celebrity marriages that fizzle out within a few years, Thabiso and the DJ seem to be getting closer together with time even in the face of so many scandals.
Being one of the most candid and authentic individuals around, DJ Fresh has never been averse to speaking openly about his marriage. While celebrating his 16th wedding anniversary, the famous disc jockey was quizzed about the secret of his enduring relationship. In his answer, Fresh said "A lot of sex… preferably with your partner," so short an answer but speaks volumes.
That was far from the first time DJ Fresh mentioned intimacy as` a key to success in marriage. He made a similar statement in an interview with Drum magazine telling that that the key to their happy union is their active sex life.
Fresh said communication plays a big role in marriage, couples need to desist from keeping secrets and be open with each other, even when your partner is likely to find the stuff very uncomfortable. The sex, he reiterated just have to be great, he berated people who see sex as an overrated act, accusing them of not doing it the proper way. His exact words were "Thabiso and I have a great sex life!" The duo seems inseparable appearing together at several red-carpet events.
The DJ Is A Father of Four Kids
Being in an enduring marriage that is speedily inching towards its 2nd decade, it is expected that DJ Fresh would have children to show for his years in marriage which is exactly the case. His first child with Thabiso is a boy in his mid-teens, followed by a daughter who is around 10 years old; their last child is a boy and he turned four in May.
However, Thabiso is not the mother of all of The DJ's children, he already had a grown-up daughter before his nuptials. The said daughter who is already in her mid-twenties was a product of his past relationship. She made her dad a grandfather around 2018 when she gave birth to a baby boy. The DJ is averse to sharing his children's photos, but his oldest daughter was sometime in 2020 spotted on his Twitter handle.
Despite Many Rude Shocks, DJ Fresh's Marriage Is Still Going Strong
It was in 2015 that unpalatable rumors started making the rounds about the DJ's purported love child. The Sunday Sun spear-headed the news, accusing the famous disc jockey of cheating on his spouse with Tsholo Mosaka (his manager) with whom he allegedly fathered a child with. Fresh's response upon hearing the allegations was quite serious, he completely repudiated the claims, and to show how serious he was, the musician went straight to the South African Press Office to lodge a complaint.
In his words, DJ Fresh said he has never fathered any child with Tsholo, he also claimed that he was denied the chance to reply to the allegations leveled at him. Yes, he agreed that the article's claim about him being in Botswana at that time was true, but Fresh said nobody attempted to contact him at his hotel and his wife was never asked for his contact details in Botswana. The same goes for his manager as nobody asked her for his contact details, neither did they try getting in touch with him via his socials.
He was Enmeshed in Fresh Controversy in 2020
When it began to look like he has laid all his love life issues to rest, the famous DJ received yet another rude shock, this time, from the popular poet cum activist Ntsiki Mazwai. According to the South African poet, Fresh was guilty of rape as well as harassment.
On his own part, the DJ was quick to come up with a strong denial and even opted to settle the matter via the legal route. A statement emanated from the Johannesburg High Court on the 22nd of July 2020 confirming the legal battle between the two, ruling that Ntsiki no longer has the right to utter a word about Fresh publicly.
After Ntsiki was asked to take her post down, the poet refused point-blank. This prompted the DJ to release an official statement, alleging that the activist's reason for refusing to obey the order was because she was not saying the truth.
STATEMENT: pic.twitter.com/5HqxWaM6Ab

— DJ Fresh (Big Dawg) (@DJFreshSA) July 23, 2020
Where Is J Fresh's House Located?
We are yet to be furnished with the details of DJ Fresh's house if any, and where it is exactly located. However, it goes without saying that a DJ, singer, radio presenter, and businessman of his caliber would go for the very best when it comes to choosing a house to call home. Indications of the kind of house he would go for abounds on Twitter where the celebrity DJ made reference to a push house. His exact words were that people who have made too much money will be able to live in such a crib. The house on Twitter was just stupendous which leaves one wondering if he was in actual fact the owner, but time will tell.
One day is one day RT @LUXURYPlCTURES: You have too much money if you live in a crib like this. pic.twitter.com/aeI5hrUOhM

— DJ Fresh (Big Dawg) (@DJFreshSA) January 30, 2014
The next time Fresh made reference to his home was when it was petrol bombed by bandits. According to the famous disc jockey, they bombed his house as a result of stuff he speaks on the radio. Fresh went on to say that he equally received several death threats from people who feel offended by his words and there was an occasion when he was actually shot at. Thato said he doesn't talk much about these things as he has learned to accept them as occupational hazards.