Most people know Quinn Lundberg as the wife of popular comedian and actor – Zach Galifianakis. However Lundberg is so much more than that. She is a renowned social activist and has worked with different humanitarian organisations. She has also founded her own non-profit which assists people in developing and developed countries. Find out more about this incredible lady here.
Quinn Lundberg's Age and Early Life
Mary Quinn Lundberg was born in 1983 in Edmonton, Alberta Province, Canada. She has not disclosed details about her family background or any potential siblings she may have. She has however revealed that she hails from a middle-class family and was raised with an appreciation for nature. This subsequently made her fall in love with hiking and other outdoorsy activities while growing up.
After completing her high school education in Canada, Quinn Lundberg moved to New York City in her early 20's and became a professional dancer and dance teacher. She later attended Hunter College and studied International Conflict Resolution. Lundberg's educational pursuits did not stop at this juncture. She also obtained a Master's Degree in Public Policy from UCLA in 2014
Quinn Lundberg has a natural passion to make the world a better place and this made her to pursue a career in public service. She has worked for renowned organisations such as the UN and UNICEF. She has also volunteered her time and energy in countries such as Bosnia, Afghanistan as well as several African countries.
Quinn Lundberg now runs her own charity organization known as Growing Voices. This is a uniquely structured organization in that they don't presume to know the needs of a local community. Rather, they work with already existing local charities in order to determine the problems of the community and how to solve it. Growing Voices has partnered with local NGOs that promote rural education in Malawi. It has also partnered with DANA Services. DANA is a North Carolina-based charity that assists victims of domestic abuse.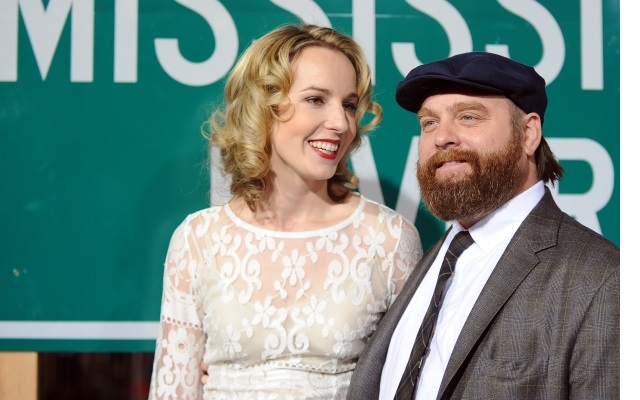 Quinn Lundberg Husband and Kids
Quinn Lundberg is married to Hollywood star, Zach Galifianakis. Her Husband was born on the 1st of October 1969 in Wilkesboro North Carolina. He commenced his career with small parts in TV shows and movies. He was also a writer for SNL and rose to the spotlight after his Comedy Central special in 2001. Since then, Galifianakis has become a household name in Hollywood thanks to his specials and tours. He has also hosted a popular series known as Between two ferns with Zach Galifianakis. The hit series features interviews with prominent personalities.
There are no elaborate details as to how Quinn Lundberg met her future husband. The most we do know is that they dated for several years prior to tying the knot in August 2012. The couple's nuptials took place at the UBC Farm in Vancouver, Canada. Lundberg and her husband have two sons together. Their first son was born in September 2013 while the second was born in November 2016. The couple have gone to great lengths to conceal the names of their kids; perhaps in a bid to give them privacy and the opportunity to leave a normal life. It has however been revealed that their second son is named Rufus Emmanuel.
Quinn Lundberg's Net Worth
Lundberg's net worth is still under review and is not yet available. Meanwhile, her husband has a net worth of $20 million. His fortune stems from his tours, comedy specials, and TV commercials for different companies. Galifianakis has also featured in several blockbuster movies including The Hangover. This is a movie about a bunch of friends who embark on a night of partying and drinking only to wake up and discover that one of them is missing. They, therefore, attempt to find the missing one while nursing a monstrous hangover.
Other Facts about Quinn Lundberg
* Lundberg and her husband asked their wedding guests not to get them lavish gifts. They instead requested them to send donations to Lundberg's charity organizations.
* She and her family reside on a farm in Sparta, Alleghany County, North Carolina.
* In 2015, her husband received a Primetime Emmy Award for his series Between two ferns with Zach Galifianakis.
* Her humanitarian work has taken her to countries such as Bosnia, Afghanistan as well as several African countries.
* She was motivated to start an NGO after backpacking through several developing countries and witnessing the challenges they face
* Asides from Growing Voices, Lundberg is the co-founder of another charity known as Loom. Loom assists women and children who are deemed to be at risk