R Jai Gillum fondly referred to as the epitome of grace by her wonderful husband Andrew Gillum, the former Mayor of Tallahassee (the capital city of Florida) is an achieving Afro-American. The former first lady is the director of Foundation Affairs at the Florida Dental Association. This graceful mother of three is deeply passionate about what she termed the Most Unmet Health needs; Dental and Mental. She is also involved in Public Policymaking. Here is how Gillum nee Howard merges her interests in building for herself a powerful career alongside running her beautiful family.
6 Things You Need To Know About Andrew Gillum's Wife
1. She is a native of Alabama
R Jai Gillum (pronounced as R. Jay) was born sometime in 1978, in Montgomery, the cotton-growing capital city of Alabama in the United States. Rashada Jai Howard who is now popularly known as Jai attended Sidney Lanier High School from 1993 to 1996.
She then moved on to Tallahassee for her college education in Florida Agricultural and Mechanical University (FAMU) where she bagged a Bachelor of Science in Biology in 2001, she then earned a Masters in Public Health Policy and Management following studies from 2004 to 2006.
2. R Jai Gillum Had Originally Aspired To Become A Medical Doctor
A careful follow-through of Jai Gillum's career path will reveal how she managed to fuse her ardour for the health line with her interest in the public sector. Gillum wanted to become a Dentist, but the tides changed after she obtained her bachelor's in Biology and deferred going into medical school in favour of a banking job in Dallas. She left the job after the said bank was acquired and had to relocate to West Virginia. Eventually, she decided to do her post-graduate in public health. This led her back to FAMU (Florida Agricultural and Mechanical University).
While waiting for admission, Rashada Howard applied for a Florida fellowship program which would expose her to the public sector. The first class (now called Class 1) program is designed to match Fellows with job placements which are in line with their interests. It was beneficial to R Jai Gillum as she not only got to meet very important figures like speakers and secretaries but got the opportunity to work at the State Department of Health on the "Oral Health Safety Net".
3. Her Career Trajectory to Director of Foundation Affairs
After her Masters and the Fellowship, Jai Gillum took up the post of Staff Director for the Florida Financial Literacy Council under the Office of the Chief Financial Officer in March 2007. One year later Jai Howard was promoted to the post of Director of Appointments for the Office of Boards in August 2008. Gillum held that position for about a year and six months before going on to help with some development work for the Big Brothers Big Sisters of the Big Bend for six months.
From June 2012 to September 2016, R Jai Gillum worked at the United Way of the Big Bend as the Director of Income and Health strategies before she ascended to the position of the Director of Foundation Affairs of the Florida Dental Association.
Some of her other local community involvement includes Leadership Tallahassee Board of Governors, Children's Campaign Board of Directors, Southern Shakespeare Festival Board of Directors, Capital Women's Network, Tallahassee Alumnae Chapter of Delta Sigma Theta Sorority and the Tallahassee Chapter of The Links, Incorporated.
4. How She Met Her Husband Andrew Gillum
R Jai Gillum met her husband Andrew at the Florida Agricultural and Mechanical University (FAMU) where they both served together in the student government association of the school.
The couple's first encounter was not a pleasant one but when they met for the second time in 2003 Andrew had tried to correct the previous impression by giving her his home number which she ignored. Interestingly fate had a better plan as their next meeting was facilitated by their mentors, a move that led to their first date at the Bennigans. They later got married on May 24, 2009, after Andrew had proposed by asking her to be his 'life partner.'
See Also: Vivian Liberto – Bio, Ethnicity, Wiki, Facts about Johnny Cash's First Wife
5. Meet Her Family
R Jai Gillum parents were both professors at the Jackson State University, Mississippi. Her first name Rashada was given to her by her father who named her after his first student to earn a Ph.D. – the student was terminally ill.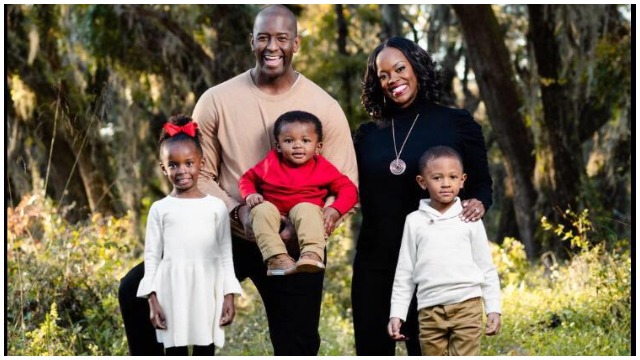 Jai's husband Andrew D. Gillum served as the Mayor of Tallahassee from 2014 to 2018. Andrew Gillum was born as a fifth child of Charles and Frances Gillum on the 26th of July in 1979 (making him a year younger than his wife) in Miami, Florida. His outstanding public service earned him recognition by the Gainesville Sun as one of the city's "Persons of the Year."
This power couple has three children, twin boy and girl named Jackson and Caroline Gillum followed by another son Davis Gillum. R. Jai's husband is till date the youngest person ever elected to the City Commission in Florida.
6. She Has An Active Online Presence
Despite Gillum's demanding job and her duties as a mother, she is quite active on different social media platforms like Facebook, Twitter, Instagram. She is on LinkedIn as R Jai Gillum.